Intercontinental Exchange, Inc. (NYSE:ICE) April 22, 2009: $82.71
52-week range: $49.69 (Nov. 20, 2008) - $167.28 (May 7, 2008)
ICE was formed in 2000 and went public in November 2005. They own and operate the world's leading electronic trading platform for energy futures and OTC energy contracts. They also deal in soft commodities and financial products. The company provides risk-management, asset allocation and speculative opportunities to financial institutions, governments, investors and commercial enterprises. ICE hopes to grab a significant piece of the CDS [credit default swap] trading market in the near future once applied-for approvals are fully granted. The CDS market is estimated to cover about $38 trillion of total obligations.
ICE experienced explosive growth in revenues and earnings from its 2005 IPO right through 2008. Sales per share surged from $2.81 to $11.24 and EPS went from negative to $4.33 over that three year period. The shares reflected that growth moving from their $26 IPO price to a high of around $194 in December 2007 into January of 2008. When the overall market tanked late last year, ICE shares dove all the way to $49.69 before rebounding to close today at $82.71.
Here are the per share numbers for ICE as reported by Value Line: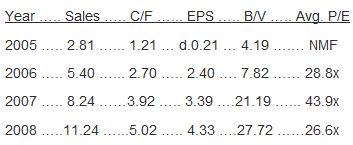 The balance sheet is strong. At year-end 2008 the company held $286.9 million in cash. Debt was just 14% of total capital with just $40 million coming due in the next five years. Total interest coverage was > 25x in 2008.
Zacks is carrying earnings estimates of $4.34 and $5.06 for 2009 and 2010 respectively although earnings predictability on this stock is very low. If they are on target, ICE now trades at about 19x this year's and 16.4x next year's estimates- well under its previous years' valuations.
These are volatile shares. The intra-day range today was from $81.85 to $89.78 and ICE has traded as low as $50.10 and as high as $91.40 so far in 2009. That makes the option premiums on this issue very attractive.
Here's my play on ICE to take advantage of that:

On expiration date of January 15, 2010 if ICE shares stay above $80:
Your $80 call will be exercised.
You will sell your shares for $8,000.
Your $80 put will expire worthless.
You will have no further option obligations.
You will hold no shares and $8,000 for your $4,871 original outlay.
That's a best-case scenario $3,129 net profit for a 64% cash-on-cash return.
This would have been achieved in only 9 months on shares which did not need to go up at all from the price on inception date of the trade.
What's the risk?
If the shares end up below $80 on expiration date:
Your $80 call will expire worthless.
Your $80 put will be exercised.
You will be forced to buy another 100 shares and to lay out an additional $8,000 cash.
You will have no further option obligations.
You would then own 200 shares of ICE.
What's the break-even on the whole trade?
On the first 100 shares it's their $82.71 purchase price less the $18 /share call premium = $64.71 /share.
On the 'put' shares it's the $80 strike price less the $16 /share put premium = $64.00 /share.
Your net cost is the average of $64.71 + $64.00 = $64.36 /share.
Thus, a drop of anything less than $18.35 /share or (-22.2%) from the original $82.71 price would not cause a loss.
The $64.36 break-even price would represent a P/E of < 14.9x expected earnings for 2009. At that valuation I'd be willing to own the extra shares.
Disclosure: Author is long ICE shares and short ICE options.