Despite the hype around 3D printing and the overall rise of the market this year, shares in 3D Systems (NYSE:DDD) closed Friday at $31.25 per share, down 12% YTD. As with most new technology, the 3D printing market has no clear leader but I believe 3D Systems' product mix and strategy put it in perfect position to profit from the growing 3D printing demand. Now that DDD is selling at a more attractive price, let's take a look at the stock's recent performance, some fundamentals, as well as the hurdles it will need to clear in the near future.
As the chart above shows, this stock had a strong run up until February this year despite the overall market progress. This could potentially spell more bad news, or a better buying opportunity (depending on how you look at it), for DDD shareholders should the stock get caught up in a market correction. Even with its recent downturn shares still trade up 93% over the past 52 weeks, but 34% off their $47.99 per share high.
3D Systems reported top line growth of 45% in the last quarter on 90% higher printer demand. Entering 2013, 3D Systems had a backlog of $11.4 million, including $5.9 million of on-demand parts. As the business grows, DDD will continue to diversify its portfolio of products by adding new printers and related products. Management expects 2013 EPS to be between $1.00 to $1.15 on revenues of $440 million to $485 million. Like Stratasys (NASDAQ:SSYS), 3D Systems sells its own printing materials which should also benefit from an increase in printer sales. Below is a look at 3D's revenue trends over the past four years.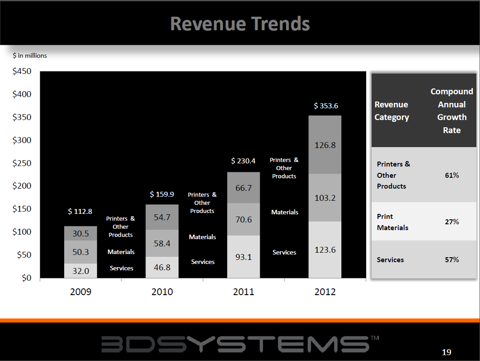 Market Expectations
Analysts have a mean target price of $41.50 and a median target price of $41.00 on the shares. The average estimated earnings per share this year is $1.05 on estimated revenues of $461.35 million, both in-line with management's expected ranges. 3D Systems has met or exceeded these estimates in each of the last four quarters per YAHOO! Finance.
Fundamentals
Below, and compiled from data found on Morningstar, I have compared the financial ratios of 3D Systems to the industry averages as well as two of its main competitors Stratasys and ExOne (NASDAQ:XONE).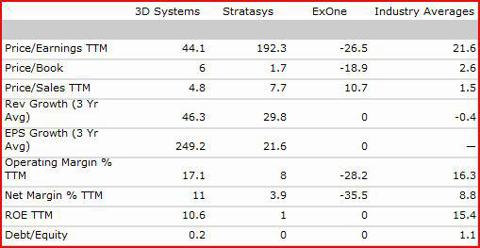 As we see above, based on all of the earnings and sales ratios (P/E, P/S, Rev Growth, Margins and ROE) 3D Systems is far and away the most attractively priced of the three. Compared to ExOne and Stratasys, only Stratasys comes on top of any of the financial ratios presented (P/B and D/E). The leader of a market is the one with the sales and at this point of the game, 3D Systems appears to be winning.
Obstacles
As the 3D market develops, 3D Systems will need to stay ahead and realign its products to benefit from the most profitable and faster growing segments.
Inline with the first point above, more future acquisitions may be needed and I consider this dangerous for investors because they will most likely cost a lot of money and there is no guarantee that each one will be profitable.
Winning the favor of the health industry seems to be the key to success as it is most likely going to be 3D printings biggest and most consistent user.
This is an easy to enter space and margins will most likely be squeezed by new entrants and lower costing products.
Bottom Line
While it still is too early to declare the leader of the 3D printing market, I believe the winner will be the one who is preferred by the medical and other similar industries that can incorporate the higher end printers into their production models. By doing so, these industries stand to benefit from 3D printing by shortening the time it takes to create or modify a product as well as being able to carry smaller inventories. After its recent decline 3D Systems is a lot more attractively priced, and I would normally be interested at this point, but I feel a market correction is coming and am waiting to see if I they will fall even more.
Disclosure: I have no positions in any stocks mentioned, and no plans to initiate any positions within the next 72 hours. I wrote this article myself, and it expresses my own opinions. I am not receiving compensation for it (other than from Seeking Alpha). I have no business relationship with any company whose stock is mentioned in this article.