Weekly Outlook: The market finally started to show some signs of correction that many have been waiting to happen for weeks now. The market got a downward catalyst in the form of weak employment data as ADP Employment Change and Nonfarm Payrolls both reported weak hiring in March along with the highest lack of participation rate since the 1970s. Nonfarm Payrolls were expected to rise near 200K in March, but data showed just under 90K jobs were created. That news shook the markets Friday after ADP created weakness on Wednesday.
Coming into this week, the market definitely has a sense of fear about the market's ability to continue higher. Data from employment and different companies show that March was a weak month for the economy as the sequestration started, payroll tax increases started to show their affect, and employment slowed. The big news to watch in the coming week will be the start of earnings season, more economic data about March, and FOMC Minutes on Wednesday.
Economic data will be one of the keys to the week as data was so weak last week. March information coming through seems to be fairly weak right now. Important data gets started on Wednesday with the FOMC Minutes, which may be one of the keys to the week. While we all know that the Fed is not cutting QE any time soon, any attention to the Fed is a positive for the market. The Fed's continued buying of bonds and continued liquidity infusions into the market are helping to put a floor on downside because liquidity coming into the market has to go somewhere. Thursday will bring us important initial jobless claim information. A drop in that number can help the market rebound from employment fears. Finally, we wrap up the week with Retail Sales, PPI, and Michigan Consumer Sentiment. Retail Sales will be very crucial to the market on Friday, as they should give us a better idea of what spending trends were like in March.
Outside of the USA, Europe and Asia will likely take a step back in importance with more attention to issues at home. Monday will bring the market Investor Confidence for Euro-Zone and German Industrial Production. On Tuesday, Chinese Consumer Price Index will be a very important indicator as its important to see if China is keeping prices in check. Great Britain Industrial and Manufacturing Production will also come out on Tuesday. Wednesday will be crucial to the market with China's Trade Balance report. China needs a good report here to show that growth is happening for the company and exports continue to rise. It's a quiet week, though, for Europe and Asia, overall.
Earnings are likely to steal a lot of the headlines this week as reports from Q1 2013 start to be released this week. After weak employment data and signals of weakness in Q1 from Caterpillar (NYSE:CAT) and FedEx (NYSE:FDX) last month, it will be interesting to see how earnings come out this week. The big reports start this week with Alcoa (NYSE:AA) on Monday. While AA is definitely not the best bellwether to gauge the market, the company is expected to show a slight decline in earnings year/year. After that, we would be more interested in a few reports on Wednesday like CarMax (NYSE:KMX), Family Dollar (NYSE:FDO), and Bed, Bath and Beyond (NASDAQ:BBBY). Each gives a solid look at consumer spending trends in relation to big-ticket items, discount shopping, and home-related goods. The big day, though, is Friday with JPMorgan Chase (NYSE:JPM) and Wells Fargo (NYSE:WFC). Both of those reports will be very important to the market's success to the end the week, and they should help give investors an understanding of how the financial/banking companies fared in Q1.
The Federal Reserve will get some attention this week as the market will get FOMC Minutes on Wednesday. This is definitely a positive for the market as long as the Fed does not discuss stopping QE in the minutes. We doubt we will see anything like that come from the report, but it will be important to watch. Any attention to QE, though, will give the market a boost. Additionally, we have four POMO days this week where the Fed will be injecting the market with money. Thursday should see an injection of around $3B, which will definitely be key to the market.
So where are we headed this week?
The market got hit last week, but we believe that the underlying market got hit a lot more than the indices would show you. Therefore, we would say that a lot of correcting has occurred for last week's data already. This week we have a lot of Fed attention, POMO, and the start of earnings season (which tends to be a time of indecision over correcting). If data is decent and earnings are not too shabby, last week's correction could have a buying opportunity. To expect big gains before we get deep into earnings season, though, would be foolish as well.
Stocks To Trade:
The three stocks we are watching this week are JPMorgan Chase, McDonald's (NYSE:MCD), and ExxonMobil (NYSE:XOM).
JPM has probably the most important earnings report of the coming week, and we believe it's a crucial stock to pay attention to on Friday. Earnings are going to be announced pre-market on Friday. Expectations are for a pop in earnings from 1.19 to 1.39 while revenue is expected to drop over 5%. The key for JPM is going to be a continued rise in mortgage profits along with how the company is seeing the financial scene developing in 2013 so far. With consumer credit on the rise in January and February, the consumer side of the business looks positive for JPM, and we would expect more positives for their mortgage lending. Additionally, the stock market has been doing quite well in the quarter, which should lead to positives for trading gains and investments. Yet, we are curious to see how JPM is seeing markets outside of the USA developing, and if there are any issues overhanging the company since the London Whale.
Additionally, we have seen some issues with employment in March as the sequestration kicked into effect. The revenue drop, overall, is expecting that the appetite for new loans was not as healthy as it was at the end of 2012 before a potential fiscal cliff occurred. Additionally, we believe that trading results will drive positive results. With such a strong market, capital markets were healthy and strong. From CNBC:
According to a research note from Evercore Partners, JPMorgan is the most leveraged to capital markets activity among the big banks, with about 30 percent of total revenues coming from investment banking and trading versus only 20 to 25 percent for Citigroup and Bank of America and 5 percent for Wells Fargo.
With credit quality rising, capital markets looking better, and consumer credit on the rise, it looks like it will be a solid report for JPM. We believe the revenue beat will be much more important. What's more, there is great value still in JPM. The company is currently trading at 8.3 future P/E, which is very attractive. We can still get a "financial crisis" discount on JPM, and the company's recent decline over the past several weeks is offering a nice entry point. We like getting involved into the report if JPM breaks above its 50-day MA or we'll add after earnings.
Trade: JPM, Long
Buy Point: Break of 50-day MA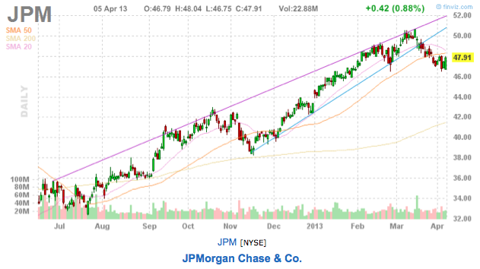 Another stock that we like long is McDonald's. MCD has a 2013 price target of $110 for us, and we believe that the stock is promising as a defensive holding. As the market starts to look weaker and show some issues with employment, lower spending options like discount retail and fast food looks more promising. We believe MCD has at least 10% upside to be fair value and 15-20% potential upside still left for the year. Further, with the market showing some weakness, we want to be in low beta, consistent growth, and high yield names. MCD fits all these categories. The company holds a beta of 0.4, which means that when the market drops MCD will drop at 2/5 of the same rate. During 2008, the S&P 500 dropped 50%. How much did MCD drop? 0%. The company has not had a losing year since 2005. With that type of record, can value really not be there?
It is. MCD trades very cheap. Shares are sitting with a future P/E at 16, while price/sales is at 3.7. Fair value, for us, tends to be between 16-20 on future P/E, depending on the company. Fair value on price/sales is 3-5. While MCD is not as valuable as when we were recommending it last year, the stock has upside potential and is by no means overvalued. The company, furthermore, has consistent growth and a high yield that support a higher value reading. Currently, shares are trading with a dividend yield of 3%. The company has increased their dividend for 36 straight years, and there are no signs that the company will have any trouble doing that moving forward.
The company is currently sitting with over $2B in cash/cash equivalents along with nearly $4B in free cash flow. FCF/Sales are sitting at 14.2%. This rate is very healthy. Over 10% shows strong cash flow. FCF is the key to dividends as its cash flow after all capital expenditures have already been taken into account. This is the money used for dividends and stock buybacks. With a dividend at 3.08 and nearly 5M shares outstanding, the company is only paying $15M in dividends per year. We can see that the company has no problem paying this rate.
MCD looks very solid right now as it took a mental resistance level at $100. We believe shares will outperform the market over the next month as we go through a potentially volatile and weak period. We like being long shares and also believe selling puts in the company below $90 is a great way to make some income to hedge the long.
Trade: MCD, Long
Buy Point: Now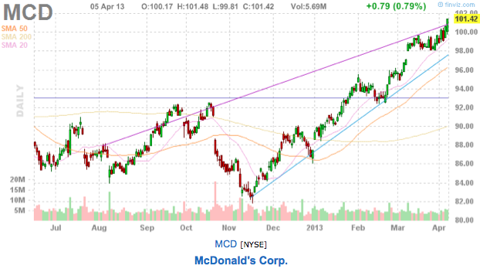 ExxonMobil will be in our newest group of companies that we have coverage on. We are introducing integrated oil/gas coverage, and XOM will be one of our buy-rated companies. We have a 2013 price target of $110 for the stock, and we believe that shares are vastly underestimated right now. One of the main reasons to be a fan in XOM is that when buying this company you are buying one of the most efficient companies in the stock market let alone its industry. Not many companies use capital as well as XOM. XOM, for example, sits with a ROE at over 28%, outpacing competition like Chevron (NYSE:CVX) at 20% and ConocoPhillips (NYSE:COP) at 15%. Even when looking at XOM in comparison to other market leaders, the stock is impressive. Of the 15+ names that are mega cap (market cap over $200B) at this time, XOM ranks third in ROE only behind IBM and Apple (NASDAQ:AAPL). ROE is really a great way to look at how efficient the company is making returns on their equity. The larger the number, the better for investors. The company has an attractive dividend at just under 3%, and the company's estimated loss in revenue is nearing on 10% is an underestimation. Why?
At the beginning of the year, a lot of analysts believed that 2013 would be a bad year for oil/gas due to fiscal issues throughout Europe and the USA along with a potential slowdown in China. 2012 was a great year for oil/gas companies, so the comps would be hard as well. Yet, in 2013, WTI crude oil has stayed flat since the beginning of the year with some increases in Q1. Brent crude, which is likely even more important, since a lot of the issues surrounding oil are expected to be in Europe, has seen a decrease of only 5%. While obviously not a positive, the EIA has increased their demand expectations for 2013 as well as OPEC. Further, XOM has great exposure to American shale, which is likely the largest growth market for oil in the USA over the next several years. While volatile, American oil is expected to pass Saudi Arabia in production by 2022.
Another knock on XOM is its natural gas exposure, and that its larger percentage of natural gas exposure than much of its competition is a negative. How has natural gas fared? Natural gas prices are up 25%. We believe that natural gas will end up being a big benefit from XOM moving forward as LNG continues to gain in heavy-duty vehicle exposure.
With shares of XOM printing great value with its P/E and future P/E under 10.0, and the company offering solid results, consistent dividends and dividends increases, and a lot of potential growth moving forward, we like XOM as a nice holding. Is now a good time to buy, though? Shares have dropped back to rock solid support at $88, and we believe that it's a great place to start a position.
Trade: XOM, Long
Buy Point: $88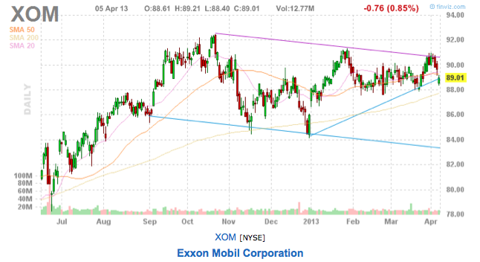 Disclosure: I have no positions in any stocks mentioned, and no plans to initiate any positions within the next 72 hours.
Business relationship disclosure: The Oxen Group is a team of analysts. This article was written by David Ristau, one of our writers. We did not receive compensation for this article (other than from Seeking Alpha), and we have no business relationship with any company whose stock is mentioned in this article.