The main risk factor for Frontier Communications (NYSE:FTR) has always been its large debt load. During Q2 2010, right after Frontier purchased a large amount of landlines from Verizon (NYSE:VZ), Frontier's leverage ratio stood at an astronomically high 4.04X. As of Q4 2012, Frontier's leverage ratio was a rather high 3.17X. However, Frontier has been recently making some efforts in reducing its debt. During the past year, Frontier's stock has been relatively stable, trading at or around $4.00 per share for most of the period. Like most telecom stocks, Frontier offers an outsized dividend. Frontier's current dividend is $0.10 per quarter. At current prices, Frontier yields about 9.70%.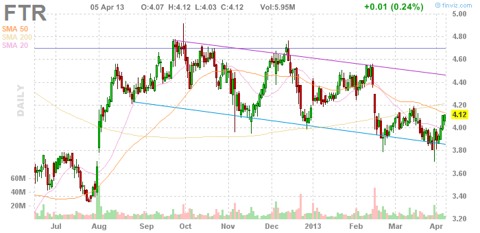 Frontier has recently been refinancing a large amount of its debt load. Initially, on March 27, Frontier announced an offering for $500M of 7.625% senior notes due in 2024. Later that day, Frontier commenced a cash tender offer for any and all of its 6.625% senior notes due 2015 and 7.875% senior notes due 2015. The next day, on March 28, Frontier announced that it was "upsizing" its senior notes due 2024 offering to $750M and that it had amended its earlier tender offer to include the 8.250% senior notes due in 2017. Frontier expects net proceeds of approximately $736.8M from the 2024 senior notes offering and expects to purchase $899.8M in aggregate principal amount of the outstanding 6.625% senior notes due in 2015, 7.875% Senior Notes due 2015 and 8.250% Senior Notes due in 2017. The offering is expected to close on April 10, 2013. On January 28, Frontier announced that it had repaid its 6.25% senior notes due January 15, 2013 of $502.7M using cash on hand.
While the new notes interest rate of 7.625% is rather high, it is still lower than the 9.250% interest rate Frontier had to pay for its $500M senior notes due 2021.
Below is a summary of Frontier's current debts from its 2012 10-K. The orange box represents the 2013 notes that have already been repaid while the red boxes represent the notes that have been tendered: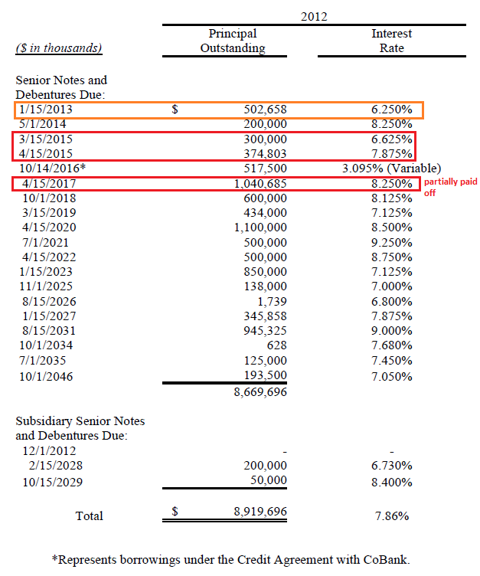 Except for the $200M senior notes due in 2014, Frontier now has a relatively low amount of debt due in the next few years. Considering that Frontier generates about $570M in annual excess FCF and its $1.34B in cash, Frontier should now have enough excess FCF and cash on hand to repay its debts through 2017. Frontier seems to be well on its way to its targeted 2.50X net leverage ratio.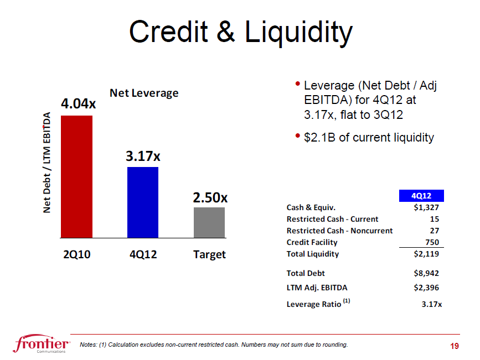 Paradoxically, due to its prior dividend cuts, Frontier may now have the safest dividend among the rural telecoms. Using the midpoint of its 2013 FCF guidance, Frontier's dividend payout ratio is expected to be about 45% in 2013. This compares favorably to CenturyLink (NYSE:CTL) and Windstream (NASDAQ:WIN), which have FCF dividend payout ratios of 45% and 65% respectively.
In addition, Frontier's stock has been the best performer among the rural telecoms for the last year, with its stock basically flat. In comparison, Windstream's stock has declined 27%, which CenturyLink's stock declined lost 6%.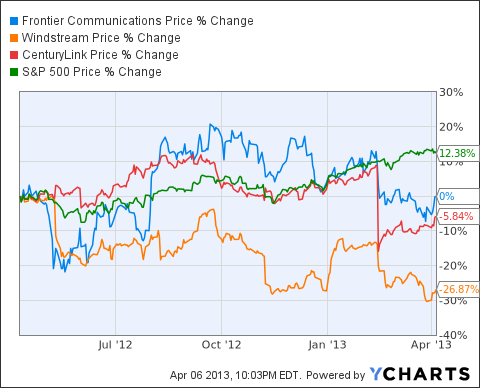 Conclusion
That Frontier may now be the 'best' rural telecom is more of a testament of that sector's decline than a case of Frontier suddenly becoming more profitable. Its main competitors have either faced sharper declines in revenue and/or been incompetent.
However, let me give credit where credit is due. Frontier was able to knock down its interest rate on senior notes from 9.25% in March 2012, to 7.625% in March 2013. Frontier has accomplished what it set out to do when it cut its dividend early last year, which is to refinance debt at acceptable interest rates. Frontier may have been facing a liquidity event if it had maintained its sky-high payout ratio. Frontier's management forced the company to take its medicine, and now Frontier is much healthier as a result.
Disclaimer: The opinions in this article are for informational purposes only and should not be construed as a recommendation to buy or sell the stocks mentioned. Please do your own due diligence before making any investment decision.
Disclosure: I have no positions in any stocks mentioned, and no plans to initiate any positions within the next 72 hours. I wrote this article myself, and it expresses my own opinions. I am not receiving compensation for it (other than from Seeking Alpha). I have no business relationship with any company whose stock is mentioned in this article.