That long waited market pullback may finally be here. While US markets recovered most of their losses on Friday after a dismal jobs report, the S&P 500 is still 20 points off its recent high. A lot of individual stocks are also pulling back at this time. Today, I'm here to discuss five of them, and whether you should buy now or wait. Three of the names I'm discussing either hit or were very close to 52-week lows this week, while the other two have recently pulled back from 52-week highs.
Apple (NASDAQ:AAPL):
I recently wrote that Apple could take another beating. The basis for my reasoning was that Apple has not launched any new products in a while, which is causing analysts to continually cut their revenue and earnings estimates, as well as price targets. Those continued negative notes would cause more selling in Apple, and on Friday, Apple was less than 70 cents from a new 52-week low.
My stance that analyst estimates would continue to come down is being validated every couple of days. Apple's fiscal Q2, fiscal Q3, and fiscal full year estimates are at another new low. The table below shows how fiscal Q2 estimates have changed over time. I won't present the Q3 and full year numbers here, because it would be repetitive. All you need to know is that the numbers are going down.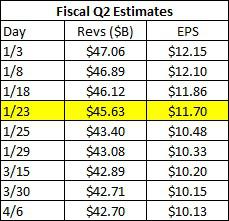 Analysts keep lowering their estimates because as each day passes, it seems less and less likely that Apple will launch a new product by the end of fiscal Q3 (calendar Q2). Apple analysts have gotten so bearish that the current average Q3 estimate of $9.34 is just two cents above Apple's Q3 last year. If Apple does not launch any new products by the end of June, it is possible that the company could see a year over year earnings decline two quarters in a row, at least.
I also in my last article discussed a key psychological number - the fiscal year average estimate. Apple reported earnings per share of $44.15 in the prior fiscal year. That was on a 53-week period, and the adjusted earnings per share number was $43.16. However, if you look at the analyst estimates page, you'll see the current estimate is for $44.05. This number has come down another 7 cents since my latest article. Analysts are now projecting a 0.23% decline in Apple earnings using the non-adjusted number, or 2.06% growth on the adjusted number. It might be possible that Apple's earnings per share actually decline, because the expected growth number keeps coming down. We're now at the lowest point.
Apple has now lost almost $50 since its recent high just under $470, a decline of 10%. Apple is just 1% above its 52-week low, which I think will get knocked out soon. Overall, I think Apple is a long term buy, but I wouldn't throw all of my money into it just yet. I think there is more short-term downside ahead, until we get some good news from Apple. That could be a product announcement, a dividend raise, or even just a decent Q2 report and Q3 guidance. For now though, Apple seems to be stuck under its 50-day moving average, as you can see in the chart below. It's possible that more analyst cuts are coming, and if the overall market pulls back even more, Apple may head to $400.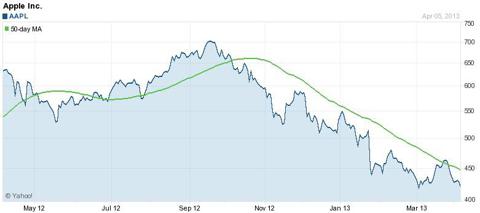 Green Mountain Coffee Roasters (NASDAQ:GMCR):
This is the second major pullback in Green Mountain shares over the past three months. The first one came after the company's first quarter earnings report. The report was good, but guidance was slightly weak, and that provided an investors to take profits after a huge rally over the past several months.
Green Mountain shares recently hit a new 52-week high of $59.30. That represented a nearly 289% rise from the roughly $15.25 after-hours bottom we saw in 2012. Shares have risen because the company's results haven't been as bad as expected. Also, the company's buyback program has significantly changed some investors' minds in regards to GMCR. This has led to a large amount of short covering in the stock.
I recently discussed this name having more upside. Green Mountain still has a ways to go on its buyback program, and with roughly 20% of shares outstanding short, any good news will lead to massive short covering in the name. As of the latest update from NASDAQ, the number of shares short represented about 8 full days of trading volume. That's a lot of shares to cover if we get good news.
The company currently trades at 18.74 times this fiscal year's (ending September 2013) expected earnings. Starbucks (NASDAQ:SBUX) currently trades for 26.76 times their expected earnings. That seems like a huge discount, but Green Mountain analysts use non-GAAP estimates. Green Mountain's GAAP earnings per share, those comparable to Starbucks, are a little less. That explains some of the discount, as Green Mountain's GAAP valuation would be a bit higher, but there is still a decent size discount here.
I do believe there is further upside in Green Mountain, especially if this company can hit their revenue and earnings marks. For the short-term, the key number in this stock to watch is $50, which is right about where the 50-day moving average is. This level should be one of support for the name, as you can see in the chart below, but if the stock doesn't hold here, I think you'll see it pull back to $45.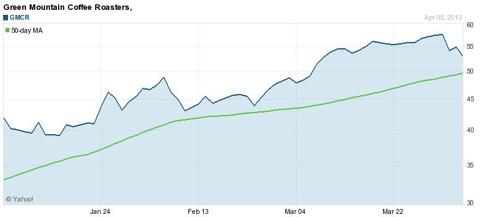 Market Vectors Gold Miners ETF (NYSEARCA:GDX):
It has not been a pretty picture for the miners lately, as you can see from the 6-month chart below. The miners ETF lost nearly 7.4% in the past week alone. That includes the fact that the ETF finished the week at $35.06, well off the week's (and 52-week) low of $33.71. In fact, due to general market weakness, the miners lost nearly half a percent on Friday, even when gold was up more than $20 on the day.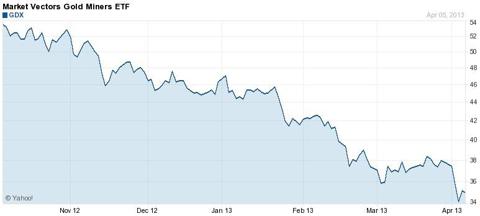 This is not one name I'd be looking for a quick turnaround in, not yet anyway. Gold has recently taken out major support, and I do agree that gold probably heads towards $1,500 in the near term. That's a roughly 5% decline from here, which I think will continue to pressure miners. As miners continue to see increased year over year production costs, the drop in gold squeezes margins even further. While it has already been six terrible months for the gold miners, the declines could continue if gold goes lower.
F5 Networks (NASDAQ:FFIV):
The networking name saw its shares plunge on Friday after a quarterly warning from the company. The company stated that it expects to report fiscal Q2 (March quarter) revenues of $350.2 million and EPS of $1.06 to $1.07, below a consensus of $375.8 million and $1.23. The company provided the following statement in its press release.
John McAdam, F5 president and chief executive officer, said the revenue shortfall resulted primarily from a slowdown in North American and to a lesser extent EMEA sales, while sales in Japan and Asia-Pacific were essentially in line with the company's expectations.

From a market perspective, Telco bookings were down sharply on both a sequential and year-over-year basis. U.S. Federal sales were also down significantly from the second quarter a year ago.
Shares of F5 fell 19% on Friday, hitting a new 52-week low during the day's trading. This situation reminds me of VMware (NYSE:VMW) and its poor guidance a few months ago, which caused shares of that name to plunge about 20% initially as well. VMware shares fell another 10% after the initial drop.
I think you could easily see a repeat in F5 shares, meaning that I think a bottom has not been set just yet. A number of analysts have already downgraded the name, and I expect more downgrades will be coming. F5 had missed on revenues and earnings two quarters in a row already, and their revenue guidance for this current quarter (the one they are warning on) was a bit weak to begin with. I think you'll see an eventual bounce in this name, but I don't expect it to occur just yet. I think this stock goes lower first, probably taking out $70 in the next couple of weeks. F5 will be reporting on April 24th, and you can bet that the company's guidance at that report will be key to whether this stock recovers over the longer term.
Google (NASDAQ:GOOG):
So much for Google going to $1,000. Well, for now anyways. The search giant has fallen more than $60 from its 52-week high of $844, and that includes a $6 plus rally from Friday's bottom. Friday's close in Google was the lowest in nearly two months, with Google's last close in this area on February 13th.
It appears that some of those $1,000 price targets may have marked a top in Google, as they did with Apple in late 2012. More investors seem to be skeptical of Google's huge rally, with short interest rising more than 50% in just a month and a half. Google's short interest is at a 4-month high currently, as seen in the chart below.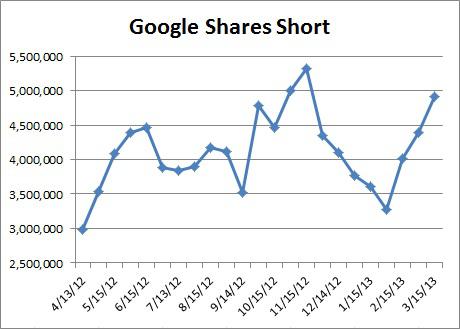 There hasn't been any one particular reason for the fall in Google shares. However, some may be concerned with Google's margins going forward, especially with a new same-day delivery service and the possibility that Google will launch a $149 Nexus 7 tablet in the next few months as they further enter the lower end tablet market.
Google's margins dropped significantly after the purchase of Motorola Mobility, but the company's revenues jumped thanks to the purchase. Google's Q1 will be the last quarter where we don't have a comparable Motorola to Motorola quarter, meaning Google's total revenue growth rate will start coming down in the next few quarters. Google's Q2 last year was the first quarter where Motorola results were included. A bit of that reality may be starting to set in, which is why the stock has pulled back a bit. Even after the pullback, Google shares are up nearly 24% over the past twelve months, which is a lot better than Apple shares have fared.
As for Google going forward, I think we'll stay between $750 and $800 until Google's earnings report on the 18th, unless we get game changing news before then. Google recently broke below its 50-day moving average, as you can see from the chart below. The last couple of times that's happened, Google has drifted lower for a couple of weeks. I wouldn't be surprised if that happens again.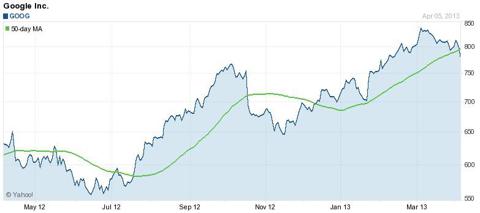 Final Thoughts:
All five of these names have pulled back quite a bit recently, with three of the names close to 52-week lows. I expect Apple, Google, and Green Mountain to head higher in the long-term, but would not be surprised to see more short-term pain first. The Gold Miners ETF is headed lower in my opinion, as I believe the price of gold will head towards $1,500 and maybe lower. F5 has the potential to rebound in the long-term, but could also see more short-term pain, especially if their guidance is not great in a couple of weeks.
(Source note: All stock price charts in this article were retrieved from Yahoo! Finance, and each company's respective page on that site. The Google shares short chart was created by the author.)
Disclosure: I have no positions in any stocks mentioned, but may initiate a long position in GMCR over the next 72 hours. I wrote this article myself, and it expresses my own opinions. I am not receiving compensation for it (other than from Seeking Alpha). I have no business relationship with any company whose stock is mentioned in this article.
Additional disclosure: Investors are always reminded that before making any investment, you should do your own proper due diligence on any name directly or indirectly mentioned in this article. Investors should also consider seeking advice from a broker or financial adviser before making any investment decisions. Any material in this article should be considered general information, and not relied on as a formal investment recommendation.