The share price of eBay (NASDAQ:EBAY) has steadily returned 56% over the past 12 months and the stock is trading near its 52-week high of $57.26. Based on the following 4 reasons, I believe the price momentum will likely persist for a while and the stock remains a solid buy at this level.
1. eBay shares are still priced attractively based on the company's solid financial performance relative to its primary internet peers' (see chart below). The firm's consensus 2-year revenue, EBITDA, and EPS growth estimates are notably below the averages for the interest services peer group which contains some high-growth comps. Similarly, eBay's long-term earnings growth estimate is also below par. On the profit side, however, eBay demonstrates a better performance as the company's various profit margins and capital return metric are above the peer averages. In terms of debt and liquidity, eBay's debt level is fairly in line as reflected by its on-par leverage ratios. The firm's trailing free cash flow margin is below the average, but due to the stronger profitability, eBay was able to maintain a lofty interest coverage ratio. Both the firm's current and quick ratios are below par, but they remains at a healthy level on an absolute basis.

eBay's current price multiples at 12.3x forward EBITDA and 20.2x forward EPS (next 12 months) are at a large discount to the same peer-average multiples, reflecting eBay's below-average growth potential. However, after accounting for the long-term EPS growth estimate, eBay's PEG ratio of 1.2x is still 25% below the peer average, suggesting that market has likely not given sufficient credits to eBay's robust profitability and hence the shares are valued at a modest discount on a relative basis (see chart above).
2. From a historical standpoint, eBay's long-term PEG ratio is fairly in line with its level in a year ago (see chart below).

In my view, the stable PEG trend implies a reasonable valuation development provided that 1) eBay has been able to produce a slightly higher return on invested capital over the past 2 years as reflected by its ROIC uptrend; and 2) the company has also managed to sustain profitability and free cash flow margins over the same period (see charts below).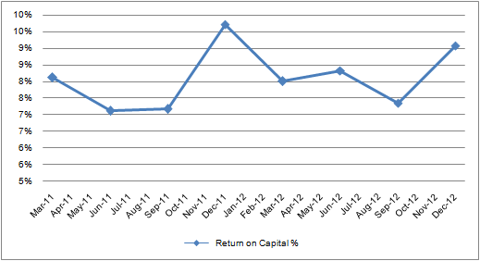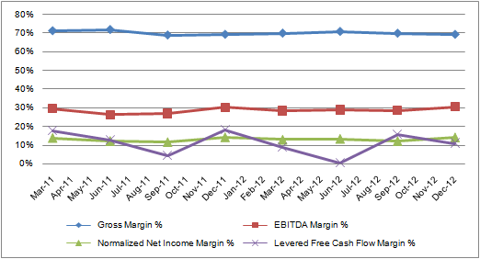 Moreover, eBay's long-term PEG ratio at 1.2x is currently below the average long-term PEG of 1.8x (forward P/E of 14.6x and long-term earnings growth rate of 8.2%) for S&P 500 Index. Given the company's healthy profit and liquidity condition which is above the market level, I believe this below-market valuation presents a great buying opportunity.
3. Market sentiment on the stock is very positive. The market's consensus revenue, EBITDA, and EPS estimates for 2013 and 2014 have all been raised markedly over the past 6 months. In addition, analysts' long-term earnings growth estimate has also been boosted from 12.9% to 16.4% since a year ago (see charts below).




4. Of the 40 analyst ratings compiled by Thomson One, there are 11 strong buy and 21 buy ratings. eBay recently held a investor meeting, and in a research note dated April 1, Doug Anmuth at JP Morgan commented on his take-way and the company's growth prospects, which I tend to agree on (sourced from Thomson One, Equity Research):
"eBay's investor meeting was upbeat and the company is both investing in and executing well against the $10 trillion long-term opportunity that includes both online and offline retail…We believe Marketplaces can grow at or above mid-teens e-Commerce levels driven by continued site enhancements and innovation, mobile, and international strength…Management believes PayPal TPV can double to $290B in 2015, a 3-year CAGR of 26%. We believe Merchant Services still has strong growth ahead as it continues to expand its retailer base, and high-margin credit and cross-border also should drive additional growth."
Bottom line, despite the significant price run-up, eBay stock remains a solid buy given its attractive risk/reward profile as supported by the company's healthy financials, continued growth momentum, and inexpensive valuation.
All charts are created by the author except for the consensus estimate tables which are sourced from S&P Capital IQ, and all financial used in the article and the charts is sourced from S&P Capital IQ unless otherwise specified.
Disclosure: I am long EBAY. I wrote this article myself, and it expresses my own opinions. I am not receiving compensation for it (other than from Seeking Alpha). I have no business relationship with any company whose stock is mentioned in this article.