In MDU Resources Group's (NYSE:MDU) recent analyst day, they made one change to the slide regarding their prospects in the Paradox Basin. See if you can find it.
Old Slide: Paradox Basin Slide from 4/16/12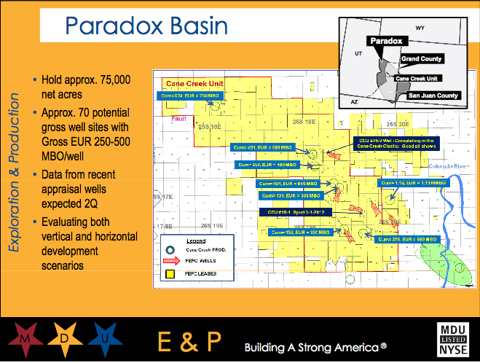 Click to enlarge
New Slide: Paradox Basin Slide as of 3/14/13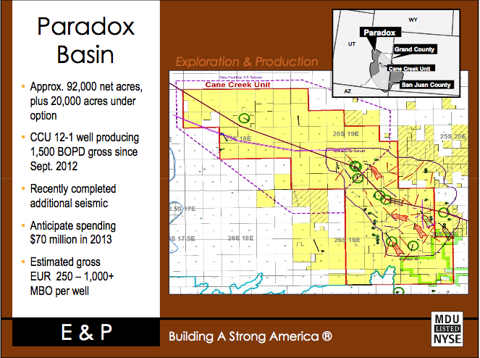 Click to enlarge
Give up? In the old slide, they list the potential from their Paradox Basin wells as 250-500 MBO (Thousands of Barrels of Oil) per well. In the new slide, they show 250 - 1M+. That is a pretty big jump on the high end.
The reason for the renewed optimism can be found in the Utah Oil and Gas well production data for MDU's Cane Creek Unit 12-1 well.

Click to enlarge
MDU's Cane Creek Unit continues to produce at a rate of about 1,500 barrels of oil per day. Not BOE (Barrels of Oil Equivalent) mind you, but BOO (Barrels of Oil). If you were to include the associated gas, the number just gets higher.
Since dry gas value continues to be fairly low, I wonder what the NGL (Natural Gas Liquids) content of the associated gas is?
Luckily, I was able to uncover a filing that MDU made to request a variance for gas flaring above the permitted amount of 1,800 MCF/ month. Buried in the back of this filing is a gas analysis of the contents of this gas.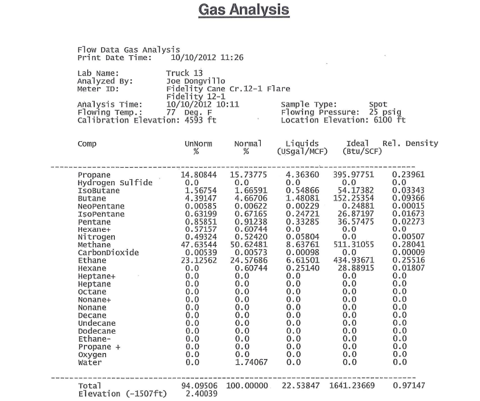 Click to enlarge
This well is generating very rich gas with ~1650 BTU and a GPM (Gallons per MCF) of around 13. I'm not sure why MDU has not discussed the high NGL content of this discovery yet. Recent valuations of MDU's Paradox Basin assets by Wall Street analysts are fairly low $100-$200M. At current production rates, those numbers may be justified by this one well alone. If MDU has stumbled upon a sweet spot in this play, the value for the Paradox Basin assets could be much, much higher.
Maybe this is why the CEO described the Paradox Basin as a "potential game changer."
Disclosure: I am long MDU. I wrote this article myself, and it expresses my own opinions. I am not receiving compensation for it (other than from Seeking Alpha). I have no business relationship with any company whose stock is mentioned in this article.