Gilead (NASDAQ:GILD) just reported a blockbuster quarter.

I owned Gilead shares for couple of years, sold in 2008. I had an impressive gain (about 80% in couple years). My reasons for selling are outlined here.

Gilead is on the conversion path. It was a biotech company. Now it's becoming a plain drug company. Sure, it has a great HIV franchise, and a bunch of unique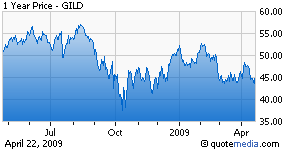 drugs. But we know from Jim Cramer's book "Real Money: Sane Investment in an Insane World" that biotech companies are valued based on their pipeline. At the time I decided to sell, the company had pipeline information on its web site. It was there, although it wasn't impressive at all. Now this information is gone. All you see are currently available drugs.

That's not good. Looks like the current management has decided to cut research expenses and live from the current stock. This changes investment conditions completely. Gilead currently trades at P/E 22, which is low value for a biotech company. But it's way too high for a drug company. For comparison, Pfizer (NYSE:PFE) trades at P/E under 11. In other words, as a drug company, Gilead is double overpriced. Of course, Gilead is a better company than Pfizer, it has longer patent protected terms for cash cow drugs, its HIV franchise is peerless, so it probably can command higher P/E. But 22 feels too high, and the company doesn't pay a dividend.

I still don't see a reason to buy GILD. I can change my mind if the company declares a dividend or if the stock pulls back significantly.

Full disclosure: At the time of publication author did not have any positions in GILD or PFE. Positions can change at any time.