When I recently wrote an article attempting to defend LinkedIn's (NYSE:LNKD) share price, I was met with a barrage of negative comments from readers inaccurately accusing me of failing to look at the company's valuation. Some probably doubted I even understood P/E ratios.
However, my argument centered on the fact that rarely will a share price drop simply because the P/E ratio is high or shares have recently outperformed. Recent history should have reminded us as much. After all, it took an actual economic disaster to bring down commodities and their share prices in 2008.
Of course, the opposite can also be true in that just because a stock or sector has underperformed doesn't mean buyers will automatically swoop in. Nothing should cement such a basic truth in our minds more than the recent trade of Apple (NASDAQ:AAPL).
Now as an onlooker, there is very little at first glance that may intimidate willing investors from shares of the tech giant. After all, the company appears significantly undervalued with a P/E ratio under 10 and full year 2013 earnings expected to come in at $43.90. That $10.60 annual dividend doesn't deter, either.
However, there are other more subtle issues that may continue to impede shares, and such things, as explained below, aren't about to dissipate anytime soon.
1. Consumer Uncertainty: Republicans have continued to insist that further tax increases are not on the table in advance of the upcoming budget battles. Still, that was what the party tried to convince citizens late last year before eventually caving in to such increases. With Democrats outnumbering Republicans in the Senate and holding control of the presidency, look for either another round of tax increases or a government shutdown to potentially grab headlines or lighten consumer's wallets.
If you believe such bickering won't hurt a company like Apple, look no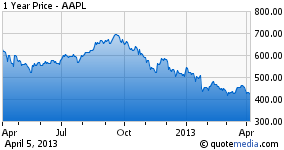 further than the stock's one-year chart. After peaking in late September, shares severely underperformed in the fourth quarter before rebounding only momentarily once the debt ceiling was raised.
2. Economic Uncertainty: If you remain worry free in regards to your job status, you're probably still in the minority. After adding a paltry 88,000 jobs in March, the job market may have begun to show us a sign of things to come. With everything from potential tax increases to the introduction of Obamacare coming in 2014, companies are proving to be more than willing to cut hours along with their workforce as a whole.
Although hurting most companies, Apple appears especially susceptible to this trend due to the high price tags on the majority of the company's products. After all, even Amazon (NASDAQ:AMZN) lists the latest iPad as costing nearly $700.
3. Decrease in Earnings: Apple is slated to make a huge profit again this year, but that still might not be enough to appease shareholders. After witnessing earnings growth of 83% in 2011 and 60% last year, the company's earnings are expected to decline 1% in 2013. Such a deceleration in earnings is unfamiliar territory for many of Apple's shareholders and may leave the company needing to clearly beat on at least one of their upcoming reports to spur any sort of buying.
On the other hand, beware of a miss such as the one reported by the company on its third quarter report last year as this could lead to exaggerated and furious selling.
4. Decrease in Volume: With all the recent attention and many analysts, including those at Lazard Capital, claiming Apple undervalued and a good buy, one would think the stock's volume would be on the rise. However, total monthly volume in March came in at 327.7 million or 24% less than the average monthly volume of 432.1 million. In fact, the only month so far this year shares experienced above average volume was in January when they lost almost $100.
In the end, all investors want a good deal and it's natural to want to buy shares after they've fallen so as to capitalize to the fullest extent upon recovery. However, investors should be forewarned that guessing a bottom is a dangerous and rarely prosperous game.
Disclosure: I have no positions in any stocks mentioned, and no plans to initiate any positions within the next 72 hours. I wrote this article myself, and it expresses my own opinions. I am not receiving compensation for it (other than from Seeking Alpha). I have no business relationship with any company whose stock is mentioned in this article.