Last week I felt compelled to write an article on 3 Health REITs with Mispriced Risk. It seems that the durable shares of the necessity-driven healthcare REITs have moved up extraordinarily fast, and as a result, many yield-hungry investors have jumped on the gravy train. Some of my favored mid-caps, notably Omega Healthcare Investors (NYSE:OHI) and Medical Properties Trust (NYSE:MPW) - have been on an explosive roll, thanks to the support of Mr. Market. As I explained
It's clear to see that these "higher risk" assets are also driving the returns, and it's important for investors to understand the risks and the value proposition of investing in lower quality vs. higher quality assets. Simply said, OHI, MPW, and AVIV have all turned in outstanding total returns in recent months; however, there is reason to believe there is a lower margin of safety when there is mispriced risk.
Is It Time To Jump Off The Gravy Train?
Often mispriced risk can be a signal that it's time to rebalance your portfolio. That process of selling your winners can be driven by instinct or analytics, or a combination of both. For some, rebalancing can be as simple as a gut check since nobody wants to sell stocks when they're soaring or buy them when they're plunging.
It's wise to resist the urge to plow money taken from mispriced REIT stocks into higher-yielding REITs since the mispriced REITs have already had a big run, and investors should consider rebalancing out of the riskier holdings. Conversely, intelligent investors should consider a safer strategy of taking advantage of the mispriced risks of the REIT preferred sector.
Why REIT Preferreds?
In an article last year, I wrote on REIT preferred shares and explained that...
most investors view preferred stock as bond alternatives because the preferred stock is a low-risk investment proposition that offers a higher yield than bonds. Not only do REIT preferred dividend yields generally exceed the dividend yield on the common stock, they are fixed and do not fluctuate with REIT earnings.
The proposed strategy of selling into mispriced REIT risk, while reinvesting in REIT preferred shares, can be particularly rewarding. It's kind of like being on a big run in blackjack. Say for example that you started the card game with one black chip (worth $100) and in an hour's time you accumulate ten new chips with a profit of $1,000.
You feel certain that you can't sustain the winning pace so you head on over to the roulette wheel where the odds are better. There you pull $200 of new chips (all profit) out of your pocket and begin to diversify your income stream - all with winnings from the outstanding run-up in blackjack profits.
Maybe gambling is not a good analogy but unlike common stocks and like bonds, REIT preferreds pay a fixed amount, but in the form of a dividend (as opposed to interest for bonds). That makes them a safe bet for income investors.
Preferreds are closely aligned with "mezzanine financing" because they are not as risky as common shares, nor as safe as debt, but somewhere in between. Consequently, owners of REIT preferred stocks should accept investment returns somewhere between debt and equity.
On average (excluding mortgage REITs) REITs maintain around 50% of their capitalization as equity, and the remaining as debt, representing very low leverage compared to most private investors. Around half of the REITs have preferred equity and, in general, the component represents between 5% - 10% of their total capital stack.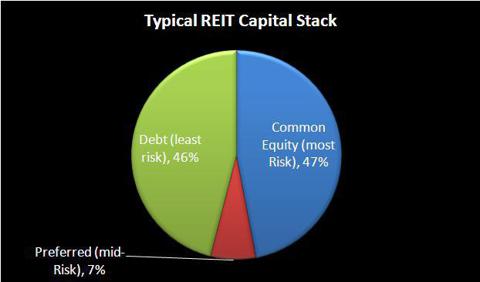 Some advisers recommend that preferred shares represent between 5% - 15% of an investment portfolio. Due to the higher than average dividend yields, REIT preferreds can provide a significant cash flow boost to an investor's current income, while at the same time increasing portfolio diversification.
REIT preferreds are pretty secure as an investment category - because they are backed by hard assets - and issued by relatively unleveraged companies. In the event of bankruptcy, the chance of recovery should be greater than with other asset classes. And a broad cross-section of all REITs (over 50%) has issued preferred stock.
Latest REIT Preferred Offerings
Preferred equity offerings are on the rise. Year-to-date (as of March 25), preferred equity represented 17.6% of the total capital raised by U.S. REITs in 2013, a pace that represents the second-largest percentage (since SNL's coverage began Jan. 1, 2000), and second only to the 22.6% of REIT capital that preferreds represented in full-year 2003. (source: SNL Financial)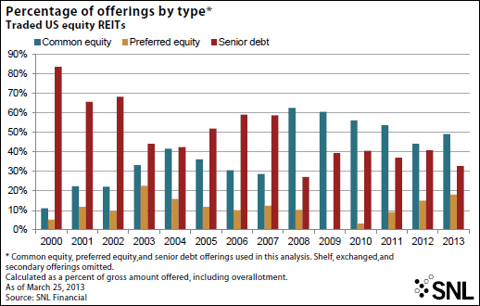 As of March 25, 17 U.S. traded REITs had completed 20 preferred equity offerings, raising a combined $2.7 billion. Public Storage (NYSE:PSA) leads the group with $700 million raised between two offerings, with a coupon rate for each of 5.20% - the lowest among all preferred offerings completed by REITs this year, (as of March 25). PSA is no stranger to the preferred equity market, having completed 35 preferred offerings since 2000.
PSA may be more of an anomaly, though, regarding its regular use of preferred equity. Since Jan. 1, 2000, 45 U.S. REITs had only completed one preferred equity offering, and of the 154 current SNL-covered U.S. REITs as of March 25, more than one-third had yet to complete a single preferred offering.
In 2012, eight REITs completed their first preferred equity offering (since SNL's coverage began in 2000). As of March 25th, four more REITs had followed suit with their first preferred offerings. Among these are regional mall giant General Growth Properties (NYSE:GGP), which completed its first preferred equity offering since emerging from bankruptcy, and office leader Boston Properties Inc. (NYSE:BXP).
General Growth and Boston Properties have completed the third - and fourth-largest preferred offerings year-to-date, for $250 million and $200 million, respectively. (source: SNL Financial).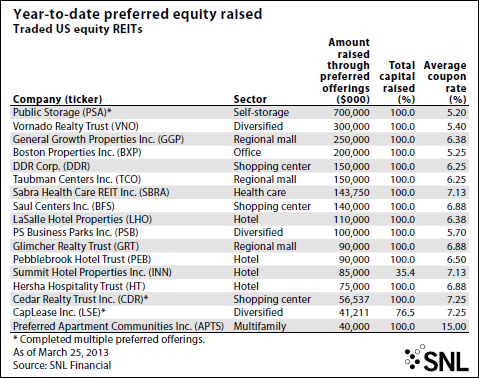 While 2012 brought a record amount of preferred equity raised by REITs - a figure that climbed to $9.11 billion in 2012 from $1.73 billion in 2010 - the coupon rate has been on a downward slide. On average, an investor holding a preferred equity stock enjoyed a yield of more than 8% in 2010, 7.74% in 2011, 7.19% in 2012 and 6.87% in 2013, as of March 25.
Despite the declining coupon rates, as REIT veteran Ralph Block mentioned in an October 2012 SNL blog post, most preferreds are still yielding 6% to 7%, a rate that is
deemed quite satisfactory by yield-starved investors who may be weary of today's treacherous stock markets.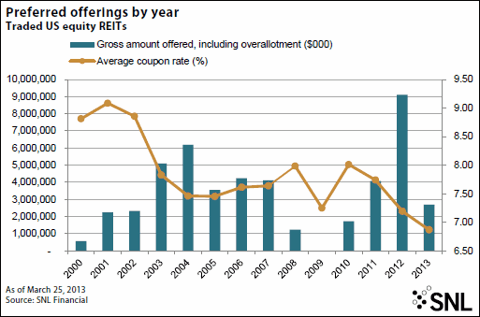 Analyzing one-year total return values as of March 25th, there are a handful of REITs with outstanding preferred stock that is greatly outperforming these companies' common stock. Companies with common equity underperforming preferred equity include LaSalle Hotel Properties (NYSE:LHO), which returned negative 11.19% on its common equity, and averaged 7.42% on its series G, H and I preferred equity as of March 25; Digital Realty Trust Inc. (NYSE:DLR), with common equity returning negative 4.41% compared to the average total return of 12.36% on its series E and F preferred; and Alexandria Real Estate Equities Inc. (NYSE:ARE) which posted a 1.52% return on its common equity that trailed the 14.28% average return of both its series D and E preferred equity by 12.75 percentage points.
Looking at the different REIT sectors, diversified REITs have the most preferred equity currently outstanding, with more than $3.71 billion as of March 25. Self-storage ranks second with $3.62 billion and shopping center REITs are third with $3.19 billion outstanding as of March 25. On the flip side, multifamily REITs have barely utilized this vehicle, with only $207.4 million outstanding.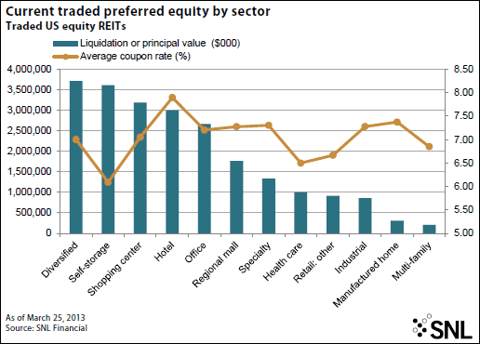 Tap into the Niche Alternative of REIT-dom
In a niche space within REIT-dom, there remains a relatively undiscovered investment alternative that fits the needs of retirees needing current cash income and of investors needing fixed income diversification.
In a quest for yield, mispriced risk is becoming more prevalent and the REIT preferreds, although little understood and thinly traded - have become terrific options for filling the gap while reducing exposure to riskier stock market options. As I explained in a recent Seeking Alpha article:
The increase in demand for preferred REIT stock is so strong that companies have been able to issue shares at all time lows. REIT sponsors realize that they may never be able to issue preferred shares this cheap again. This bodes well for investors as the menu for complimentary fixed-income alternatives (especially when common stock dividends are low) help round out a diversified real estate portfolio.

Remember that the primary objective for preferred shares is income and therefore the intelligent investor should remain focused on the fact that they are equivalent to a bond (for income); however, they yield more than bonds (but with a similar risk profile). Perhaps a better way to describe preferred stocks is that they could be something like a "bond replacement" strategy.
For an investor willing to actively manage a portfolio and can earn returns equal to or above what the typical stock market investor may reasonably expect, REIT preferreds are a great fit. Although the yields on recent preferred issuances have compressed (the yield spread and preferred rates now range from 5% to 7%) they are still more appealing than today's low-yielding bond instruments and less risky than the mispriced common REIT shares.
I have provided below a snapshot of my 20 favorite preferred REIT picks. Note that I often recommend that investors implement a blended strategy that includes both buying REIT common and preferred stock. This way, investors can take advantage of any dividend growth and stock appreciation from common stock, while enjoying higher dividend yields from preferred stock.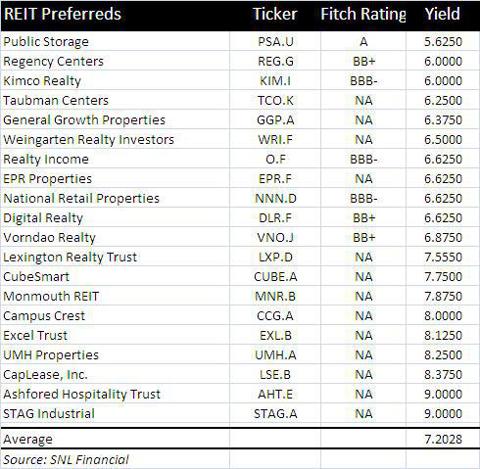 One word of caution: I would not recommend an "all out" replacement of REIT common stocks for REIT preferred shares. Over any reasonable time period, total returns for common REIT shares will most definitely outperform the preferred REIT cousins.
REITs mentioned: (NYSE:REG), (NYSE:VTR), (NYSEMKT:UMH), (NYSE:KIM), (NYSE:AHT), (NYSE:O), (NYSE:MNR), (NYSE:CUBE), (NYSE:STAG), (NYSE:EXL), (NYSE:EPR), (NYSE:NNN), (NYSE:LSE), (NYSE:LXP), (NYSE:CCG), (NYSE:TCO), (NYSE:VNO), (NYSE:WRI).
Source: SNL Financial
Disclosure: I have no positions in any stocks mentioned, and no plans to initiate any positions within the next 72 hours. I wrote this article myself, and it expresses my own opinions. I am not receiving compensation for it (other than from Seeking Alpha). I have no business relationship with any company whose stock is mentioned in this article.