Bermuda-based land drilling powerhouse Nabors Industries (NYSE:NBR) beat earnings expectations in its first quarter report released on Tuesday. We would caution investors against viewing the outperformance as an early sign of land drilling revival. Historically, the land drillers lead the rest of the oilfield service/drilling space in cyclical turnarounds. We do not think that we at such a stage yet.

The North American rig count is still falling, though management did note that the rate of decline of their rig count has slowed. We have a Sell rating on Nabors shares and continue to stay wary of land drillers and other U.S. natural gas centric oilfield operators such as BJ Services (BJS) and Halliburton (NYSE:HAL).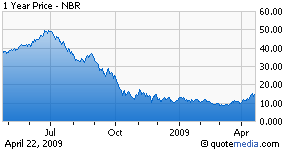 Nabors' first-quarter recurring earnings of $0.65 per share beat our above-consensus $0.60 per share estimate. In the year-earlier quarter, the company had earned $0.87 per share on revenue of $1.3 billion. Results benefited from strength internationally and in Alaska, and term contracts in the core U.S. unit.

Importantly, the receipt of lump sum payments on terminated contracts (amounting to $3.13 million in the quarter) helped the quarterly results. The company is also better positioned internationally and its drilling fleet is well regarded.

The number of rigs working the U.S. lower 48 dropped to 193 in the quarter, from approximately 227 in the year-earlier period. Average margins were $11,200 per rig day, or $9,725 excluding the portion of the lump sum payments that would have been earned in future quarters.

Approximately 31 of the company's 137 currently employed rigs are currently in that status -- in essence not working, but getting paid. The company is amortizing such payments over the original contract durations. But these payments will run out over the coming quarters, with little to replace them given the significant excess capacity in the market.

The company has been actively managing balance sheet risk by replacing short-term debt with longer dated publicly issued debt. They successfully issued a longer dated bond in January and used its proceeds to repurchase shorter duration convertible debt.

At present, they have approximately $1.4 billion in cash and other investments and a net debt-to-capitalization ratio of about 35%. We are not concerned about Nabors' liquidity position or overall financial profile, which we think is stable.
--Sheraz Mian