On Friday, April 5th, Arena Pharmaceuticals (NASDAQ:ARNA) announced
that it was initiating the dosing in a Phase 1 clinical trial of APD334, a potential treatment of autoimmune diseases. The trial is set to evaluate safety, tolerability and pharmacokinetics of single-ascending doses of APD334 in up to 64 volunteers.
In the wake of the company's early-stage development with regard to APD334, I wanted to take a closer look at some of the key catalysts behind my decision to establish a long-term position in the company's stock.
Overview: Based in San Diego, California, Arena Pharmaceuticals is considered to be "a biopharmaceutical company engaged in the discovery, development, and commercialization of novel drugs that target G protein-coupled receptors in the therapeutic areas of cardiovascular, central nervous system, inflammatory, and metabolic diseases." (Yahoo Finance)
Pipeline: According to its website, Arena's pipeline consists of the following five drugs:
Drug Name (Status)

Target

Purpose

Belviq (FDA Approved - June 2012)

5HT2C Agonist

(Chronic Weight Loss)

BELVIQ is believed to decrease food consumption and promote satiety by selectively activating serotonin 2C receptors in the brain. Activation of these receptors may help a person eat less and feel full after eating smaller amounts of food.

APD811 (Phase 1 Clinical Trials)

PGI2 Agonist

(Pulmonary Arterial Hypertension)

APD811, an orally available agonist of the prostacyclin receptor, is an internally discovered investigational drug candidate intended for the treatment of pulmonary arterial hypertension (NYSE:PAH).

Temanogrel (Phase 1 Clinical Trials)

5HT2A Inverse Agonist

(Thrombotic Diseases)

Temanogrel is an inverse agonist of the serotonin 2A receptor intended for the treatment of thrombotic diseases, and, as outlined below, has completed single- and multiple-ascending dose Phase 1 trials in healthy volunteers.

APD334 (Phase 1 Clinical Trials)

S1P1 Agonist

(Autoimmune Diseases)

APD334 is an internally discovered orally available drug candidate that targets the S1P1 receptor for the potential treatment of a number of conditions related to autoimmune diseases, including multiple sclerosis, psoriasis and rheumatoid arthritis.

APD371 (Pre-Clinical Development)

CB2 Agonist

APD371 is still in the pre-clinical research and development stages and preclinical efficacy with certain CB2 receptor agonists has been successful in animal-based models.
Shares of Arena Pharmaceuticals, which possess a market cap of $1.77 billion, settled at $8.13/share on volume of 2.794 million shares by the end of Friday's trading session. One of the things to point out for growth investors is the fact that shares of ARNA are 9.77% lower since January 1st of this year.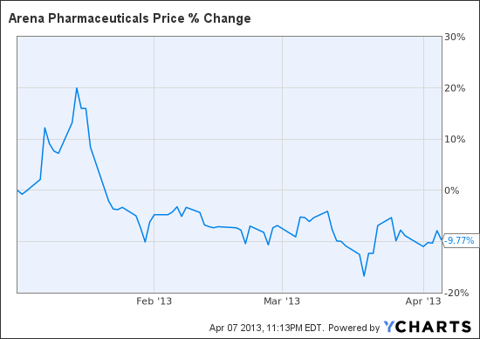 ARNA data by YCharts
There are two near-term catalysts to consider when it comes to Arena Pharmaceuticals and they are the company's recent expansion into Mexico and the anticipation of U.S. Drug Enforcement Agency's Final Ruling with regard to the scheduling designation of the company's FDA approved weight-loss drug Belviq (locraserin HCl).
Expanding Into Mexico: On April 1st it was announced that
Eisai Inc. (OTCPK:ESALY), had submitted a marketing authorization application for BELVIQ (lorcaserin HCl) in Mexico to the Federal Commission for the Protection Against Sanitary Risk (COFEPRIS). The intended indication for BELVIQ is as an adjunct to a reduced-calorie diet and increased physical activity for chronic weight management in adult patients with an initial body mass index of 30 kg/m2 or greater (obese), or 27 kg/m2 or greater (overweight) in the presence of at least one weight-related comorbid condition.
In my opinion, Arena's expansion into Mexico accomplishes two things if the company is granted regulatory approval by COFEPRIS. The first thing it does is it addresses the country's dire need for a chronic weight-loss solution since 30% of all Mexican adults are obese and 70% are considered to be overweight. The second thing it does is it provides the company with what could essentially be market exclusivity, as its top competitor VIVUS, Inc. (NASDAQ:VVUS), has made no indication of whether or not it plans on expanding Qsymia's reach south of the U.S. border.
DEA Designation: On December 19th, the U.S. Drug Enforcement Agency (DEA) published its Notice of Proposed Rule Making for placing lorcaserin HCI (aka Belviq) on Schedule IV of the Schedule of Controlled Substances. As of April 5th 2013, there has been no indication by the DEA as to when a final ruling with regard to the schedule designation of lorcaserin would be publicized.
The uncertainty leaves investors with two very compelling scenarios. On one hand, if in the next 30 days, the DEA publicly announces that it has made its Final Ruling with regard to lorcaserin HCl (aka Belviq), investors could very well see an upside pop in the stock since the company would be entitled to $65 million in milestone payments from its marketing partner, Eisai.
On the other hand, and for those of you who thought shorting the stock was the best thing, my fellow SA colleague Mark Broer notes that, "We could be seeing the set up to a massive short squeeze when the DEA final scheduling does occur."
Conclusion: When it comes to those who may be looking to establish a long position in Arena Pharmaceuticals, I'd continue to keep a watchful eye on both the potential adjunct approval of Belviq in Mexico and any indication by the DEA of a Final Rule with regard to lorcaserin (aka Belviq). Keep in mind, that any positive indication by the DEA not only results in milestone payments for Arena but opens the flood gates in terms of U.S.-based sales.
Disclosure: I am long ARNA. I wrote this article myself, and it expresses my own opinions. I am not receiving compensation for it (other than from Seeking Alpha). I have no business relationship with any company whose stock is mentioned in this article.