The first week of the second quarter was not a good one for shares of Netflix (NASDAQ:NFLX). The streaming giant saw its shares decline by almost $25, a decline of 13% for the week. Netflix shares, which were above $197 just about a week earlier, closed the week at $164.66, and were more than $2 lower than that at one point on Friday. About a third of the post-earnings rally has been wiped out, which begs the question. For Netflix, is reality starting to set in? Today, I'll take a look at the past week or so in Netflix news, and try to figure out where shares go from here.
First, Reed is off the hook:
During the summer of 2012, Netflix CEO Reed Hastings made news when he posted on his Facebook page that Netflix viewers had watched 1 billion hours in June. There have been questions as to whether or not this violated the Fair Disclosure Act, because the company did not issue a press release with this, to let the general public know.
This past week, the SEC let Reed off the hook. Reed had gotten a Wells notice back in December, but the SEC has apparently decided that it is okay for companies to announce key information on social media, as long as investors know which media will be used (Facebook, Twitter, etc.). Now I don't think that Reed should have gotten a huge punishment, but this matter could have been handled a little better by the company. It would have taken all of 5 minutes to issue a press release. That being said, I think the SEC could have given him a small slap on the wrist. A fine of $7.99, the cost for a month of Netflix's service, would have been symbolic as well as humorous.
I think the SEC kinda let Reed off the hook here because the information he gave wasn't entirely huge financial information. Netflix passed 1 billion hours in a month. That's great, but you can't necessarily compute that into subscribers. Think about it this way. If Netflix has one subscriber watching 100 hours in a month, or 20 subscribers watching 5 hours each in a month, it's still 100 hours. Had Reed's announcement been a bit more important, you might have seen a different view from the SEC.
"House of Cards" coming to DVD / Blu-ray:
Netflix's blockbuster series is coming to DVD, and it is currently available for pre-order. The one kicker to this whole thing is that the listing I linked to above is on Amazon.com (NASDAQ:AMZN)! Yes, that is one of Netflix's primary competitors in the streaming space.
I don't think anyone at this point knows how this will exactly work out. At the cost of $45 or so for the DVD, and even more for the Blu-ray, you can subscribe to almost 6 months of Netflix's streaming service, which gives you access to the show itself. The fact that the current price is roughly comparable to the most recent seasons of hit shows like "NCIS" is curious, because "House of Cards" was just 13 episodes, roughly half a normal TV season. I think that the price is a bit much now, and it will have to come down to actually sell.
But here's the better question. How does this all work out financially, and what are Netflix's rights in this situation? Do they receive a cut for each copy sold? I don't think anyone quite knows how this all breaks down. Because Netflix allows anyone to submit questions for their earnings conference call, I asked them a few questions related to "House of Cards". I first asked them if the show came in way over budget, as some rumors say. But more importantly, I asked them about their rights to the show on DVD and Blu-ray. Depending on how the financials work, couldn't it be possible that Amazon receives a greater financial benefit from selling it than Netflix? That would be hilarious.
That upcoming earnings report:
We are just two weeks away from Netflix's key Q1 earnings report, currently scheduled for Monday the 22nd. Netflix gave very strong guidance when they reported Q4, guiding to revenues of $1.004 to $1.031 billion and a profit per share of $0.00 to $0.23. Both of those numbers were well ahead of analyst expectations, which stood at $969 million and a loss of $0.07, respectively.
Analysts have certainly raised their expectations, currently standing towards the higher end of Netflix's guidance. Current estimates stand at $1.02 billion and $0.18, respectively. Netflix estimates that they would be bringing in a fair amount of new subs during Q1, most likely hoping that "House of Cards" would be a hit. We'll see if they meet their targets. Additionally, it will be interesting to see how Q2 guidance fares. Q2 is generally their weakest quarter of the year in terms of sub growth, but the company is unveiling 15 new episodes of "Arrested Development" at the end of May. That could help boost Q2 subs.
One of the most interesting items I'll be looking at is how they present their investor letter and financials. It seems that every quarter, Netflix provides different information, which probably is because they want to show the numbers they think look best. This has made comparisons over time useless, because the information always changes. Here are just some of the changes we've seen in the past two years.
Q3 2011 - Netflix starts providing a separate count for Domestic Streaming and Domestic DVD subs.
Q4 2011 - Netflix starts providing revenue, contribution profit, and contribution margin numbers for each Domestic segment. Company also states that they will stop providing information on gross additions, churn, and SAC.
Q1 2012 - Netflix stops providing above mentioned info. Company now separates segments into "total subscriptions" and "paid subscriptions". In addition, company provides an "Appendix" to the financial statements to show how seasonality affects business and why Q2 is the weakest quarter (this was due to the fact that guidance was bad).
But that's not all. In some investor letters, Netflix also will periodically throw in other tables or charts. These tables and charts can cover almost anything, and Netflix doesn't really go back to them. In the Q4 of 2011 investor letter, they put in a bar chart comparing net income to free cash flow. While Netflix provides the numbers to this chart in the table at the beginning of the letter, it has not appeared in any investor letter since. In the Q3 of 2012 investor letter, they put in a chart showing how their content liabilities edged slightly lower from Q2 levels. Did they update this chart when streaming obligations jumped in Q4 after a series of content deals? Of course not!
Then in the Q4 of 2012 investor letter, we got another new item! Netflix provided a chart showing their Top 200 viewings in Q4, their Top 100 TV shows and Top 100 movies, pared against their competition. Of Netflix's "Top 200", Amazon Prime offered just 73 of those selections, with Hulu Plus at 27 and Redbox Instant at 12. Redbox Instant is the newly launched partnership between Coinstar (NASDAQ:CSTR) and Verizon (NYSE:VZ). More on Redbox Instant later.
Will Netflix provide an update to their "Top 200" in relation to their competitors during the Q1 investor letter? I'm not holding my breath. Amazon Prime has gone from an estimated 25,000 titles in September 2012 to about 38,000 in March 2013, so I'm guessing that Prime number is a lot higher than 73 now. Since I am assuming that Netflix won't show that chart again, I submitted two questions to them for the call to ask them for updates. Also, Netflix said the following regarding the chart in the investor letter:
"In other words, when it comes to the most popular content with members on Netflix, none of these services are good substitutes to Netflix."
While this statement may be somewhat true currently, it misses the big picture. Just about two years ago in Q1 of 2011, Amazon Prime launched with roughly 5,000 titles. They are now above 38,000. Also if you think about Netflix's "Top 200", Amazon Prime was at 0 less than two years ago! They've gone from 0 to 73 in less than two years, and they are still growing their content library substantially.
I've criticized Netflix for their sometimes arrogant dismissal of their competition, and I'm hoping to get an answer on how the Netflix "Top 200" stands now. If Prime is close to or over 100, how will Netflix feel now? Don't forget, the 12 number that Netflix provided for Redbox Instant was before the service even launched! Now that Redbox Instant is up and running, let's see how quickly they acquire content.
I understand that Netflix only wants to provide numbers that appear good, but changing the information each quarter is just ridiculous. Does Netflix update the numbers when they get worse? Of course not. Do they come up with some other number or metric to make themselves appear better? Of course. This smoke and mirrors cannot last forever, and if they answer my questions on the call, we may get a sense of that this quarter with the "Top 200".
Back to the competition for a minute:
In any of my past articles, my readers know that I laugh at Netflix because it appears that almost every quarter (or sometimes month) we get a new entrant into the space. Recently, Redbox Instant launched, which will compete with Netflix on both the streaming and DVD space. The DVD side of it is really intriguing, since Netflix is attempting to kill off their DVD business. Redbox Instant might speed up that process.
I mentioned in my last Netflix article that Spotify, the on-demand music service, is looking to break into the streaming space. No official details have come yet, but it's just another name that could enter the space. Most people might not realize that even Toys R Us has a streaming service right now. These are just some examples of the domestic competition Netflix faces. There are a number of international competitors as well.
Recently, Warner Brothers (NYSE:TWX) entered the space as well. Warner Archive Instant goes way back, with some really dated stuff that the company says "you're likely only to find in the $1 bin of DVDs at Walmart". At $10 a month, this service is more expensive than Netflix and doesn't carry the same content. It doesn't appear to be a competitor right now, but it may be down the road. Warner Brothers is currently providing content to Netflix, but who says that down the road Warner Brothers won't transfer it to their own service? Adding another player to the space just pushes up content prices in the long run.
The recent decline:
As I mentioned in the introduction of this article, Netflix stock took a beating this week. Rightly so, initial thoughts were that maybe Carl Icahn was selling some of his shares, to book a massive profit on the name. However, Icahn said that he has not sold any shares. To me, I think there were a couple of reasons for the fall.
Beginning of the second quarter - It is possible that institutions may have wanted to end the 1st quarter holding Netflix, so they could show investors that they were invested in one of the quarter's big winners. With the second quarter starting, they decided to take profits.
Concerns over the economy - The jobs numbers this past week were terrible. While Netflix only costs about $8 a month, it still is a consumer discretionary product. If the economy is weak and consumers start to pinch pennies, Netflix could be hit.
Technical factors - Below I have included two charts. A 5-day chart and a 3-month chart with a 50-day moving average. As Netflix crossed the 50-day moving average, there was a ton of selling. Wednesday morning, once Netflix crossed $175, a lot of sales occurred as well.
(Chart 1 - Netflix 5-day chart for last week)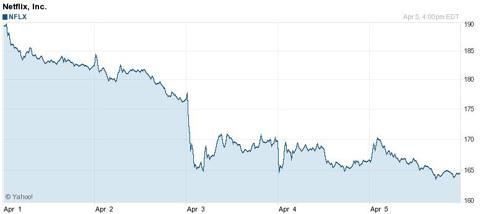 Click to enlarge
(Chart 2 - Netflix 3-month chart with 50 day moving average)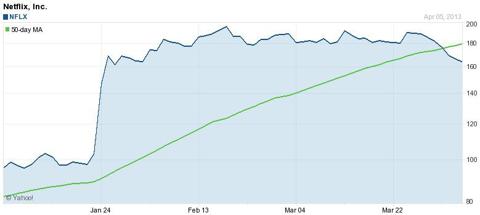 Click to enlarge
(Source: Both charts from Yahoo! Finance)
When you combine some likely profit taking as well as the technical factors, you can see why Netflix probably dropped last week.
Final Thoughts / Recommendations:
As the quarter started, Netflix took a beating. Combine profit taking with some technical levels that were crossed, and a 13% drop seems rather understandable. Friday's close below $165 was the lowest close since February 1st.
As we approach Netflix's earnings in two weeks, this company and stock remain a mystery to all. Netflix issued great guidance for Q1 off the back of a strong fourth quarter. Much of that has to do with their new original series "House of Cards", which carries more questions than episodes. In the end, it might be impossible to see what the true benefits are from the show, because how can you tell who signed up just for the show, and who signed up just to have Netflix. If you signed up just for the show, you probably have cancelled by now.
The upcoming earnings report produces a lot of uncertainty regarding Netflix, which is why this name still remains a long term short idea. Netflix has constantly changed the way they present data, often only showing numbers that make the company appear good. If those numbers get worse in the future, they aren't shown again. It will be interesting to see what they present to us this quarter. I've already submitted a number of questions to them regarding information they've presented in prior quarters.
I still think Netflix goes lower from here, because at some point they are going to disappoint on the earnings front. Netflix will need to enter a new international market at some point, and those huge costs will drag down profitability. I'll be definitely looking to hear at this quarterly report whether they have any expansion plans for the rest of this year. The company has stated in the past that second half of 2013 expansion could be possible.
If Netflix doesn't expand, they might hit the current earnings per share estimate from analysts. However, even at that $1.35 level of earnings, Netflix would still report a drop of roughly two-thirds from the earnings level we saw in 2011. Additionally, the stock currently trades for 122 times that expected 2013 earnings level. That's a valuation that doesn't make sense.
Disclosure: I have no positions in any stocks mentioned, and no plans to initiate any positions within the next 72 hours. I wrote this article myself, and it expresses my own opinions. I am not receiving compensation for it (other than from Seeking Alpha). I have no business relationship with any company whose stock is mentioned in this article.
Additional disclosure: Investors are always reminded that before making any investment, you should do your own proper due diligence on any name directly or indirectly mentioned in this article. Investors should also consider seeking advice from a broker or financial adviser before making any investment decisions. Any material in this article should be considered general information, and not relied on as a formal investment recommendation.