Introduction
Merck (NYSE:MRK) has had difficulty with developing new drug products, in order to sustain growth. The patents on its current portfolio of drugs continue to expire as the company's development of new drug products slows. That being the case, investors should anticipate meager yield growth in the foreseeable future.
Qualitative Analysis
Source: Information pertaining to Merck came from the shareholder annual report, Reuters, along with YCharts.
Of the 40 drugs that are currently under development, I anticipate 20 of them to be approved. By 2018, I anticipate the number of patented drugs to increase to 28 drugs, from the current 24 patented drugs on the market. This means that the number of patented drugs by 2018 will increase by four.
Based on data from the annual report it is estimated that by 2018, half of Merck's drug patents, will expire. The remaining 12 drugs will be protected by patents. Following that, I calculated that 80% of the drugs that are approved will last until 2018. 0.80x20 = 16. So when you add the 12 pre-existing drugs patents plus the additional 16 patented drugs that have yet to receive FDA approval. You will have 28 drugs in total.
No one likes Algebra, but the point I am trying to bring out is that, at the end of 5-years (between 2013 and 2018) the number of drugs protected by patents will increase from 24 drugs to 28 drugs. This means that investors should anticipate limited upside from the introduction of new drugs.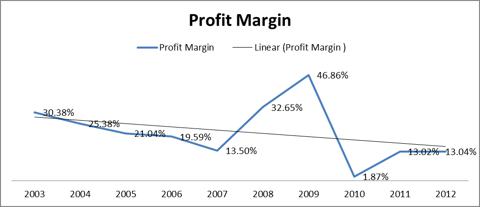 The company's profit margins have consistently declined over the period analyzed. Part of the difficulty with managing a biotechnology & drugs company is the product cycle. As I mentioned earlier in the report, the company's replacement of drugs as drug patents expire is the primary growth driver in drugs. Once the patent on a drug expires the company can no longer monopolize the drug, and the drug becomes a generic drug, drastically lowering profits and revenues from the drug. The only way a biotechnology company can sustain growth financially is to have a net increase in the total number of patented drugs over previous years, and that the drugs achieve continued revenue growth throughout the duration of the patent.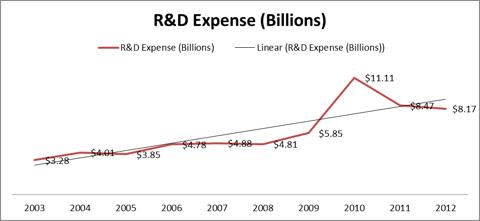 The research and development expense on the company suddenly increased to $11.1B in 2010. In that same year, the profit margins of the company had declined to 1.87%. Investment years drastically lower the profitability of the company. The money deployed into research and development generated a meager return to shareholders. The number of patented drugs over the next 5-years will increase by 16.66%, meaning a 3.33% increase in the number of patented drugs per year. Analysts on a consensus basis anticipate EPS growth of 3.75% for the next 5-years. The company's research and development team has not been able to generate satisfactory yields for investors which is why the company had to return cash to shareholders rather than taking on the added risk of investing into drugs that may not reach FDA approval.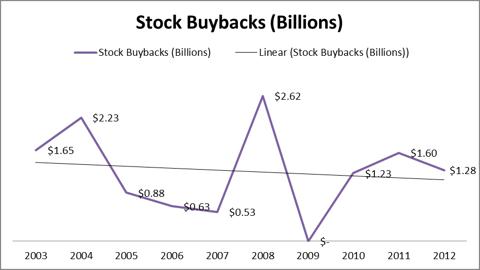 The company is likely to return cash to shareholders going forward. In 2009, the company returned $0 in the form of share buy-backs, in 2012 share-buybacks were $1.28 billion. The share buy-backs will continue to increase in the future because the management team has experienced limited success in drug development. Returning cash to share holders will inflate earnings per share figures. This will also result in limited revenue growth. Revenue growth is likely to remain stagnant as the number of drugs protected by patent will increase at a rate of 3.33% over the next 5- years.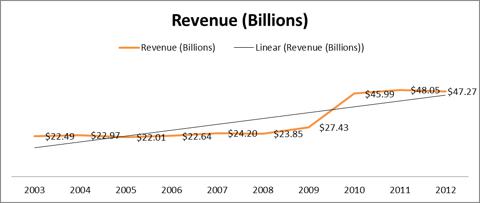 The company's revenue has seen consistent improvement. The improvement in revenues came as a result of sacrificing profit margins. Over the ten year period analyzed, the revenues have increased by 110%. The profit margins have declined from 30.38% to 13.04% over the period analyzed. Following that, research and development expense has soared by 110.18%. The number of drugs that will get FDA approval is barely able to sustain the company's revenue growth in the single digits. All-in-all the message is extremely clear.
Growth is becoming difficult to sustain. The size of Merck's drug portfolio will not see any significant improvement in future years. This will lead to limited revenue growth. Profit margins cannot be improved by much because a biotechnology company cannot cut its expenses to success. In fact, any expense cutting can put the companies current product road map at significant risk, which could eventually lead to negative sales growth. Therefore, a biotechnology company must continue to innovate by investing cash into research and development. Merck's effectiveness in terms of profitability puts it at the top 60th percentile. In terms of school, that's like getting a D - on a report card. So, the management team is doing a poor job of managing costs.
Poor returns on research and development dollars is the primary reason for why the company's profitability has suffered. To improve the profitability of the company, the company should hire higher quality researchers and scientists, provide better training programs for pre-existing researchers and scientists, and motivate pre-existing researchers and scientists to work even harder. That way Merck's research and development dollars are further maximized
Merck's deteriorating fundamentals can be blamed on management. My price forecasts assume that the company's stock will not move much in the future. In other words, growth is likely to remain stagnant. Investors should look for higher yields in other biotechnology companies.
Technical Analysis
Merck and Company is in a sustained up-trend. It is likely that the value of the stock will continue to trend higher as the price action broke above the pennant formation.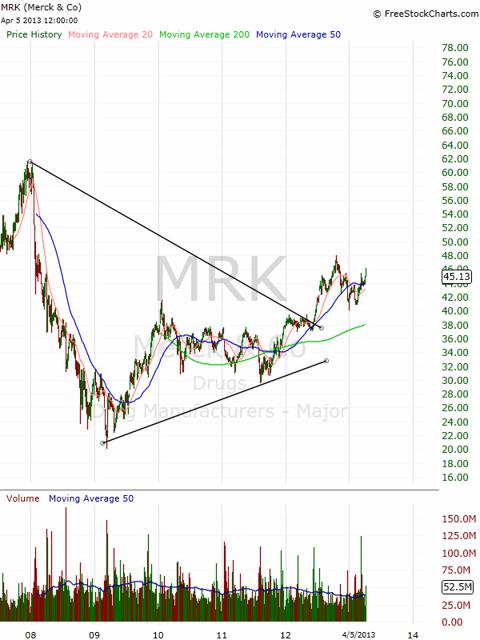 Source: Chart from freestockcharts.com
The stock is trading above the 20-, 50-, and 200- Day Moving Averages. The stock is trading in an up-trend. The stock could extend further gains over the short-term.
Notable support is $40.80, $43.00, $44.75 per share. Notable resistance is $46.25, $48.00, and $60.00 per share.
Street Assessment
Analysts on a consensus basis have low expectations for the company going forward.
| | | | | |
| --- | --- | --- | --- | --- |
| Growth Est | MRK | Industry | Sector | S&P 500 |
| Current Qtr. | -20.20% | N/A | N/A | 10.50% |
| Next Qtr. | -12.40% | N/A | N/A | 16.30% |
| This Year | -5.00% | 27.80% | 6.60% | 8.20% |
| Next Year | 5.50% | 44.20% | 16.50% | 12.80% |
| Past 5 Years (per annum) | 3.56% | N/A | N/A | N/A |
| Next 5 Years (per annum) | 3.75% | 12.49% | 13.89% | 8.95% |
| Price/Earnings (avg. for comparison categories) | 12.48 | -0.88 | 12.67 | 18.47 |
| PEG Ratio (avg. for comparison categories) | 3.33 | -1.62 | -1.84 | 1.89 |
Source: Table and data from Yahoo Finance
Analysts have reasonable expectations as analysts on a consensus basis have a 5-year average growth rate forecast of 3.75% (based on the above table). This growth rate is below the industry average for next 5-years (12.49%).
| | | | | |
| --- | --- | --- | --- | --- |
| Earnings History | 12-Mar | 12-Jun | 12-Sep | 12-Dec |
| EPS Est | 0.98 | 1.01 | 0.92 | 0.81 |
| EPS Actual | 0.99 | 1.05 | 0.95 | 0.83 |
| Difference | 0.01 | 0.04 | 0.03 | 0.02 |
| Surprise % | 1.00% | 4.00% | 3.30% | 2.50% |
Source: Table and data from Yahoo Finance
The average surprise percentage is 2.7% above analyst forecast earnings over the past four quarters (based on the above table).
Forecast and History
| | | |
| --- | --- | --- |
| Year | Basic EPS | P/E Multiple |
| 2003 | $ 3.05 | 10.22 |
| 2004 | $ 2.63 | 8.56 |
| 2005 | $ 2.11 | 11.10 |
| 2006 | $ 2.04 | 16.38 |
| 2007 | $ 1.51 | 30.39 |
| 2008 | $ 3.65 | 6.87 |
| 2009 | $ 5.67 | 5.61 |
| 2010 | $ 0.28 | 116.82 |
| 2011 | $ 2.04 | 17.57 |
| 2012 | $ 2.03 | 19.98 |
Source: Data from YCharts
The EPS figure shows, that throughout the 2003 - 2006 period, the company saw declining earnings. Throughout 2007 - 2009 earnings per share grew. Following 2009 earnings have declined and never returned to its 2009 level. The company is poorly run as there is certainly no correlation to the company's growth relative to the company's economic environment. Furthermore, the company has not been able to grow its EPS over the past ten years. In fact, EPS declined from $3.05 per share in 2003 down to $2.03 per share in 2013.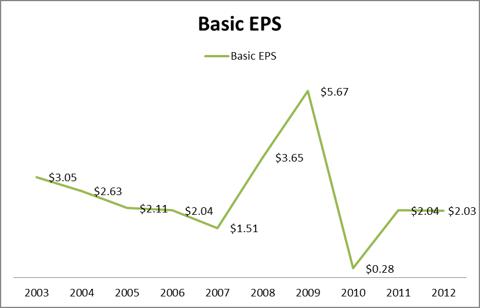 Source: Data from YCharts
By observing the chart, we can conclude that the management is not very effective at operating the business. Based on the weak historical data, the company will generate meager returns over a 5-year time span based on the forecast below.

By 2018, I anticipate the company to generate $2.55 in earnings per share (conservative forecast). This is because of moderate product growth, and improving global outlook.
The forecast is proprietary, and below is a non-linear chart indicating the price of the stock over the next 5-years.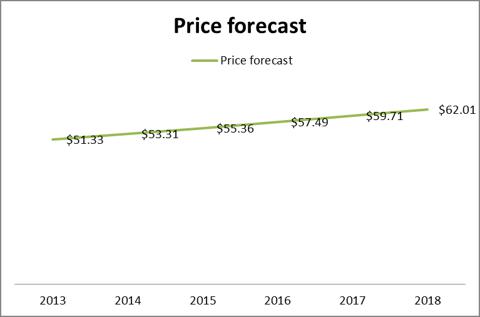 Below is a price chart incorporating the past 10 years and the next 6 years. Detailing 16 years in pricing based on my forecast and price history on December 31st of each year.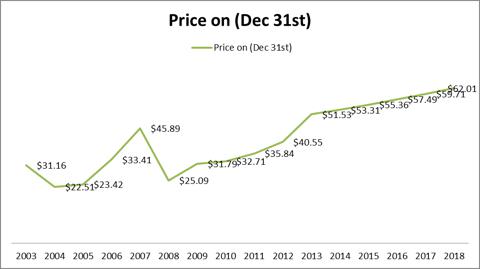 Source: Data from YCharts and price history is from Yahoo Finance.
Investment Strategy
MRK currently trades at $45.13. I have a price forecast of $51.53 for December 31st 2013. Over the long-term, the stock will not generate substantial yields. However over the short-term the stock is slightly undervalued, implying that investors could generate reasonable yields over the short-term.
Short Term
Over the next twelve months, the stock is likely to appreciate from $45.13 to $51.53 per share. This implies 14.81% upside from current levels. The technical analysis indicates an up-trend. While the previously mentioned price forecast using fundamental analysis further backs the assessment.
Investors should buy Merck at $45.13 and sell at $51.53 in order to pocket short-term gains of 14.81% between 2013 and 2014.
Long Term
The company is an okay investment for the long-term. I anticipate MRK to deliver upon the price and earnings forecast despite the risk factors (competition, regulation, management, economic environment). MRK's primary upside catalyst is international expansion, product development, and share buy-backs. I anticipate the company to deliver upon my forecasted price target of $62.01 by 2018. This implies a return of 61.40% (including dividends) by 2018. This is a poor return for a biotechnology stock.
| | | |
| --- | --- | --- |
| Year | Dividend Yield @ $45.13 per share | Cumulative Total |
| 2012 | 3.81 | 3.81 |
| 2013 | 3.89 | 3.89 |
| 2014 | 3.97 | 7.85 |
| 2015 | 4.05 | 11.90 |
| 2016 | 4.13 | 16.03 |
| 2017 | 4.21 | 20.24 |
| 2018 | 4.30 | 24.53 |
A higher yielding investment opportunity albeit having a higher risk is to buy the Jan 17, 2015 calls at the $47.00 strike. The call premiums trade at $3.30. The price forecast for the end of 2014 is $53.31. The rate of return if the calls expire at $53.31 is 91.21%, the option will break-even when the stock trades at $50.30.
The risk-to-reward on the option is not terrifically compelling, but the risk is somewhat low (0.6 beta).
MRK has a market capitalization of $136.4 billion; the added liquidity makes this an investment opportunity appropriate for larger institutions that require added liquidity.
Conclusion
The company's growth is likely to be stagnant over the long-term, but the stock itself is slightly undervalued. The stock could experience a short-term rally that takes it closer to its fair value. The 3.81% dividend yield is deceptive. The higher dividend yield will not be able to make up for the lack of share appreciation. Investors should pursue long-term investment opportunities in other biotech companies.
The conclusion is simple: Buy Merck for the short-term.
Disclosure: I have no positions in any stocks mentioned, and no plans to initiate any positions within the next 72 hours. I wrote this article myself, and it expresses my own opinions. I am not receiving compensation for it (other than from Seeking Alpha). I have no business relationship with any company whose stock is mentioned in this article.