South Africa has been less impacted by the global economic crisis than many other emerging markets have been, a factor that has helped the iShares MSCI South Africa Index Fund (NYSEARCA:EZA) steadily gain ground in our Sector Momentum Tracker rankings in 2009. EZA held the No. 7 position on our ETF International Momentum Table on April 14, up from the No. 13 spot on January 20. While South Africa's central bank has initiated a rate-cutting cycle, some analysts still fear that the region has a less attractive risk outlook.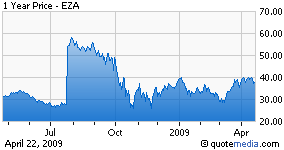 EZA tracks the performance of the South African equity market, as measured by the iShares MSCI South Africa Index. The top two sectors in the index are materials and financials, with 22.72% and 22.97% weightings, respectively. The third-largest sector holding, a 14.77% stake in telecommunications, can be credited to EZA's top holding. According to a recent Bank of America note, South Africa is second to Taiwan among the highest dividend yielding countries of the 11 largest global emerging markets surveyed, a factor that continues to draw dividend seekers to EZA.
As pirate-infested headlines draw global attention to Africa's North, upcoming elections are making news in the South. April 21 elections have stirred Jacob Zuma's opponents to launch a "Stop Zuma" campaign in an attempt to at least keep the A.N.C. from snagging a two-thirds majority in Parliament. Opposition leader Helen Zille recently warned that South Africa could become a "failed state." Zuma has emphasized government spending as unemployment numbers rise and commodities prices drop. Zuma's proposed nationalizations have made many investors wary, prompting currency bets in recent months. The next few months could prove critical for South Africa's economy, which is largely tied to the country's exports.
EZA's top component, MTN Group Ltd. (MTONY.PK), recently gained a vote of confidence from Bank of America, which believes that Africa's largest mobile phone company could increase its dividends. Acquisition talks have kept the mobile provider in the news in recent months—rumors surfaced in early April concerning a possible acquisition of Kenya-based Econet by MTN. The South China Morning Post recently reported, amid late-March takeover rumors, that MTN's businesses in Iran, Syria and Sudan are valued around $2 billion. The MTN Group composes more than 12% of EZA's underlying basket, a factor that should keep EZA investors tuned to potential changes for its top component.
Sasol (NYSE:SSL), EZA's second-largest component, slid in recent trading as a stronger dollar decreased commodity demands. Sasol is the world's largest maker of motor fuel from coal, and as investors weigh the threat of rising inventories, the commodities-based company could continue to experience price volatility. Sasol recently withdrew its application for distribution and trading licenses in 35 "future growth areas," reflecting a decrease in global demand.
While commodities-based components of EZA will hinge on fluctuating values such as exchange rates, other factors also have affected the prices of top holdings. EZA's third-largest component, Anglo-Gold Ashanti (NYSE:AU), had to suspend operations April 20, after experiencing its second mining-related death within a week. An investigation has been launched to determine the cause of the incident, and the company reports that measures are being taken to make the mines safer for workers.
EZA's platinum producers have also struggled in recent weeks, as the demand for the luxury metal wanes with the general commodities market. EZA's No. 5 holding, Impala Platinum (OTCQX:IMPUY), has recently experienced a drop in value as the price of platinum, used in jewelry and car exhaust devices, continued to fall. Impala Platinum is the world's second-largest platinum producer—second to EZA's No. 10 component, Anglo Platinum (OTCPK:AGPPY).
Huge increases in commodities prices in 2008 led to a significant spike in EZA's chart during the summer months. Sharp commodity price increases caused a statistical bump in the CPI—a factor that could cause low year-over-year inflation numbers in upcoming months. South Africa and EZA could, however, continue to draw dividend investors looking for high-yielding equities and relatively good emerging-market performance.
Will South Africa's relative strength continue to draw investors to EZA? With its established record and liquid trading volume, EZA will likely continue to be a top choice. As with any emerging-market fund, volatility remains a concern. According to Morningstar, EZA has outperformed its relative index on both a three-month and a one-year comparison. Global demand and internal political factors will shape the South African economy in 2009. For now, many investors will watch and wait.