In early March (2013), I wrote an article (Seeking Alpha In Cole Holdings Corporation) detailing the proposed merger between Cole Credit Property Trust III (CCPT3) and Cole Holdings Corporation. In an effort to create liquidity, CCPT3 announced its plan to combine its non-traded REIT - consisting of 1,014 properties (in 47 states) - with Cole Holding's investment advisory platform - consisting of $12 billion of assets (managed) and over 160,000 individual investors.
When I reported on the announced merger in March, it was no surprise that CCPT3 was planning to combine its non-listed REIT as the company had already hired its financial advisors, Goldman Sachs (NYSE:GS) and Lazard (NYSE:LAZ), to help orchestrate a planned liquidity exit. The stage was set as Cole Holding's "arch competitor," ARC Properties Advisors, had already completed a handful of similar portfolio liquidations. As I explained in an article back in January:
Three out of five of these transactions were orchestrated by Nicholas Schorsch, Chairman and CEO of ARC Properties Advisors and none of the five involved Cole Capital. Could Cole be feeling the pressure?
Could the Playground Bully Be Feeling the Pressure Now?
Bully, as defined by wikiHow:
Annoying, mean, insubordinate ... out to make your life miserable. It seems like wherever you turn, there they are, ready to torment you some more! People bully to get a reaction in order to feel strong or superior. Therefore, in order to get rid of bullies, you need to ignore them... and they will go away.
It's like I tell my younger kids, ignore a bully, unless he gets in your face. Then it's game over. In other words, "sticks and stones may break my bones, but words will never harm me." Ignoring a bully is the common advice by parents and school teachers, but those who have been bullied know that in most cases the bully just feels he (or she) has gained more power.
We all know that most bullies are motivated by attention. Studies have shown that class bullies are often thought of as outcasts whose reactions lead to rejection by their peers. Research have also found that kids who bullied are often motivated by a desire to increase their popularity.
In several of my previous Seeking Alpha articles, I recommended ARCP along with its management team and I have even put Nicholas Schorsch, the CEO, on a pedestal as an elite financial engineer (in a previous article):
Schorsch's magically-orchestrated non-traded REIT model has been an evolutionary trend in which he and his peers raise "blind pool" capital and acquire properties in a structure that is less volatile than the publicly-traded peer REITs. Thus, the non-traded REIT investors are essentially trading off low volatility - where Mr. Market has no influence - with publicly-listed REITs - where Mr. Market governs the pricing of the fully liquid shares.
It's clear that because of Schorsch's "financial engineering," his advisory business has become one of the biggest non-traded REIT platforms on the planet and he has been instrumental in transforming the non-traded REIT industry into a more predictable full-liquidity model.
But now we are starting to see Schorsch tossing his weight around by slinging sand on others in REIT-dom - that started with a series of offers for American Realty Capital Properties (ARCP) to acquire CCPT3…
As Dane Bowler wrote in a recent article, the offer by ARCP to acquire CCPT3 was for around $9 billion broken down into around $5.7 billion of cash/stock and $3.39 billion of debt assumption. As Bowler wrote (in the recent article):
CCPT3 owners will be given a per-share choice between $12.00 or 0.80 shares of ARCP. The stock election comes with a guarantee of at least $12 in value. A 0.80 conversion ratio valued at $12 would equate to ARCP stock being worth $15. Given that shares are currently trading in the mid $14 range it seems likely that more than 0.80 shares of ARCP will be issued per share of CCPT3 converted. Such terms provide some consistency to the transaction. Whether the shareholders elect to take stock or cash, it will likely be the same value of $12 per CCPT3 share.
Cole's board rebuffed the ARCP offer so then the playground bully threw more sand in the box with this counter proposal and instead of paying $9 billion for the acquisition (of CCPT3), ARCP offered to pay $9.7 billion in cash, equity issuance and debt assumption. As Bowler explains in another article:
The new offer maintains a minimum conversion ratio of 0.80 shares of ARCP for each share of CCPT3. However, it comes with 2 differences.

There are now potentially more shares as the pending internalization of Cole Credit Holdings would generate 10.7 million additional shares.
The minimum value guarantee on stock conversion has been upped to $13.59. This means that issuing only 0.8 shares of ARCP per share of CCPT3 would require an ARCP market price of at least $16.98. If the merger goes through around its current market price around $14.5, the conversion ratio would be closer to 0.937.
Bowler concluded his argument as follows:
I find the newly proposed merger to be overly ambitious. Its success relies too much on a seemingly impossibly high market price. It is possible that ARCP could use its allotted share repurchases to support the market price for the acquisition, but I feel that it is still a long shot to get to $16.98. The uncertainty of both the proposal going through and the accretiveness of the proposal are creating an unhealthy turbulence. Perhaps ARCP shareholders would be wise to trim back their positions and wait for a clearer outlook.
The Bully Is Trying To Take Shareholder Lunch Money
In CCPT3's investor presentation filed via 8K on Friday, April 5th, they state:
ARCP's proposed exchange ratio of 0.8x applied to their current stock price of $14.80 would equate to an $11.84 per share value for CCPT3 shares, resulting in a $1.75 per share "true-up" to their so-called guaranteed price of $13.59.
And the presentation went on to read:
Current ARCP share price implies CCPT3 stockholders should receive an exchange ratio >1.0x compared to ARCP's proposal of 0.8x. ARCP stockholders will only achieve the proposed 0.8x exchange ratio if ARCP trades up to $16.99, a 15% increase from current market value.
It's clear that ARCP's floating exchange ratio under a stock true-up scenario would substantially dilute ARCP's stockholders from an ownership and earnings perspective. In short, the bully's proposals involve significant risk to both CCPT3 and ARCP shareholders under each approach by jeopardizing the financial stability of both companies.
The "playground bully" theme can be best described when you consider the fact that ARCP - the playground bully - is now trying to take shareholder's lunch money in the form of fees.
We all know that ARCP has not had sufficient dividend coverage (since inception). Even after their recent acquisition of ARCT3, the company has had marginal coverage. In fact, in 2013, ARCP is not projected to cover its distribution and even after the acquisition of ARCT3, with an estimated dividend at $0.93, ARCP's AFFO (adjusted funds from operations) payout ratio is 105%.
However, even with inadequate coverage, ARCP shareholders could take solace in the fact that management (Schrosch) contractually could not receive its base management fee until ARCP covered its dividend. HOWEVER, the Amended and Restated Management Agreement (dated February 28, 2013) now allows for payments associated with the Base Management Fee even if ARCP DOES NOT cover the dividend. Why the change?
It seems that unless ARCP acquires another REIT (e.g. at a discount), they cannot cover their distribution. Based on simple calculations, the attempted acquisition of CCPT3 would result in upwards of a $40 million annual payday that otherwise did not exist. Of course, if ARCP does nothing but churn out repeated "bullying attacks" in the public and rack up extensive advisor fees, then Schorsch gets paid from RC Securities (who he has listed on his company's unsolicited proposal).
If I were an ARCP shareholder (as disclosed, I'm not), I would think they would want to make sure that an affiliated entity such as RC Securities isn't making out like a "lunch money bandit" at my expense. Johnny, go tell mommy that Butch took my lunch money!
Get Out of My Face
In an announcement last week, Cole responded to the bullying by ARCP by saying:
The special committee continues to be disappointed by ARCP's mischaracterizations of the thorough and independent process undertaken by the special committee to carefully review and consider ARCP's proposals. The special committee has met more than 60 times over the last five months to evaluate the acquisition of Cole Holdings Corp. and, more recently, ARCP's proposals. The special committee has at all times acted in a manner that is consistent with its fiduciary duties and has pursued the courses of action that are in the best interests of the company and its stockholders.
First and foremost, I fully agree with Cole's position. The bullying should stop. There's just way too much sand being tossed around the playground and with an implied cap rate of 5.2% (ARCP's latest offer), it's clear that ARCP's ego is bigger than its checkbook.
In other words, there is no REIT on the planet that would pay a 5.2% cap rate to acquire a portfolio of mixed-assets that consist of single tenant and multi-tenant assets. That's just plain stupidity.
Furthermore, ARCP's latest proposal would add approximately $3.8 billion of debt to the balance sheet (before any incremental leverage resulting from the financing required) to achieve its guaranteed minimum proposed price. So even if the playground bully declares a victory (of sorts), the result for ARCP shareholders would be a highly levered company with an unstable capital structure (The net debt / EBITDA would be between 11x and 12x, which is substantially higher than its peers at 5.4x).
Bullies Have Motives
Withstanding the fact that ARCP has no experience in managing multi-tenant retail or office properties (and way over-priced), my biggest issue with the "playground bully" is ARCP's externally managed platform. In my opinion, ARCP is using shareholder resources to wage an attack on Cole Holdings. I see no other reason for ARCP to acquire the CCPT3's portfolio at an implied 5.2% cap rate, other than to become the king of the non-traded REIT playground.
Remember, ARCP's external manager is motivated to grow assets under management, not drive value. Accordingly, we are seeing a trend today of many externally managed publicly-traded REITs that have significantly underperformed their peers.
Chris Cole (Founder and Executive Chairman of Cole) is no dummy and I am certain that's the same reason that his namesake company is planning to combine its advisory business with its non-traded REIT (CCPT3). We have already seen the success of that model with W. P. Carey (NYSE:WPC) - see article I wrote last week here. Since merging its advisory business with its REIT (CPA:15), W. P. Carey has returned an astonishing 51% (shares up over 44%) year-over-year.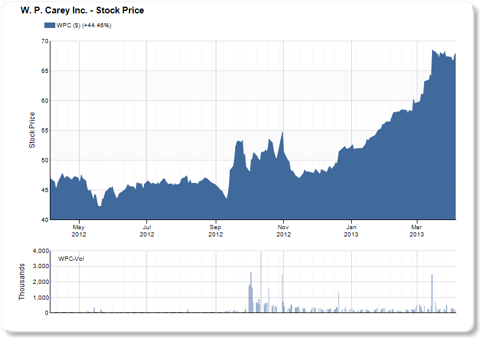 I explained the value proposition in a previous article:
What is clearly a uniquely positioned portfolio, the combined company will look more like BlackRock or Pimco, except with a pure real estate component. Similar in structure to W. P. Carey , Cole's combined deal will resemble a hybrid REIT model in which investors benefit from an array of in-house capabilities including asset management, acquisitions, leasing, financing, and capital markets.
Mr. Market Has a Big Paddle
Researchers found that children who bullied were often motivated by a desire to increase their popularity and that they chose generally unpopular victims to avoid losing social status. In addition, bullies aren't looking to be loved; they are looking to be noticed.
ARCP - the latest bully in the sand box - has caused significant disruption in the playground. Clearly, that disruptive attitude has allowed ARCP to gain popularity, at the expense of ARCP stakeholders. Throw the flag out ref: Conflict of Interest.
Maybe that's how Dennis Rodman was hoping to accomplish disruption, when he said:
I want to do for rebounds what Michael Jordan did for dunks.
ARCP is no longer a slam dunk REIT. The management team is pursuing a disruptive investment strategy that is not investor-aligned and the "bullying" tactics are not advantageous to ARCP investors. I'm certain that the logic will prevail when the bully retreats from its conflictive agenda and Cole moves forward with the completion of its merger.
CCPT3 will seek stockholder approval to amend its charter to eliminate provisions applicable to non-listed companies and to more closely reflect the charters of its publicly-traded peers at its annual meeting to be held in June 2013. CCPT3 intends to list its common shares on the NYSE promptly after the charter is amended (ticker: COLE).
As Ben Graham said:
An investment is most intelligent when it is most businesslike.
Cole is definitely playing in the sand box with a bully. Plain and simple. My best advice is to ignore the disruptive noise, focus on business, and Mr. Market will take care of the bad boys.
Oh, one more thing. Michael Jordan could dunk and defend. That's why he was one of the greatest "ballers" of all time. Kind of like Realty Income (NYSE:O)…bring your "A" game or there is no game… cause it's nothing but net!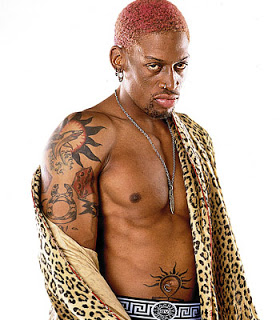 Source: SNL Financial (WPC graph)
Disclosure: I have no positions in any stocks mentioned, and no plans to initiate any positions within the next 72 hours. I wrote this article myself, and it expresses my own opinions. I am not receiving compensation for it (other than from Seeking Alpha). I have no business relationship with any company whose stock is mentioned in this article.