After weeks of waiting, earnings season is finally here. Now we can see if the Q1 results can sustain the S&P 500's (NYSEARCA:SPY) multiple expansion and recent rally. Going into earnings season, the S&P 500 is trading at 16.0x LTM P/E (operating earnings) and analysts are expecting 5% growth in operating earnings for Q1 2013. The P/E hasn't been this high in years and earnings have been flat for a while. In this article I will review the S&P 500's P/E and earnings estimates and look at recent changes in EPS estimates for the top companies in the index.
S&P 500
Here is a look at the S&P 500 going into earnings with a comparison to last year.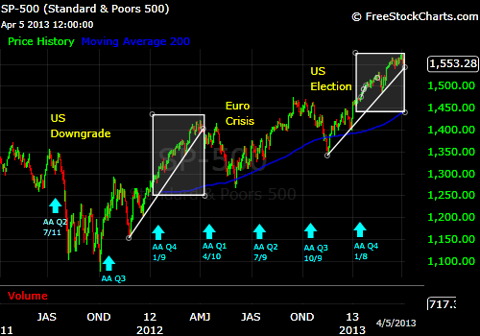 Click to enlarge
(Source: FreeStockCharts.com)
S&P 500 Earnings Estimates & P/E Multiples
There are a few ways of calculating the P/E for the S&P 500. The following table shows the calculations using Operating Earnings and Reported Earnings and data for different time period.
The estimates for 2013 and, especially, 2014 seem very optimistic and will likely come down over time.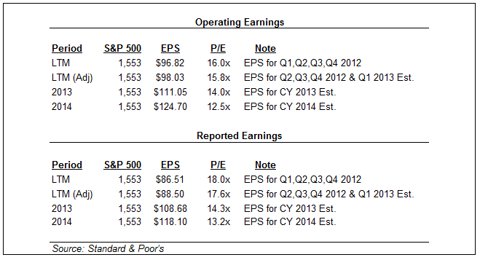 Click to enlarge
The following table shows how the estimates for Q1 2013 compare to prior quarters. Clearly, analysts are expecting a jump in earnings after a period of stagnation.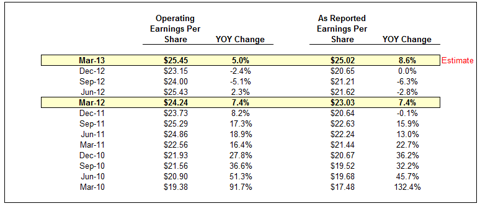 Click to enlarge
(Source: Standard & Poor's)
The following graphs put the current estimates and P/E multiples in historical perspective.
In the second, third and forth graphs, the final datapoints are based on the estimates for Q1 2013 and imply higher earnings. However, if earnings fall short of expectations, the right end of these graphs may look different.
Click to enlarge
(Source: Standard & Poor's)
Focus On The Top 100 In The S&P 500
I like to focus on the top hundred companies in the S&P 500 to get a better sense of what is happening under the surface. Because the S&P 500 is capitalization-weighted, the top companies drive more of the performance. Currently, the top hundred companies represent 64.5% of the value of the index and the smallest of the group represents 0.23% of the value. The iShares S&P 100 Index ETF (NYSEARCA:OEF) also tracks this group.
The following are four charts about the top 100 companies: (1) 5-day price change, (2) forward P/E multiples, (3) analysis of companies with FY1 P/E multiples lower or higher than the median for the group and (4) changes in analyst estimates for FQ1 over the last 7 and 30 days.
There is a lot of data in these charts and they are most helpful for identifying the companies that stand out at the extremes. Here are some take-aways from the data.
Clearly, last week was a down week for the S&P 500 and most companies in the first chart reflect this. Phillips 66 (NYSE:PSX) was the biggest loser as refining companies, which had been big winners, pulled back. On the positive side, United Health Group (NYSE:UNH) gained the most.
It is interesting to go down the list of the P/E multiples to see the companies that are trading at relatively high P/Es. There are a lot of defensive companies with above average multiples while some growth companies have relatively low multiples. The consumer staples names are especially strong.
I am not necessarily negative on all the defensive names. For instance, Starbucks (NASDAQ:SBUX) has the highest P/E multiple in the group and I am long the stock and bullish on its growth story. Nonetheless, the consumer staples have had a good run and it will be interesting to see if it continues.
Finally, there are some interesting revisions to analyst estimates. On the positive side, Goldman Sachs (NYSE:GS) stands out. The strong rally in equity markets in Q1 should be a positive for its earnings. It is also interesting to see positive revisions to Exxon Mobil's (NYSE:XOM) estimates.
One of the general themes is the weakness of big tech companies. This is also reflected in analyst estimates for Apple (NASDAQ:AAPL) and Microsoft (NASDAQ:MSFT), which were revised down.
Apple's results have been coming down all quarter after management changed the way that it gave guidance. The multi-month cuts in Apple's estimates have weighed on the stock.
I recently wrote about Microsoft, Microsoft Is On Citigroup's Dividend List, But Not Mine, and discussed its earnings estimates and other topics.

Click to enlarge

Click to enlarge

Click to enlarge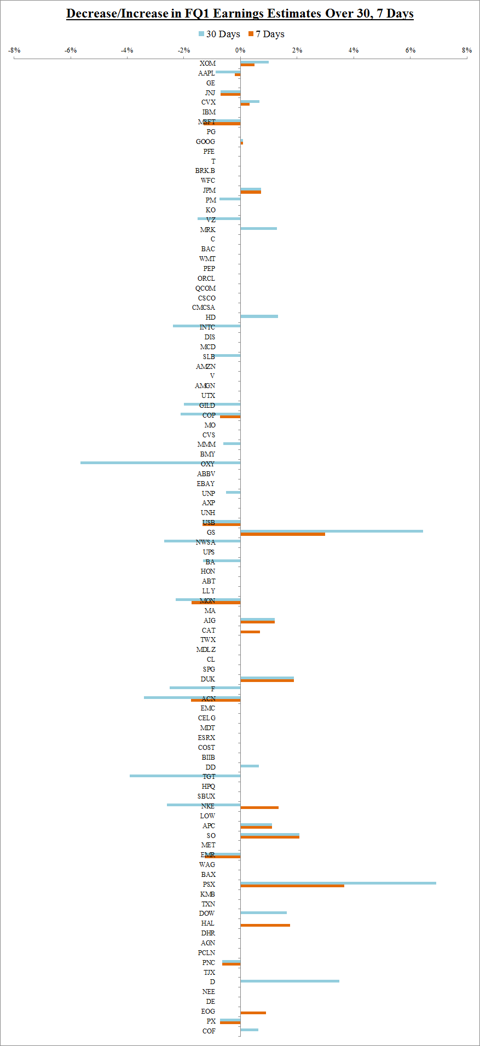 Click to enlarge
(Source: Yahoo Finance, see further notes below)
Conclusions
The S&P 500 is coming into earnings season with high expectations. After several quarters of stagnation analysts are expecting earnings growth in Q1 and this is reflected in the multiple. We will soon see if earnings can provide confirmation for the recent rally. Looking under the surface, the strength in consumer staples and defensive stocks becomes more apparent. At the same time, tech and some cyclicals have been lagging. For the market to continue to rally it will likely need some rotation into the lagging sectors. We will see if Q1 earnings provide catalysts for these sections.
Notes
The tables exclude the following: P/E multiples greater than 100 and P/E less Median values greater than 50. Additionally, some information about Amazon, Berkshire Hathaway, AbbVie, Mondelez and Abbott Laboratories was not available.
The mean and median figures presented in this article represent the unweighted mean and median of the metrics for the 100 components in the SPDR S&P 500 ETF Trust and are not capitalization-weighted like the index itself.
Earnings Estimates are based on data from Yahoo Finance as of April 5, 2013.
Disclosure: I am long F, WMT, GOOG, ORCL, BAC, C, AIG, SBUX, DE. I wrote this article myself, and it expresses my own opinions. I am not receiving compensation for it (other than from Seeking Alpha). I have no business relationship with any company whose stock is mentioned in this article.
Additional disclosure: I may trade any of the securities mentioned in this article at any time, including in the next 72 hours.
Disclaimer: The opinions expressed above should not be construed as investment advice. This article is not tailored to specific investment objectives. Reliance on this information for the purpose of buying the securities to which this information relates may expose a person to significant risk. The information contained in this article is not intended to make any offer, inducement, invitation or commitment to purchase, subscribe to, provide or sell any securities, service or product or to provide any recommendations on which one should rely for financial, securities, investment or other advice or to take any decision. Readers are encouraged to seek individual advice from their personal, financial, legal and other advisers before making any investment or financial decisions or purchasing any financial, securities or investment related service or product.