Every quarter we hear about Alcoa (NYSE:AA) kicking off earnings season, which gets under our skin because: 1) there is little read-through to other companies; 2) there still aren't very many companies reporting for another week after Alcoa's report; 3) Alcoa doesn't really even trade based on its earnings; and 4) Alcoa's earnings matter little to the overall market. For example, shares of Alcoa have gapped higher on earnings eight times during the month of April since 2000 and the S&P 500 has gone on to average a 1.53% gain by the time earnings season was over [which we view as Cisco's (NASDAQ:CSCO) earnings release]. The five times Alcoa has gapped lower, the S&P 500 averaged a 2.33% gain during the same period. So, if there is good news coming for some uptight know-it-all traders who get annoyed by talking heads on television that don't even know how to pronounce Stifel Nicolaus and hype up the importance of Alcoa's earnings release, it's that this might be the last earnings season we have to hear it.
You see, the only valid reason for focusing on Alcoa's earnings at the beginning of each quarter is that it is the first company to report earnings among companies included within the Dow Jones Industrial Average, but that is at risk of changing following the company's earnings release. It won't be the earnings or anything on the income statement that will have the most importance, but rather the balance sheet. The company's credit metrics are deteriorating and the company's net debt is expected to rise to $7.5 billion. This had led to expectations that Moody's will downgrade Alcoa's debt to junk status, making the company the only non-investment grade company included in the Dow Jones average and that, in turn, is expected to eventually lead to the stock's removal from the index.
Last quarter we had actually become bullish shares of Alcoa going into its earnings release for the first time in a couple of years. It wasn't that the supply issues were changing or the debt had improved, but the Fed had started pumping more money into the financial system than during the depths of the 2008/2009 recession, mostly through U.S. Treasury buying. However, U.S. Treasuries were falling in price, pushing interest rates higher, and signaling the market was expecting inflation. That was a positive for the metal companies and a sign that shares of Alcoa could be bottoming.
Since then, however, the U.S. dollar has rallied and nearly all metals have dropped in price, including aluminum. Plus, in recent weeks, U.S. Treasuries have rallied too. The signals the market was giving are gone, and that hasn't been favorable to Alcoa. That's a particularly bad sign since before the last earnings release, Moody's had placed the company under a credit review for a possible downgrade.
In the face of declining aluminum prices, the potential savior for the company is cost cuts, and that should help the bottom line improve over the $0.06 per share earned last quarter. Whether the company can beat estimates in the face of declining aluminum prices is a toss up, and the consensus estimate has come down in recent weeks to $0.10 per share. This is in-line with the Earnings Whisper ® number. Regardless, gaps higher on an earnings beat when aluminum prices are falling should be sold and that will be the trade objective after the news. That may be especially true this quarter in the face of a credit downgrade, which won't just put its multiple at risk if the company is removed from the Dow Jones Industrial Average, but it also means it will be harder for the company to cut costs and improve margins in the future. A continued decline in forward earnings estimates make the stock a value trap and to get to trough multiples, the stock would have to drop to a $3 handle using current estimates.
On the chart below, a move that holds above $9.00 to $9.20 would tell us we may be wrong, but ideally the stock will stay below $8.80 on a gap higher and there is also a very serious risk that a solid breakdown is in the cards. The stock has had two touches at the $8 level in a downward trend - a decline that has come with a similar trend in forward earnings estimates. A move below $8 would give us a technical target for a move just below $7 with $8 as the new resistance.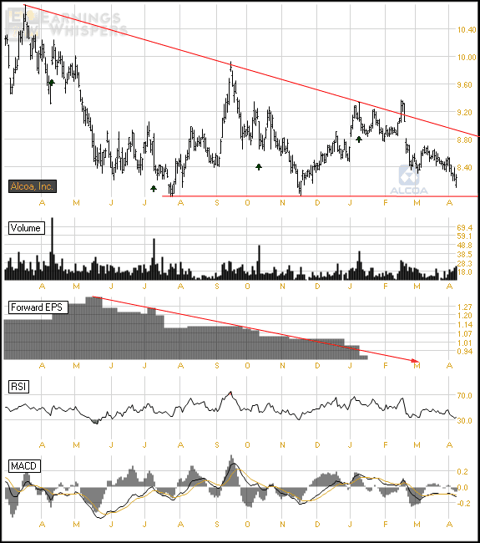 Click to enlarge
(Click to enlarge)
Alcoa is scheduled to report earnings after the market closes on Monday, April 8, 2013 with a conference call at 5:00 PM ET available here.
Disclosure: I have no positions in any stocks mentioned, but may initiate a short position in AA over the next 72 hours. I wrote this article myself, and it expresses my own opinions. I am not receiving compensation for it (other than from Seeking Alpha). I have no business relationship with any company whose stock is mentioned in this article.