On Friday Molycorp (MCP) closed at $5.23/share; the stock is slightly off its 52-week low of $4.91/share set on April 1st, yet firmly in my previous price range of $3.50 - $6.10/share established in late January. After the company's fourth quarter earnings announcement, investors have come to terms with the fact that the company will face stiff headwinds in the near future. For fourth quarter 2012, Molycorp achieved revenue of $134.3 million, a gross loss of 20.5 million, and a loss attributable to shareholders of $362.4 million. Not only did revenue decline approximately 35% versus third quarter 2012, but management indicated that financial results for the first half of 2013 could deteriorate further. Given the company's current business prospects, I decided to update my price target.
In the article Molycorp: Price Target $3.50 - $6.10/Share Due To Asset Impairment Risk, I explained how I derived the previous price range:
The following table displays the impact of a write-down of Molycorp's intangible assets.

Click to enlarge
(Click to enlarge)

Prior to the announcement of capital raise, Molycorp's stock was around $8.84/share. Its market capitalization was $1.2 billion or a 25% discount to its $1.6 billion book value. Given the deterioration in Molycorp's revenue and earnings, this is where the market thinks the stock should trade.

Under a "base case" scenario, the company writes off the entire $502 million in goodwill associated with Molycorp Canada. I assumed the deferred taxes (tax shield) created by the goodwill write-down was not admitted since the company needs to earn future profits in order to utilize the deferred taxes.

At 75% of its pro forma book value of $1.2 billion, Molycorp's market capitalization would be $840 million, or $6.09/share.

In the "downside case" all of Molycorp's goodwill and intangibles of $978 million are written off. At 75% of its pro forma book value of $643 million, its market capitalization would be approximately $484 million or $3.51/share.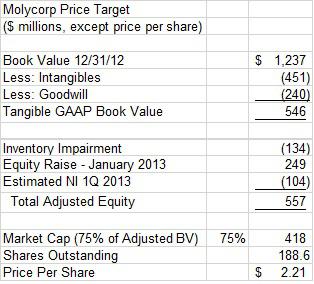 The above table outlines my new price target of $2.21 per share.
Intangible Asset Impairment
Included in the company's year-end book value of $1.2 billion are intangibles of $451 million and goodwill of $240 million. The lion's share of intangibles and goodwill is related to Molycorp's $1.2 billion acquisition of Neo Materials Technology in June 2012. Post-transaction, Neo (renamed "Molycorp Canada") has underperformed. From June 11, 2012 to December 31, 2012 - under Molycorp's ownership - Molycorp Canada achieved revenues of $307.9 million and a net loss attributable to Molycorp of $312.6 million. In fourth quarter 2012, the company wrote off $258.3 million of goodwill after deeming it was impaired. Molycorp Canada's 2012 unaudited financial results were revenue of $863.7 and a net loss attributable to Molycorp of $441.6 million. In addition, Molycorp's share price has declined nearly 77% from 21.55/share to $5.02/share since June 2012. Given the operating losses of Molycorp Canada, an argument could be made that all of the intangibles and goodwill are impaired. After reducing the company's $1.2 billion book value for such intangibles, Molycorp's tangible GAAP book value is $546 million.
Inventory Impairment
From 2011 to 2012, Molycorp's inventory ballooned from $116.3 million to $313.5 million. Part of the increase was due to inventory balances acquired during the Neo transaction. Inventory as a percentage of tangible GAAP book value increased from 13.9% to an alarming 57.4% during that same period. As the company's average basket price declined from $82.00/kg to $36.43/kg from 2011 to 2012, work-in-progress and finished goods inventory increased five-fold while revenue only increased 33% year-over-year. That said, the company's rising inventory is an example of slow moving inventory or an inability to sell inventory above the cost to produce it. I estimated that year-end inventory is overvalued by approximately $134 million. I reduced the company's net assets by this amount.
Equity Raise
In early January, Molycorp alerted shareholders that 2013 revenues would fall short of expectations and it could experience a cash flow shortfall of as much as $250 million. Weeks later, it raised $414 million in fresh capital to stave off bankruptcy, of which $249 million came from equity investors. I added the new equity to the company's adjusted book value.
Estimated First Quarter 2013 Net Loss
Of Molycorp's $362.4 million loss attributable to shareholders, $258.4 million came from its write-off of goodwill. Excluding the goodwill write-off, the net loss would have been around $104 million (assumes no tax shield on the goodwill write-off). Management also represented that near-term revenue and earnings could continue to decline. I assumed a first quarter 2013 loss equal to fourth quarter 2012's and rolled the losses forward. This estimate is probably favorable to the company.
25% Discount to Book Value
In January, the market valued the company at 75% of book value. After "marking to market" Molycorp's balance sheet for asset impairments, fresh capital and additional losses, I discounted its $557 million adjusted book value by 25% to derive a market capitalization of $418 million. This haircut seems appropriate given the company's expected near-term operating losses. A $418 million market cap, given the company's 188.6 million shares outstanding derives the price target of $2.21 per share.
Conclusion
Additional asset impairments - intangibles and inventory - are real. Going forward, there will be blood in the form of more losses, more employee layoffs, and stock price declines. I rate the company a "sell" and would consider buying into the stock once it reaches my price range.
Disclosure: I am short MCP. I wrote this article myself, and it expresses my own opinions. I am not receiving compensation for it (other than from Seeking Alpha). I have no business relationship with any company whose stock is mentioned in this article. I own June puts on Molycorp