Markets appear to be set to go green this morning and we like what we see in the futures and foreign markets. Japan is doing their job to reinflate, joining the cowboy capitalists of North America with their version of quantitative easing. One can only hope it is as successful as Bernanke's and maybe even more so as they are in far worse shape at this point.
We want to call readers attention to a currency swing we find interesting today in the 'Chart of the Day' section and highlight two moves in the energy services sector which we think are important moving forward.
Chart of the Day:
This one is a two part chart, so you are getting a 2-for-1 deal today readers.
The Euro is breaking out above the $1.30 mark versus the US$ and that we find bullish. The move happened Friday and has carried over into today as the bears and bulls battle it out. These traders are smart and if we are above $1.30 then in our opinion that is giving us the all clear sign for now regarding the situation in Europe.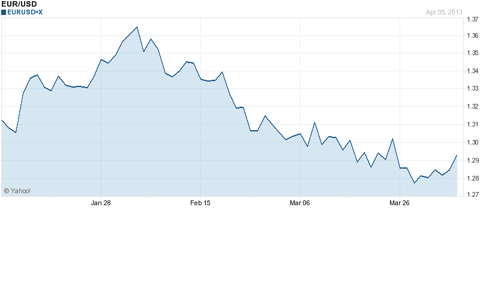 Chart courtesy of Yahoo Finance.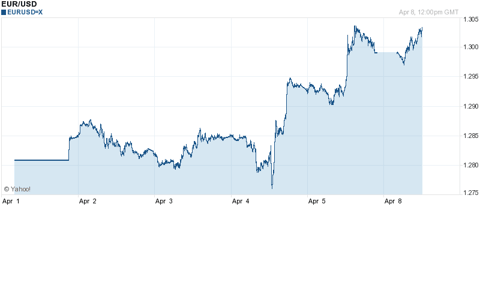 Chart courtesy of Yahoo Finance.
We do not have any economic news due out today, but Wholesale Inventories are out tomorrow and the economic news flow will pick up midweek.
Asian markets finished mixed today:
All Ordinaries -- up 0.28%
Shanghai Composite -- down 0.62%
Nikkei 225 -- up 2.80%%
NZSE 50 -- down 0.81%
Seoul Composite -- down 0.44%
In Europe markets are higher this morning:
CAC 40 -- up 0.74%
DAX -- up 0.34%
FTSE 100 -- up 0.22%
OSE -- up 0.53%
Retail
We have been highlighting it as it has been happening over the past few weeks and even advised locking in profits on the bearish bets that were placed on Best Buy (NYSE:BBY) as the share price got stronger. We still think that at these levels caution should be exercised by those wanting to go long and be bullish because parties interested in taking the company private were not even willing to do it at prices lower than these. They were also able to see the books and far more detail into the day-to-day business and comps than ordinary investors. The shares did hit a new 52-week high of $25.46/share during Friday's session meaning the close was essentially a new high, and that is most certainly strength. Watch the current quarter to see how well the company did on their goals of selling big-screen televisions and taking back share from the online retailers with their price match guarantee. Those are numbers one will be able to believe in.
Technology
Shareholders in F5 Networks (NASDAQ:FFIV) had a rough day on Friday as shares tumbled $17.21 (19.03%) to close at $73.21/share on volume of 12.5 million shares. The company was downgraded by quite a few analysts after quarterly results disappointed. The miss was due to a slowdown in North America and a slight slowdown in Europe as the company noted there were customers who are moving slower to complete deals due to the economy and other factors affecting their businesses. This quarter looked bad, but if what the company says is true and it was simply an issue where deals which were planned to be completed were not, then those should show up in the subsequent quarter and if that is the case then it is simply a timing issue and not a business issue. Yes it is troubling that customers are dragging their feet, but if deals are still getting done and sales getting completed but on a longer timeline, then one can still count on those cash flows rather than writing them off entirely. That was the one glimmer of hope we saw from the quarter.
After the stock failed to hold at support levels, it fell further Friday and one has to go back two years to find these levels in the shares. Yet there may be hope.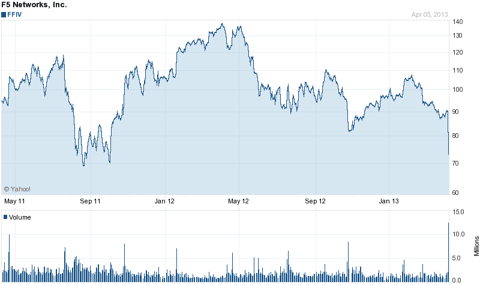 Chart courtesy of Yahoo Finance.
Biotechnology
Rigel Pharmaceuticals (NASDAQ:RIGL) saw shares get hit as well on Friday after the company released the results from its late stage trial for a drug, fostamatinib, to treat rheumatoid arthritis. The shares lost over 40% of their value as they fell $3.03/share to close at $4.50/share for the session. Many have high hopes for the drug as it has a large market if approved and a big-time partner, Astra Zeneca, helping develop it. The results showed that the drug helped lower the signs of the disease however it did fail on actually achieving a stop to bone erosion and the narrowing of joint spacing. This was the first of three study groups, so the next two could tell investors more via the data, but the efficacy results from the first group leads us to believe that this is either a failure or will require more money and time to continue to develop.
Energy
Energy Solutions (NYSE:ES-OLD) saw shares rise $0.40 (10.72%) on Friday to close at $4.13/share after the company received a revised offer from Energy Capital Partners. The revised offer was $0.40/share higher then the previous offer and now stands at $4.15/share. With the energy renaissance taking place in this country from natural gas, oil and even nuclear we believe the companies providing waste management and other services to these firms will see their values increase in the next few years with more purchases such as this one occurring (also see the GE purchase of Lufkin). On a side note, we would like to see America adopt a comprehensive nuclear waste disposal plan and stick with it, as we see that as a major roadblock to really allowing growth in the sector to take place.
Building Materials
We had grown worried over the past few weeks with Cemex (NYSE:CX) as shares hit new 52-week highs but were hit with the Cyprus news and the rest of the negativity which hit markets. We thought that maybe shares had hit a near-term high and would take a break before resuming their rise. As readers know we are bullish of the homebuilders, which by extension makes us bullish those who supply them with the materials to construct their houses. Cemex has taken care of many of the issues which plagued the shares not too long ago, but the best way to solve financial issues is to grown sales and profits and we think that is on the horizon. If we do see higher infrastructure spending, which is something both parties seem to agree on for the most part, then that will simply be another reason to be bullish here. Long-term bullish here and would recommend buying or adding more on pullbacks.
Disclosure: I have no positions in any stocks mentioned, and no plans to initiate any positions within the next 72 hours. I wrote this article myself, and it expresses my own opinions. I am not receiving compensation for it (other than from Seeking Alpha). I have no business relationship with any company whose stock is mentioned in this article.