Ford (NYSE:F) dropped 13% since its mid-January high and is now down 4% for the year. Q4 earnings on January 29 disappointed and the stock drifted down since then. So, is $12.44 a good entry point for Ford? In this article I will look at Ford's price action over the last few years, the dynamics in North America and Europe, financial performance and 2013 guidance, analyst estimates, and potential catalysts for the future. I used the pullback to get back into Ford's stock and will explain the rationale below.
Stock Price
Two timeframes give perspective on Ford's stock price.
Ford rebounded sharply from the depths of the 2008/2009 crisis, but has been choppy since 2010. Buyers came in twice at ~$9 per share, but the current level raises more questions.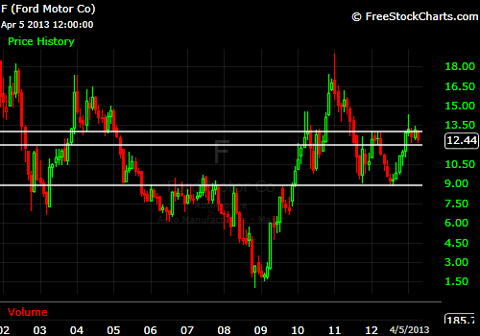 (Source: FreeStockCharts.com)
The importance of the $12-$13 range is more clear when looking at the last two years. Last year, Ford traded in this range for several months and then dropped together with the market during the European crisis. On Friday, Ford bounced off the trendline from the August 2012 bottom, but is still near the bottom of the range.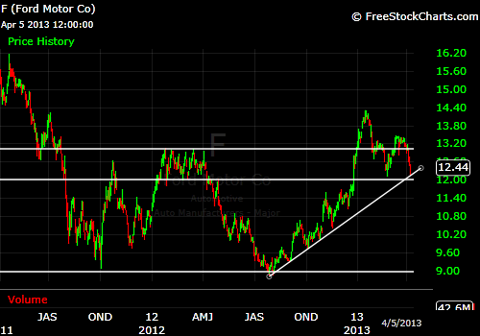 (Source: FreeStockCharts.com)
Ford's Key Markets
Ford is active globally, but the North America and Europe segments are the most important drivers for the stock.
What North America giveth, Europe takes away.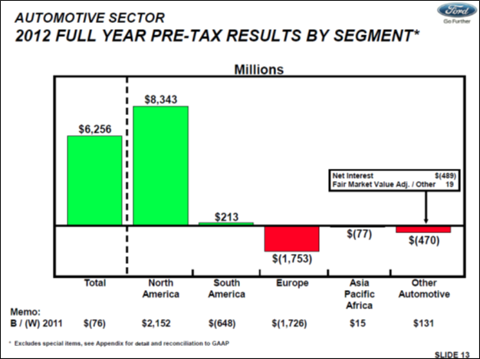 (Source: Ford's Q4 earnings slides)
North America
Ford's North America turnaround has been very successful. Ford benefited from a rebound in the industry and recently launched new products that have been well received.
US auto sales are approaching pre-crisis levels and there are a number of cyclical drivers for the continued growth: aging fleet, resurgence in housing and declining unemployment rate.
I expect US auto sales to return to the 17 million pre-crisis level (and maybe exceed it) in the next few years.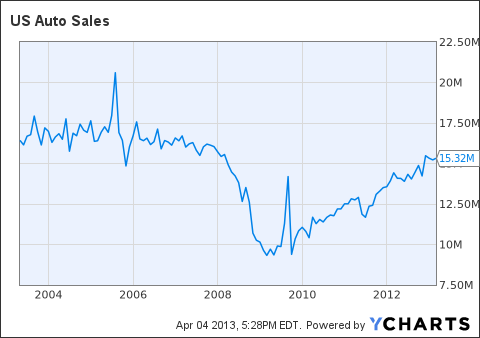 US Auto Sales data by YCharts
Ford assumes US economic growth of 2-2.5% in 2013 and 15-16 million auto sales industrywide. These seem like reasonable assumptions.
However, there is less room for Ford to outperform its expectations like last year. Ford's guidance for 2012 called for 13.5-14.5 million auto sales in the US and the final result was 14.8 million (source: Ford's Q4 2012 earnings slides).
The successful turnaround in North America has generated impressive automotive operating margins (which excludes Ford's finance operations). In 2012, Ford achieved 10.4% automotive operating margins, up from 8.3% in 2011.
Going forward, it will be harder for Ford to maintain this pace of margin expansion. Ford's 2013 guidance called for North America pre-tax profits to be higher than 2012, with operating margin of "about 10%" (source: Ford's Q4 2012 earnings press release).
It is a bit surprising that the margins would not improve more in 2013 with continued industry and top line growth, Ford's management addressed this issue on the Q4 conference call:
"The main thing that's affecting North America and I'll say relatively capping the margin at about 10%, is what I touched on in the third quarter. We have about three quarters of a billion dollars of non-cash structural cost increase around three areas. Back in '05 we amended our healthcare plans and generated substantial cost savings. We amortized [that] through 2012. That ran off last year and this year as a result - we pick up if you will or we lose the benefit of that amortization to the tune of about $275 million. Secondly, in 2008 we impaired our assets in Europe. That also was amortized in North America, amortized also through 2012. That ran off last year. So the effect of that going away is over $200 million. And then lastly, pensions. We have increasing pensions of over $300 million related to record low discount rates last year. I'd also mention that we're continuing to invest in even more growth in the future. So as the year progresses you'll start to see higher engineering expense. We also had the 400,000 units of additional capacity that we put on-stream last year." (Source: Seeking Alpha)
Ford's explanations seem reasonable and some of the factors capping margins in 2013 are non-cash items.
Ford's mid-decade outlook calls for 8-10% automotive operating margins in North America. Ford is already at the high end of that range. It will be interesting to see if it can maintain 10% margins and how it thinks about re-investing in the business or taking down prices in the future.
The increase in net revenue per unit is a tailwind for margins as is the rebound in pickup sales.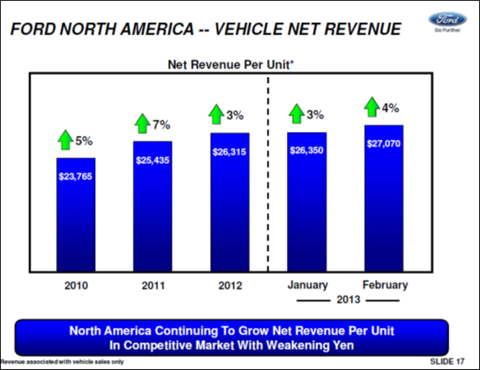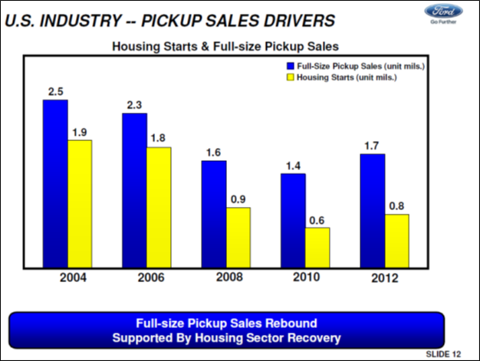 (Source: Ford's presentation at Bank of America conference, March 27, 2013)
Bottom line for North America: Industry is continuing to rebound, margin expansion is going to stall in 2013, and it will be important to see how Ford deals with margins going forward. Even if margins remain steady, or decline a bit, top line growth will drive an increase in operating income.
Europe
Europe is another story. The question for Europe is when will it bottom.
In 2011, auto sales industrywide in Europe were 15.3 million. In 2012, Ford projected 14-15 million auto sales, and the number came in at 14 million. The initial projection for 2013 called for 13-14 million auto sales, but Ford's management revised this estimate on Q4 conference call to the "lower end of the range of 13 to 14 million units."
Ford's management said, "We think [2013] will be the trough and our expectation is that we will start to improve after 2013 but it is going down." (source: Ford's Q4 2012 earnings press release).
On the conference call, Alan Mulally, CEO, said that by mid-decade he thinks Ford Europe "will be above the zero line starting to generate some profit back to the company." With breakeven in a couple of years as the target, it is clear that Europe will continue to be a costly drag on the overall business for a while.
South America & Asia
Currently, the South America and Asia segments are not as important for the company. However, they represent important growth drivers going forward. In the near term, there are some headwinds in the South America business, but Ford should be able to profitably grow the business there in the years to come.
Financials & Valuation
The following is a summary of Ford's financials:
(Source: Ford's 2012 10-K)
Ford's guidance for 2013 is on the next slide. I added the red circle to emphasize the key point. Basically, the pre-tax profit will be in-line with last year and automotive operative margin will be in-line or lower.
The reason is that North America is hitting a wall in terms of margin expansion and Europe is continuing to lose money.
However, operating cash flow is expected to be up in 2013, which is a good sign, and this may be the key metric for the company.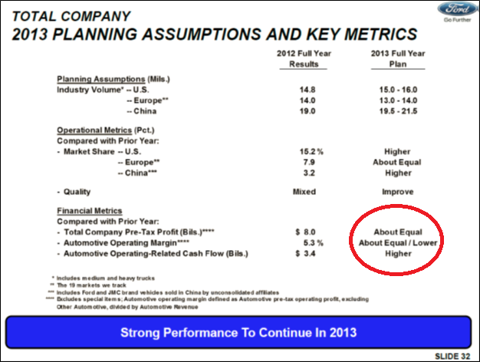 (Source: Ford's Q4 earnings slides)
The following shows the forward P/E multiples for Ford and the changes in analyst estimates over the last quarter: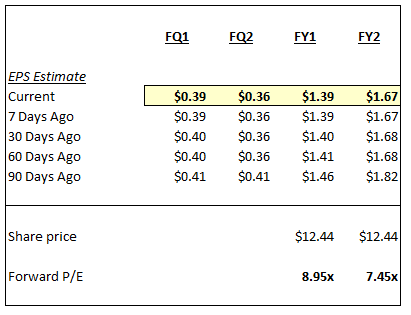 (Source: Yahoo Finance)
There are a number of ways to value Ford. P/E is probably the most basic and some use TEV/EBITDAP.
By many traditional measures, Ford seems cheap as it is trading below market averages. The point isn't if Ford is cheap or expensive, rather it is more important to focus on whether the fundamental story is accelerating, stagnant, or decelerating.
Regarding the estimates, most of the downside revisions were in response to Q4 earnings (between 60 and 90 days ago), but the downward revisions continued throughout the quarter.
Furthermore, in FY 2012, Ford generated $1.42 diluted EPS, so the estimates for FY1 (December 2013) are slightly lower than last year. This is consistent with Ford's guidance discussed above.
Dividend
Ford pays a dividend. In January, Ford doubled its quarterly dividend to $0.10 per share. At the current share price, Ford has a 3.2% forward dividend yield.
Doubling the dividend in the midst of European problems is a good sign about the company's confidence in its liquidity profile and ability to meet the challenges in Europe. However, the stock price peaked a few days after the dividend announcement. Maybe investors were disappointed, or there were no more catalysts at that point and they took profits before earnings.
Key Metrics Going Forward
The following are the key items that I will use to evaluate Ford going forward:
European auto sales: when will they bottom and will estimates be cut again?
US auto sales: if we don't start talking about a 16 million unit pace by the end of summer I will be concerned
North America margins: can Ford maintain/expand the current operating margin
Ford & General Motors
It is important to note that Ford has been trading in-line with General Motors (NYSE:GM).
Over the last year, GM outperformed (13.7% gain for GM, compared to a 1.8% gain for F).
But, over the last 6 months, Ford outperformed (23.8% for Ford, compared to 12.0% for GM).
In general, what is good for autos is good for both Ford and GM. However, as the cyclical recovery in the US reaches it later phases, this correlation may break down.
(Please note that I am also long GM.)
Concerns
The following are my main concerns
Macro environment - if we have a summer slump again, then Ford's shares will likely be dragged down
2013 seems like a year without much growth, which increases the risks
Europe still has not bottomed and it is unclear how much Ford will lose in Europe
US auto sales rebounded nicely, but going forward it may be harder to keep up the growth
Ford is launching a lot of new products and it is unclear if they will be well received (but, so far so good)
Increasing competition from GM and others
Ford said that the weakness of the Japanese Yen gives Japanese automakers an advantage in the US
Ford is trying to revitalize the Lincoln brand and it is too early to know how successful that will be
Ford faces headwinds in South America, including currency issues in Venezuela and Argentina
Industry change - it is unclear how the new gas miles regulations will impact Ford over the long term
Ford still faces an underfunded pension
Credit issues in the US and/or Europe could be a headwind for new car sales
Regarding the macro environment, I regularly write about my macro outlook. Currently, I am bullish, but if the macro changes, my outlook on Ford could also change. My most recent articles about macro issues are here:

Finally, these are just my concerns. Ford's SEC documents have the official risk factors.
Outlook For Ford's Stock
A few months ago I sold out of my Ford position. However, I used the recent pullback to get back into the stock and I am holding a position at $12.44 per share. Despite the selling late last week, Ford may find support in the ~$12-$13 range like it has previously.
Going forward, Ford will likely need a big catalyst to move above $13-$14. An end to the European decline or an acceleration of the US market to a 16 million pace may be what Ford will need to move up further. This could take time and Ford may be rangebound until that happens. Until then, it could be attractive to buy the shares near the bottom of the range and sell near the top of the range.
There are risks that Ford could fall below $12. Analyst estimates have come down and the situation in Europe could get a lot worse. If Ford drops below the bottom of the current range I may sell the shares and look to get back in at another point.
Finally, Ford's increased dividend gives it a forward yield of 3.2% at the current price. That should give it some support, but is not a guarantee.
Please note that I may trade Ford's stock at any time. This is my current framework for Ford's stock, but it may change at any time for reasons related to Ford or other factors.
Disclaimer
The opinions expressed above should not be construed as investment advice. This article is not tailored to specific investment objectives. Reliance on this information for the purpose of buying the securities to which this information relates may expose a person to significant risk. The information contained in this article is not intended to make any offer, inducement, invitation or commitment to purchase, subscribe to, provide or sell any securities, service or product or to provide any recommendations on which one should rely for financial, securities, investment or other advice or to take any decision. Readers are encouraged to seek individual advice from their personal, financial, legal and other advisers before making any investment or financial decisions or purchasing any financial, securities or investment related service or product.
Information provided, whether charts or any other statements regarding market, real estate or other financial information, is obtained from sources, which we and our suppliers believe reliable, but we do not warrant or guarantee the timeliness or accuracy of this information. Nothing in this article should be interpreted to state or imply that past results are an indication of future performance.
Disclosure: I am long F, GM. I wrote this article myself, and it expresses my own opinions. I am not receiving compensation for it (other than from Seeking Alpha). I have no business relationship with any company whose stock is mentioned in this article.
Additional disclosure: I may trade any of the securities mentioned in this article at any time, including in the next 72 hours.