In 1977, Elvis Presley, 2008, Heath Ledger, 2009, Michael Jackson, my good friend Kenny Austin and the millions you don't hear about, all died from prescription pain killer related drug abuse. In reality, prescriptions are a multi-billion dollar industry, one that is both a real problem in society and in economics, and one that is growing rapidly. We often view prescription abuse as a social problem, as it's estimated that over seven million people are addicted or physically dependent to some form of opiate in the U.S. What is further staggering is that 75 million are estimated to be using prescription pain medications. It is a class of drugs that is rapidly becoming a favorite among teenagers and adolescents, as 1 in 12 seniors in high school reported using pain medication for non-medical use. This, combined with countless high-profile deaths, is all more reason to further regulate prescriptions and the dispensing of medication.
Most are aware of the abuse surrounding prescription medication-- specifically opiates-- but are clueless when it comes to its economic impact. In many ways it is a double-edged sword in which few benefit while countless suffer. On the upside, drug manufacturers, physicians, and pharmacies benefit from the sales of the products. However, the economic cost paints a much gloomier picture, one that is astonishing to say the least.
The growth of opioid abuse and its economic impact trumps any and all industries in the U.S. economy. Abuse is rapidly becoming one of the largest killers in our society and much of this is due to loose regulations, physicians who prescribe freely, and pharmacies that don't properly check the history of the patients. Due to these issues, among others, the economic cost of opioid abuse has grown from $8.6 billion in 2001 to more than $55 billion in 2009. Here is how these costs break down:
Workplace -- $25.6 billion - These are economic costs caused by early death, inability to work, government assistance, etc.
Healthcare -- $25.0 billion - These are costs related to healthcare and hospitals, insurance companies, and also excess medical costs that do not circulate back into the economy.
Criminal Justice -- $5.1 billion - These are costs associated with legal costs due to opioid-related charges and crimes. These charges also account for the cost of incarceration.
The most significant question is: How do you fix the problem? The key to remember is that despite the growth of this problem, regulators are taking major strides to shut down those who are overprescribing the meds and to monitor the pharmacies that are filling the drugs. As a result, this is a $55 billion market in economic impact and a $30 billion market in pharmaceutical sales that is going through a transition, one that will return very large profits for those ahead of the trend.
A New Way to Use Opiates
The pharmaceutical business of pain medications is a booming industry. Currently, the drug hydrocodone (an opioid analgesic) is the most prescribed medication in the U.S., by almost 40%, with over 130 million scripts per year. Not only does this medication return billions in combined annual sales for all of its brand names, but as does oxycodone (also an opioid analgesic), which is popularly branded as OxyContin. Basically a legal form of heroin, OxyContin was originally developed for severe cancer pain and has since become one of the most abused drugs in the U.S., and is also one of the most profitable with sales of nearly $3 billion annually.
It's not hard to see that the prescription pain medication market is a big dollar business, one with connections from almost every large pharmaceutical company. However, growing just as fast now is the business of anti-abuse medications, those such as Suboxone® and methadone. Here is a chart that shows the number of patients, and the growth, of the most popular anti-abuse drugs, Suboxone® and buprenorphine, over the last 10 years.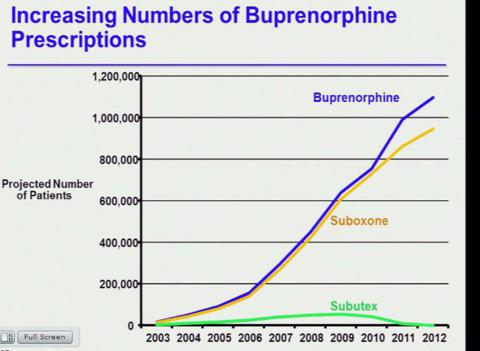 You can see that sales in this segment have grown rapidly, but these drugs are also heavily sought by those abusing the medication, as these drugs are often melted and injected to bypass the ingredient that prevents the person from abusing the drug. Despite this risk, and the fact that this life-saving drug has also become highly abused, sales and patients continue to rise year-over-year. In fact, Reckitt Benckiser (the maker of Suboxone®) has seen its valuation increase 400% since the approval of Suboxone®, and the drug has grown into a $1.5 billion machine.
If buprenorphine products are successful, then what could be a good investment in this area? Titan Pharmaceuticals (NASDAQ:TTNP) has a product, Probuphine®, which is buprenorphine implanted into the patient via rod. This means that the patients will receive the medical benefit of buprenorphine without the possibility of abuse. The company has a market cap of $120 million, yet has a partner to market the drug. This means the company will keep much of its $18 million in cash and will receive sizable royalties on sales, thus providing safety to investors who fear offerings or other forms of dilution. While the product is controversial in respect to potential success, there is no question that it is an innovative approach to treating a serious disease (addiction) and it is, indeed, entering a massive market.
One final positive is that buprenorphine has proven to be one of the best substances in treating pain, with a benefit similar to the strongest of opiate medications. The reason is because its delivery and chemical use is very similar to that of hydro or oxycodone. Titan's drug is not approved for the treatment of pain, but with the implantation of a rod, abuse could diminish and Titan could see a great level of success for this indication. Physicians would not have to fear abuse, but could be reassured that pain was being managed safely and correctly.
Another company that is working hard to both profit and aid in the fight against abuse is Acura Pharmaceuticals (NASDAQ:ACUR). This is a company that has really thought outside the box, but so far has been unsuccessful in creating investor or consumer interest. The company not only has a product on the market for methamphetamine abuse with its IMPEDE® technology, but also a technology called AVERSION® that is used with opioid medications to prevent abuse. This is an important part of abuse, because while drugs such as Titan's Probuphine® treat addiction and also have pain management capabilities, Acura is attempting to keep people from getting addicted in the first place. With the AVERSION® technology, patients cannot crush, inject, or snort the medication because it causes the medication to transform into a gel-like substance.
What's odd is that Acura actually had a partnership with Pfizer (NYSE:PFE), and the two companies had an FDA-approved product that included the AVERSION® technology and oxycodone. The product was commercially unsuccessful, in part due to horrible marketing and also a lack of consumer interest (as those seeking drugs did not want the medication). Acura had the right idea, but the outlook for AVERSION® has become grim as Pfizer backed out of the partnership. The company still has over $25 million in cash and short-term investments (burning about $2.5 million per quarter) and could proceed to launch the technology with another drug (perhaps hydrocodone). In time we will know why the partnership with Pfizer was unsuccessful, but based on the need, it does seem as though this could be a high-risk, high-reward investment opportunity if the technology is marketed correctly.
The Changing Practices of Pharmacies
One of the startling facts about opioid abuse, is that even if you don't have an addictive personality, you will still, most likely be affected by dependence of these drugs. While this might have been the final outcome regardless of legislation, I find it remarkable that people are able to fill prescriptions from multiple doctors at multiple pharmacies to feed their habit. This leads me to a core problem of opiate abuse; the inability for large pharmacies to monitor the filling habits of patients to the degree in which it is needed.
Most states have data monitoring systems, and with these systems a pharmacy (or doctor) can track the prescriptions filled by individual patients. The problem is that very few actually monitor a patient's abuse, and if a patient is doctor shopping then he/she may go into various states to fill prescriptions, which poses as a larger issue for those monitoring the habits of patients.
The larger pharmacies such as Walgreen Company (WAG) and CVS Caremark (NYSE:CVS) are in part responsible for the abuse of the medication, as these are the pharmacies that dispense the most drugs and have not developed a system to effectively track patient behavior across state lines, or from pharmacy to pharmacy. One possible trend that we could see is a rise in the smaller pharmacies, those that have the capabilities of more tightly controlled access to these prescription drugs, whereby there is a closed loop between the patient, doctor and pharmacy; a situation where patients can't shop around for different doctors or use the same prescription filled at multiple places. A system such as that would allow physicians to monitor their patients more closely by working hand-in-hand with the pharmacy. Perhaps an intimate pharmacy setting that works specifically in pain management may be the only way to take major steps in correcting the problem of addiction, and should lead to regulatory changes for larger pharmacies, if successful.
A small company called Assured Pharmacy (APHY.OB) has developed this system and could be a model to launch a nationwide pharmacy presence by having its locations in all major metropolitan cities. What makes this company a potential leader is an emphasis on building a system, which looks into doctors' prescription behavior to ensure tight control on the prescription (physical pick-up or electronic pick-up directly from the doctors) and a convenient delivery to the patient's home. The company generates about $16 million in sales, which could easily double with just opening two new stores in large metro areas. The overall business potential is $30 billion in revenue, and even if APHY gets to only 10% of this, it could reach $3 billion in sales with significant profitability, that is consistent with others in the industry.
Unfortunately, this very small company is the only pharmacy with this approach; the focus on having individualized pain management-specific pharmacies. Drugstores, such as Walgreen, are so large and diversified that they cannot possibly be thorough enough to handle or identify the possible warning signs that may be presented for someone filling such medications; nor can the big pharmacies work closely with every physician. In a way, Assured has no competition, and although it is unknown whether or not the company's strategy will be successful long term, we do know that the market is present and that APHY has expanded rapidly in just a few short years.
In a country that does not have a much needed state-to-state monitoring system. APHY's plan, (to monitor a physician's prescribing tendencies) could create a trend where companies within the industry will have to overcome the state-to-state reporting problem. For example, I urge everyone to watch "The OxyContin Express" -- the film details the incredible facts surrounding the state of Florida and its impact on the continued abuse of opiate medications. According to Dr. Sanford Silverman, "We (Florida) have become a distribution center for the rest of the country… unfortunately", as all of the country's top 50 prescribers of OxyContin practice in Florida, a state that prescribed nine million pills in a six-month period. While some states have stricter reporting policies than others, Florida has none, and many physicians in Florida operate as "drug dealers with a degree."
It is persistent problems such as this that could pose a threat to regulatory changes and the innovative approaches of Assured Pharmacy. With its specific focus in the pharmacy space, Assured's innovative and ethically responsible practices allows for the company to stand a chance in succeeding and producing large returns. APHY just might be the company to lead the way for others in the fight against the ever-growing problems of addiction and abuse. The company just might take a sizable bite out of this impressive market.
Conclusion
In order to fix this problem, pharmacies have to innovate to account for the rate of growth in opioid abuse, companies must develop more efficient methods of treating pain, and regulators must do their part to contain the issue before it gets worse. It is a very sad topic, and in some ways insensitive to discuss the potential profits that investors can return due to changes in the arena. However, in every multi-billion dollar industry there are untapped profits; and because of the severity of the problem, there is a lot of upside in this one specific industry. Investing in any micro to small-cap company involves risk, and must be taken into consideration prior to adding any stock, to your portfolio.
Disclosure: I have no positions in any stocks mentioned, and no plans to initiate any positions within the next 72 hours. I wrote this article myself, and it expresses my own opinions. I am not receiving compensation for it. I have no business relationship with any company whose stock is mentioned in this article.