After having a rather lackluster 2012 the utility sector has made great strides. I personally picked up some Consolidated Edison (NYSE:ED) last year for $55.84. At the time I thought it was a great buy because it suffered infrastructure damage from Hurricane Sandy. Now it is trading at $61 plus. I'm regretting not buying more. It's not a stock I ever plan to sell -not with its long history of annual dividend increases (38 years and counting)- but as its yield is now down to around the 4% mark, I'm wondering if there are more attractive options.
Fundamentally I love utility stocks. The concept is great. Everyone uses electricity. They have a reputation for being boring and steady. However there are several examples of companies that have at times cut their dividend.
One way to mitigate the risk of a dividend cut would be to hold a utility ETF. Perhaps the best-known utility ETF is Utilities Select Sector SPDR (NYSEARCA:XLU). They have had a great run lately and are up over 12% year to date. It is just a few pennies off the 52-week high and currently pays a 3.67% yield. It has a very reasonable expense ratio of .18 %. I really have a problem with buying stocks at or near their yearly highs. I feel like I'm missing out on something, namely buying the stock when it was near its yearly low.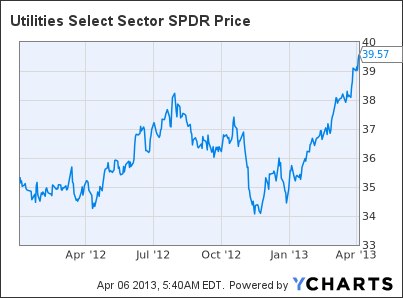 SPDR S & P International Utilities Sector ETF (NYSEARCA:IPU) has a current yield of 4.3%. So far it is down around 2% year to date. Its management expense ratio is .5%. This seems reasonably valued with a price-to-book ratio of 1.13. It is also very diversified with 84 holdings spread out over 15 countries.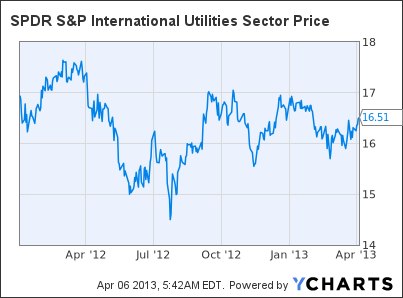 iShares S & P Global Utilities (NYSEARCA:JXI) is another internationally focused utility ETF but it also includes holdings in the U.S. In fact just over half the value of its 72 holdings are in the U.S. It has a .48% expense ratio and a yield of 3.94%. The price-to-book ratio is 1.8. It is also just touching its 52-week highs right now.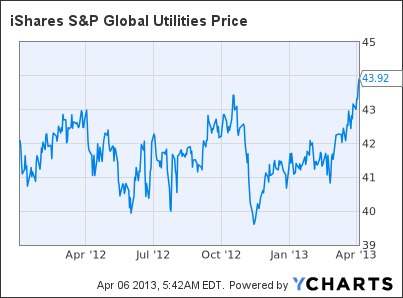 Another fund which may be of interest is a Canadian fund - BMO Equal Weight Utilities Index ETF (ZUT.TO). It is comprised solely of Canadian Utilities. It has a current yield of 5.16% and an expense fee of .55%. This expense ratio seems a little high compared with the others. As this ETF only has 14 holdings, it would also not be unreasonable to purchase each one individually. Included in this ETF is Algonquin Power (AQUNF.PK), which I personally owned many years ago and suffered through a dividend cut. It's had a remarkable run - more than doubling in the last three years. Another of its holdings is TransAlta Corp (NYSE:TAC), which has taken a beating and now could be a good time to get in.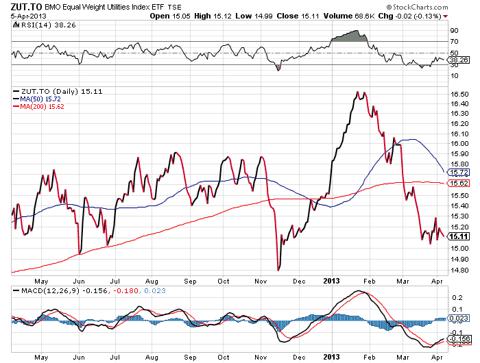 Looking at the chart it looks like it has strong support around the $15 range. One thing to consider is that this stock only trades on the Toronto exchange. A non-Canadian resident should expect to pay 15% withholding tax. A plus is that it pays dividends on a monthly basis instead of quarterly.
Personally I like IPU and ZUT right now. For the others I would probably wait for a pullback before acquiring additional shares.
Disclosure: I am long ED. I wrote this article myself, and it expresses my own opinions. I am not receiving compensation for it (other than from Seeking Alpha). I have no business relationship with any company whose stock is mentioned in this article.