With the widely anticipated, yet nevertheless still an extraordinarily bold decision of Bank of Japan to double the Japanese monetary supply in the span of the next 2 years, a unique opportunity presents itself: sell the yen (NYSEARCA:FXY) and buy emerging market equities.
The BoJ plans to purchase 7.5 trillion yen ($77.8 billion) of bonds a month, which exceeded economists' median estimate of 5.2 trillion yen. To put things into perspective: the BoJ is going to be buying debt at a rate around 75% of the Fed in an economy that is one-third the size of the United States.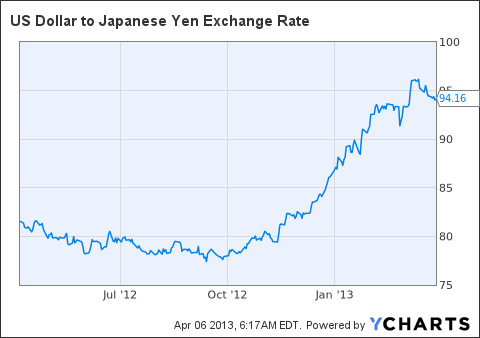 The yen has already depreciated significantly against the dollar over the past 6 months in anticipation of the move, yet it has a long way to drop even further to achieve the BoJ target of 2% inflation. According to Bill Gross: "much more depreciation of the yen has to take place in order to get even close to 2 percent."
There are many ways to bet on the yen declining further with one of the obvious ones being shorting a yen currency trust. However I prefer a different approach: take a yen margin loan from your broker at a low rate, convert the money into a different currency and buy productive assets with the proceeds.
As the yen continues to depreciate against the other major currencies, the relative value of your outstanding yen margin loan declines with time. Of course, you could stop at just the currency bet, but since I don't like cash as an asset class I would suggest you invest the loaned money into equities.
(click to enlarge) (source: Morgan Stanley)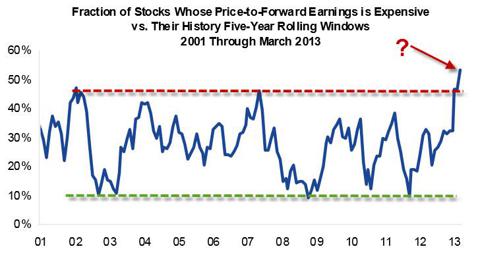 While US stocks continue to rally despite all the various problems plaguing the country, at this point in time I would consider avoiding US equities unless there are particular individual stocks you desire to have in your long-term portfolio available at a cheap valuation.
With a lot of the developed countries deeply in debt, US stocks being near their all-time highs, Europe a huge mess and Japan going into completely uncharted territory of monetary policy, I feel that emerging market equities offer a better risk:reward proposition.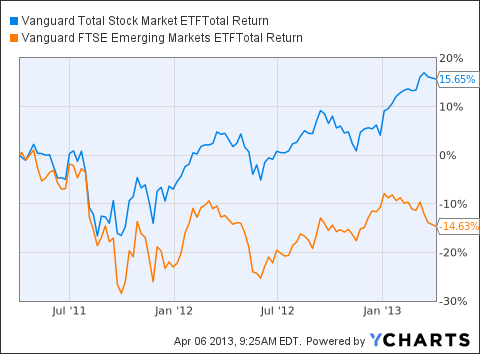 While EM stocks have rebounded off their 2008 lows, over the past couple of years they have consistently lagged behind US indices and with US market having arguably rallied a bit ahead of itself, it's time to give EM equities a closer look.
| | | |
| --- | --- | --- |
| Index/Country | trailing P/E | 1y return |
| Broad US Index | 17.4 | +12,73% |
| S&P500 | 16.5 | +12.25% |
| Emerging Markets | 13.6 | -1,38% |
| China | 8.2 | 6.61% |
| Russia | 6.2 | -8.41% |
It seems obvious that there is value to be found in the EM space. Since EM equities are considered inherently more risky and volatile compared to developed markets, broad diversification is a must: a good place to start would be the Vanguard MSCI Emerging Markets ETF (NYSEARCA:VWO) or iShares MSCI Emerging Markets ETF (NYSEARCA:EEM).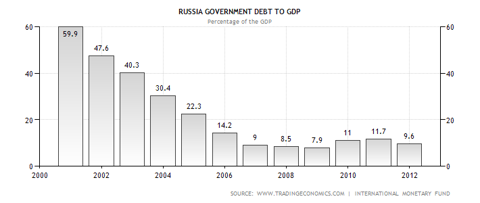 The Russian government has been keeping its budget in check for the past decade with the debt-to-GDP currently standing at around 10%. The fact that most of the debt is owned by investors inside Russia provides additional safety that a repeat of the 1998 Russian financial crisis isn't likely anytime soon.
I find it curious that Russia is currently trading at a lower multiple than Pakistan: while both countries are suffering from corruption, the overall political situation in Russia seems a lot more stable to me.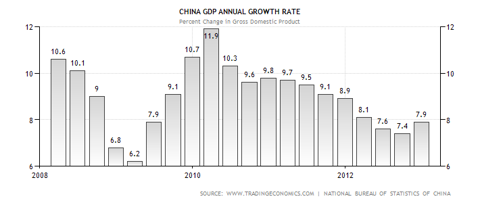 There has been a lot of talk about the slowdown in China, but I think everything needs to be put into perspective: 7-8% GDP growth is still a whole lot more than what you'd get in the developed countries of the world today.
That being said, for China, the "Houston, we have a problem" GDP growth threshold is also noticeably higher and should it drop below 6%, I would consider re-evaluating the situation.
If you would like to make country bets, Market Vectors Russia ETF (NYSEARCA:RSX) and iShares MSCI China Index Fund (NYSEARCA:MCHI) are reasonable choices.
A word of caution:
While many are of the opinion that the yen has a long downward path ahead of it, do not get greedy. I would consider closing out the yen margin if it quickly drops to ¥110-115 per dollar. Beyond this level there are increasing risks of other central banks of the world retaliating against the BoJ, these aren't called "currency wars" for nothing.
Disclosure: I have no positions in any stocks mentioned, and no plans to initiate any positions within the next 72 hours. I wrote this article myself, and it expresses my own opinions. I am not receiving compensation for it (other than from Seeking Alpha). I have no business relationship with any company whose stock is mentioned in this article.
Additional disclosure: I have an open Yen margin loan.