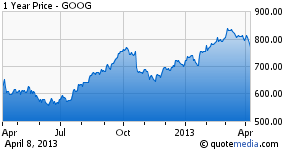 I'm writing this piece as a follow up to my article, "Google's Project Glass: A Huge Threat to Privacy," where I addressed concerns about the potential for a backlash from consumers and politicians over Google's (NASDAQ:GOOG) attitude towards consumer privacy. The topic of Google's approach to privacy is one of critical importance that, in my opinion, has not received enough discussion. The Federal Trade Commission (FTC) cleared Google of anti-trust allegations earlier this year and, for the moment, the United States government, has blessed Google's approach to privacy, which is to collect as much data as possible without crossing the "creepy line", by making the determination that in the interest of National Security, an individual has no expectation of privacy online. However, Google's approach to privacy is not universally accepted, and has been under tremendous scrutiny in Europe. Over the next few weeks, the European Courts will release their final determination on how to address the concerns over Google's privacy policy, and has made it clear that Google will not get a free pass. These political problems, coupled with legal battles over intellectual property that Google is fighting in the region have the potential to spell disaster for Google's profitability going forward.
Google is Facing Privacy Issues in Europe
As I mentioned in my article Google's Project Glass: A Huge Threat to Privacy?, European courts have already hinted that they are prepared to introduce penalties to Google, by blocking Google's operations, if it refuses to adhere to the EU "right to be forgotten". Europe isn't taking Google's nonchalant attitude towards consumer privacy lightly, and has made it clear that they are prepared to act.
We have put in place a countdown for Google now. Promises to change will no longer be enough. (Isabelle Falque-Pierrotin, CNIL's president)
Google has failed to heed these warnings and has rather chosen to lobby to change the view of the European courts, an approach that is not working. If Google's services are blocked in Europe, Google will either lose access to a huge market or will need to change its data collection policies, with both scenarios resulting in reduced profitability for Google. Google earns most of its $8 billion in quarterly mobile revenue from advertising. If Google's loses the ability to collect data from users that it relies on to sell to advertisers and make money, this figure would drop dramatically. It is impossible to tell precisely how much Google's profitability would be affected by a European ban, since Google does not provide this kind of categorical breakdown of its revenue. If Google doesn't get its act together, and actively address these problems, its earnings will suffer going forward.
Google Maps could soon to be Banned in Germany
To make matters worse, Google Maps is on the verge of getting "das boot" from Deuctschland. Following a recent trial in Germany, where Google was found guilty of infringing on a patent held by Microsoft's (MSFT), an injunction may be in the works for Google Maps.
"A German judge has stated that he's "inclined" to ban Google Maps in the country based on patent infringement, but the company could always pay Microsoft a licensing fee for the technology" (New Europe)
The patents being disputed are not "standard essentials" patents, meaning they are not required to comply with a technical standard, and Microsoft is therefore under no legal obligation to license them with Fair Reasonable and Non Discriminatory terms, and is able to seek an injunction. Microsoft has made clear that it has no desire to license the patents in question, and has decided to pursue the option of seeking an injunction. Although it's possible for Google to have the decision overturned on appeal, an injunction is a very possible final outcome.
Microsoft is seeking, and now very likely to obtain, a German patent injunction against the Google Maps service, the Google Maps Android client app, and web browsers providing access to Google Maps. In order to comply with the injunction that looms large, Google would have to disable access to Google Maps from computers using a German IP address, discontinue shipping the Google Maps Android app in the German market, and distribute web browsers in Germany only if they block access to Google Maps in a way comparable to Internet filters used for the purpose of parental controls. (FOSS Patents)
If Google loses its ability to offer its services in Europe, thereby limiting the market for the services its business model relies on to make money, Google's profitability will suffer, a reality that Google's attorneys confirm would happen if the court ruled in favor of Microsoft.
Google's attorneys contended before the court that Google would suffer irreparable harm if it has to shut down a key part of its Google Maps service in Germany, and that consumers who then use competing services (such a Microsoft's Bing Maps, which Judge Dr. Zigann mentioned) may never return to Google Maps (FOSS Patents)
Conclusion
Google's revenue comes primarily from data collection. Losing access to the data of millions of customers would make a significant dent in its earnings. Currently, none of Google's services is available in China, due to Google's unwillingness to comply with Chinese law, meaning it has already lost the ability to make money from 500 million of its 800 million Android users. If Google's services are banned from Europe, Google's earnings, and the quality of Google's services going forward will be materially adversely affected. Currently, Google relies on cell phone manufactures to modify and distribute new versions of its Android, OS. If demand for Google's services declines enough, manufactures of phones running Android OS, and developers of mobile apps for the OS, will see less value in releasing timely updates, leading to a decline in the quality of the products that could cause even more users to switch platforms, thereby further shrinking Google's revenue. These are very serious concerns that I do not feel Google has appropriately addressed.
With Google's stock near an all time high, having experienced a parabolic run up since November 2012, I suspect the current price reflects much irrational exuberance, and fails to account for the political and legal risks that are inherent in Google's business model. Although Google remains a great company, I would not be a buyer at these levels.
Disclosure: I have no positions in any stocks mentioned, and no plans to initiate any positions within the next 72 hours. I wrote this article myself, and it expresses my own opinions. I am not receiving compensation for it (other than from Seeking Alpha). I have no business relationship with any company whose stock is mentioned in this article.