Select Sector SPDR ETFs began trading in December 1998 and currently are the oldest, largest and most liquid sector ETFs. Frequently referred to as "spiders", they divide the S&P 500 into 9 sectors and allow investors to target a specific segment of the US equity market. There is plenty of material online that describes composition and fundamentals of these ETFs in a great detail. However, in this article, I would like to show how Select Sector SPDR ETFs compare in terms of risk metrics and potential diversification effect on an investor's portfolio.
To begin with, let's examine the correlations between these ETFs. The table below shows coefficients for all 9 sector "spiders" plus the S&P 500 ETF (NYSEARCA:SPY). The figures cover last 5 years and were computed using an online investor tool InvestSpy:

Looking at the last column, all sector ETFs unsurprisingly appear to be highly correlated to the broad market , with coefficients ranging from the low of 0.80 (Utilities (NYSEARCA:XLU)) to the high of 0.93 (Industrials (NYSEARCA:XLI) and Technology (NYSEARCA:XLK)). The correlations between individual sectors are of a lower magnitude, going as low as 0.59 in the case of Utilities - Financials (NYSEARCA:XLF) and as high as 0.88 for Industrials -Consumer Discretionary (NYSEARCA:XLY). Interestingly, each sector has a lower correlation with all other sectors than with the broad market.
The next step is to analyze each sector's volatility and beta, which are both measures of security's riskiness. The table below contains key risk metrics for all sector ETFs and SPY: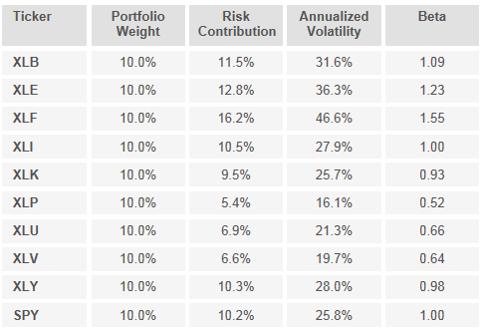 In contrast to fairly similar correlations, volatilities and betas are much more disperse. Over the last five years, the most volatile and market sensitive sector ETF has been Financials, which is not unexpected given the recent financial crisis. The second riskiest sector has been Energy, primarily due to the fact that companies in the energy sector are highly pro-cyclical and tend to do better than others when the economy is doing well but underperform during downturns.
The sector that has been least volatile is Consumer Staples (NYSEARCA:XLP). It is followed by other two "defensive" sectors - Health Care (NYSEARCA:XLV) and Utilities . These three ETFs are substantially less volatile than others and are relatively more resilient to the moves in the broader market. It is no coincidence that they also exhibit lowest correlations with the market as companies in Consumer Staples, Health Care and Utilities sectors are least pro-cyclical.
Finally, if all 9 sector ETFs together with SPY are combined into one portfolio in equal proportions (10% each), it is remarkable that Financials contribute to the total portfolio risk three times more than Consumer Staples. Furthermore, only three sectors - Industrials, Technology and Consumer Discretionary have risk contributions that differ from their portfolio weight by less than 1%. Although each real-life case needs to be assessed individually, a general implication is that sector ETFs with lower correlation with SPY and lower beta are more likely to offer higher diversification benefit.
Summing up, this article does not suggest prescriptive action but demonstrates that each sector ETF has significantly different risk characteristics. Therefore, when sector investment strategies are considered, it is important to take into consideration not only the fundamentals but also risk parameters of each sector as they have direct implications on total portfolio risk, diversification efficiency and position sizing.
Disclosure: I have no positions in any stocks mentioned, and no plans to initiate any positions within the next 72 hours. I wrote this article myself, and it expresses my own opinions. I am not receiving compensation for it. I have no business relationship with any company whose stock is mentioned in this article.