Dollar General (NYSE:DG) continues to move from strength to strength. In its last reporting quarter, Dollar General beat analyst expectations by roughly 8% and has seen its stock rally 15% year-to-date, which is far better than the S&P 500's performance in the same time span.
The rise in Dollar General's fortunes may trace its origins from the tepid growth in hourly wages since the 2008 financial crisis. Indeed, even though the U.S. economy has shown its resiliency in the five years since, hourly wage growth has been anemic and remains below trend.
In such an environment, a company that offers cheap goods - particularly in smaller communities that are further away from larger mega retail outlets such as Wal-Mart (NYSE:WMT) - should see its fortunes rise. That logic has clearly taken hold with investors and is reflected in the numbers. A quick look at Dollar General's chart (the orange line is the trend) shows that it has been on an essentially uninterrupted climb since 2009, when it listed:
Chart 1: The Rising Fortunes Of Dollar General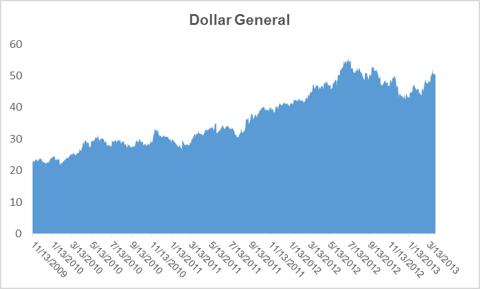 Source: Bloomberg
Going forward, the pertinent question for investors should be whether Dollar General can sustain its performance. Specifically, three areas determine whether Dollar General still warrants a place in investors' portfolios.
Earnings Growth
Dollar General's first-quarter earnings are expected to come in approximately 13% higher than in the same period a year earlier. Some analysts expect earnings to improve by as much as 22% in this period and, for the whole of its fiscal 2014, the consensus is that Dollar General will see earnings rise by 13%.
Dollar General's simple formula for success (cheap, accessible goods for the budget-minded) is not particularly unique: besides Wal-Mart, it also faces competition from the likes of Dollar Tree (NASDAQ:DLTR), Family Dollar Stores (NYSE:FDO) and CVS.
Adding to this, Dollar General indicated in its recent filings that, among other challenges it faced, Wal-Mart is intensifying competition in the 1-dollar space by offering a larger array of products to customers.
Presumably, this could mean narrower margins for Dollar General going forward. After all, Wal-Mart has a deeper balance sheet and a larger network of suppliers worldwide that it can leverage for higher-quality goods at lower prices because of the size of its order book.
Yet the facts don't exactly bear this out: Dollar General's gross margins are at 33.6% -- 31% better than its industry's average of 25.6%. In contrast, Wal-Mart's margins are closer to the industry average at 26.7%.
Moreover, Dollar General's margins were fractionally higher in the trailing 12 months than they'd been in the past five years. In essence, Dollar General's management has found ways to extract greater value from its operations.
It seems that the challenge posed by Wal-Mart to Dollar General is overstated - there is no doubt that Wal-Mart can compete with Dollar General but, beyond focusing on $1 items, Wal-Mart is competing heavily in the consumer electronics space with the likes of Target (NYSE:TGT), Best Buy (NYSE:BBY) and Amazon (NASDAQ:AMZN) and, given the higher margins from such products, it's likely that Wal-Mart will devote more resources to that segment of its product offerings
If Dollar General should be chasing anyone, it's Dollar Tree, whose margins have been at a steady 38% for the past five years.
Balance Sheet
In our view, Dollar General's main challenge is overcoming its balance sheet limitations. Specifically, its strategy of leveraging its payables cycle has limits and probably doesn't have much room for further extension. In fact, down the line, this could be to its detriment as suppliers withhold discounts in favor of better payment terms or its cost of financing rises. It also limits Dollar General's ability to quickly expand in potentially lucrative areas or buffer itself against import price fluctuations.
To wit, Dollar General's cash level is 72% lower than it was two years ago and its quick ratio is at just 0.10. To be fair, low levels of cash are to be expected in Dollar General's industry - the average quick ratio is just 0.30. In fact, Wal-Mart - certainly no threat to default on its debt or payables - has a quick ratio of just 0.2, while Dollar Tree, CVS and Walgreen (WAG) all have quick ratios of between 0.5 and 0.6.
At the same time, Dollar General does have more than enough assets to cover its near-term liabilities. Specifically, its current ratio of 1.5 is 50% higher than the industry average of 1.0 and is exactly in line with the average S&P 500 company.
While it would be ideal to see Dollar General bring its cash levels higher - being last among its peers is not a feather in its cap - it will only be able to do so once its debt is lower than its current amount. Fortunately for Dollar General, its debts have relatively favorable terms and its Interest Coverage Ratio is at nearly 13x, compared with 10x for its industry peers.
On balance, Dollar General's balance sheet numbers are acceptable.
Valuation
Dollar General is currently trading at a P/E of 17.6x earnings - roughly equivalent to the S&P500's 17.7x earnings - but at a 13% discount to its peers' 20.3x earnings.
Does this make it cheap?
It's not quite clear-cut: on a price-to-sales basis, Dollar General actually trades at a 67% premium to its peers, yet its Price-to-Free-Cash Flow is at a 32% discount. Dollar General, given its low levels of cash, also doesn't pay a dividend, which isn't surprising: the dividend yield for its industry is just 0.4%.
In short, Dollar General is very much a growth play and, on that basis, P/E and Cash Flow are the more relevant measures. However, it's interesting to point out that Dollar General's high price-to-sales ratio and low dividend (as a result of low cash) make it a less attractive acquisition target for a larger entity such as Wal-Mart that may be seeking to boost its position further on the value-end of the market.
Recommendation
Recent indications show that the current economic environment remains patchy, which suggests that Dollar General will continue to benefit as consumers keep half an eye on their pocketbooks. Furthermore, the budgetary sequesters associated with the 2011 budget deal are expected to lead to forced worker leaves by many government agencies - negatively impacting consumer spending. While no cause for celebration, this too could benefit thrift chains such as Dollar General.
All told, investors can expect Dollar General to eclipse its 52-week closing high of $55.60 in the next three months and expect it to reach a high of $60 within the next six months. Therefore, investors should consider accumulating Dollar General on any weakness.
Disclosure: I have no positions in any stocks mentioned, but may initiate a long position in DG over the next 72 hours.
Business relationship disclosure: Black Coral Research is a team of writers who provide unique perspective to help inspire investors. This article was written Jonathan Lara, one of our Senior Analysts. We did not receive compensation for this article (other than from Seeking Alpha), and we have no business relationship with any company whose stock is mentioned in this article.
Disclaimer: Black Coral Research is not a registered investment advisor or broker/dealer. Readers are advised that the material contained herein should be used solely for informational purposes. Investing involves risk, including the loss of principal. Readers are solely responsible for their own investment decisions.