My target after my article on 3D Systems (NYSE:DDD) published on February 17th has been achieved. I was calling for a target of $46 (post-split, or $30), which was reached in the last 1-2 weeks. I have been thinking of accumulating shares recently and like the potential of the chart going forward.
Fundamental analysis
DDD is currently valued at $2.82 billion. It also has total cash of $155 million, which is very attractive as I believe the potential for buybacks of shares is possible in their next earnings report. DDD has a float of 84.9m shares, of which 70% is owned by institutions. 56.2% of the float is short, and I expect a short squeeze in the next few weeks. DDD also expects to earn $560m in revenues next year, which is massive considering their market capital.
In DDD's last quarter, revenue grew by 45%. Sales growth was supported by a 93% increase in printer and other revenue. Gross profit margins for 2012 were 51.2%. GAAP earnings were $01.9 per share for the quarter.
The company continues to diversify its product line. It also keeps finding new partners as seen recently with the Seiko-I collaboration.
At the end of the fourth quarter, 8 hedge funds were bullish on the stock. Tiger Global Management has the biggest position worth close to $55 million. Criterion Capital owns $11 million. Ken Grifin's Citadel Investment Group also owns a hefty amount.
The industry also keeps rating DDD very high. Recently in March, DDD was recognized as a company that is able to drive change, inspire information and deliver outstanding economic performance.
Earlier in March, more news came out about something quite interesting. A guitar was produced by DDD as seen here.
Recent technical analysis on DDD
The recent technical analysis shows some bullish action. DDD is now forming a base around $30 to $32 and is showing signs of consolidation. I like the recent move and the support over the 200-day moving average leads me to believe we can see higher prices, with first resistance at the 50-day moving average. Keep an eye on the descending trendline as I expect this to be broken soon.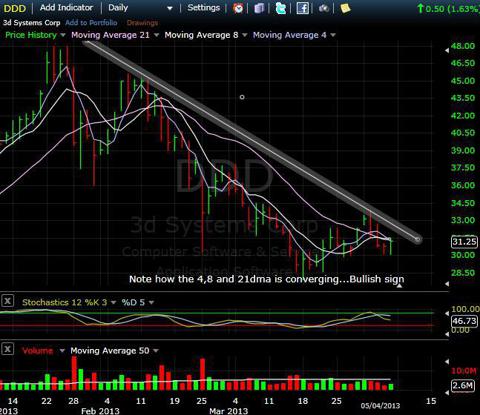 Click to enlarge
If we look at the weekly chart, we can see how stochastics are now reaching oversold levels. As one can see from the past, stochastics below 20 usually mean a reversal is imminent. I believe that DDD will now consolidate for a while under $35 but as earnings season comes, and with some increased estimates, I expect a run to $45 in the next few months.
Conclusion
3D stocks remain to be a topic of conversation daily. There are numerous companies in this field including other leaders like Stratasys Inc. (NASDAQ:SSYS). Other companies like Organovo Holdings (NYSEMKT:ONVO) are looking into developing synthetic tissue. These are exciting times for the industry and I expect big numbers and exciting ideas going forward.
Disclosure: I have no positions in any stocks mentioned, but may initiate a long position in DDD over the next 72 hours. I wrote this article myself, and it expresses my own opinions. I am not receiving compensation for it (other than from Seeking Alpha). I have no business relationship with any company whose stock is mentioned in this article.