General Electric (NYSE:GE) continued its expansion into oil services Monday with a bid for Lufkin Industries (NASDAQ:LUFK) that values the firm at around $3.3B, a 38% premium to its Friday closing price. Although it is a rich premium for the maker of oilfield and power transmission products like rod lifts, the offer is less than where the stock was just a year-and-a-half. It also strategically expands GE's push into oil services by making it a more complete provider of services and equipment. This is part of GE's wise push-out of finance & media and deeper into oil services as well as large medical and industrial technology which I have written about before. It is good confirmation that the company is committed to this transformation by putting some of the money it recently received from Comcast for its media businesses to work. It is also part of the reason GE remains a core part of my value and income portfolio.
4 reasons GE is a solid pick at $23 a share:
The stock yields 3.3% and the company has raised payouts by 90% since emerging from the financial crisis. To achieve its payout prior to the Great Recession, GE still has about 60% to go. I think it will get there over the next three to four years which bodes well for dividend growth.
The company has AA+ rated balance sheet and produces more than $30B in operating cash flow annually. The stock is priced at less than 8x current operating cash flow.
The stocks sell for a very reasonable five-year Projected PEG (1.24) and just over 12x 2014's projected earnings for a three percent plus yielder.
S&P has the stock as a "Buy" with a $26 price target and Credit Suisse also has an "Outperform" rating on the shares as well.
The other positive this transaction has had on my portfolio today is Weatherford International (NYSE:WFT) is up 4% in early trading today. The huge premium that Lufkin received has buoyed other oil services shares as it shows the space is undervalued and M&A activity could target additional names in the space. I like the shares to go higher from here as they were already on the uptick recently.
4 reasons WFT can go higher from $12 a share:
Analysts expect 8% to 9% annual revenue growth over the next two years and stock sports a minuscule five-year projected PEG (.46)
WFT is selling at just over 9 times 2014's projected earnings, a huge discount to its five-year average (15.7x forward earnings).
WFT is selling at the bottom of its five-year valuation ranged based on P/B and P/S. Noted oilman T Boone Pickens is also a fan and his fund's last filing shows him holding 90,000 shares.
The stock has behaved well since bottoming at $9 late last year. WFT recently crossed back over its 200-day moving average (See Chart).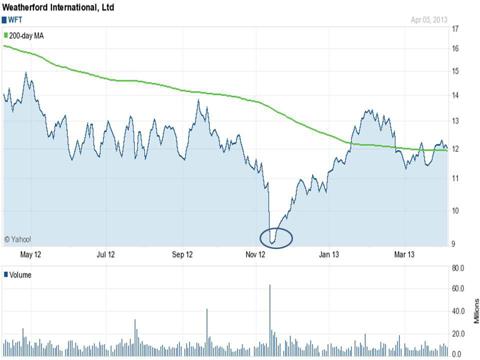 Click to enlarge
Disclosure: I am long GE, WFT. I wrote this article myself, and it expresses my own opinions. I am not receiving compensation for it (other than from Seeking Alpha). I have no business relationship with any company whose stock is mentioned in this article.