The share price of McDonald's (NYSE:MCD) has risen by 22% from its 52-week low of $83.31 reached in November 2012 and just made a new 52-week high. In my view, investors should take a pause for now as the stock appears to be somewhat overbought at this level. There are 5 reasons to support my bearish opinion:
1. McDonald's valuation upside appears to be limited based on the company's financial performance relative to its peers'. According to the chart shown below, McDonald's 2-year consensus revenue, EBITDA, and EPS growth estimates are considerably below the averages for the comps group. Similarly, the firm's 5-year EPS growth estimate is also markedly below par. On the profit side, however, McDonald's demonstrates a better performance as most of the firm's margins and capital return measures are above the comps average. In terms of debt and liquidity, McDonald's debt load is fairly in line as reflected by its on-average leverage ratios. The company has a higher free cash flow margin but its interest coverage ratio is slightly below the average. Both McDonald's current and quick ratios are fairly on par, reflecting a healthy balance sheet condition.

McDonald's current price multiples at 10.8x forward EBITDA and 17.6x forward EPS (next 12 months) are at a notably discount to the same peer-average multiples, indicating a fully-priced valuation given McDonald's weaker growth potential. Further, after accounting for the 5-year earnings growth estimate, the stock's PEG ratio of 1.9x is 15% above the peer average at just 1.7x. This also appears to be fair due to McDonald's profitability outperformance (see chart above).
2. From a historical standpoint, McDonald's trailing P/E multiple is approaching its 3-year high at 20.0x and currently trading at 10% premium over the 3-year average of 17.3x (see chart below).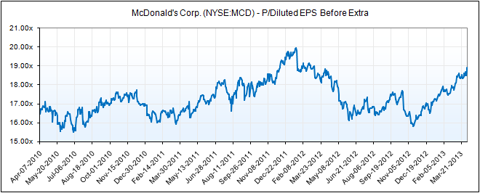 In my view, the current valuation appears to be somewhat expensive provided that 1) McDonald's quarterly capital return metrics have trended steadily over the past 3 years; 2) similarly, the firm's various profit and operating cash flow margins also show a stable trajectory throughout the period; and 3) the company's revenue, EBITDA, and EPS growth rates bottomed in 2012 and the consensus growth estimates for 2013 and 2014 only point to a modest recovery (see charts below). In all, the significant P/E ratio run-up since 2013 is difficult to be justified by the trend of McDonald's financial performance.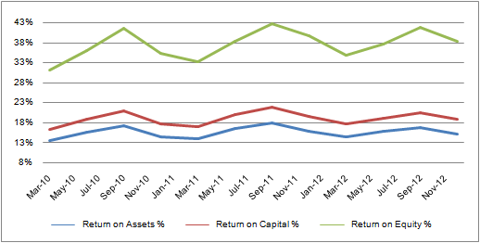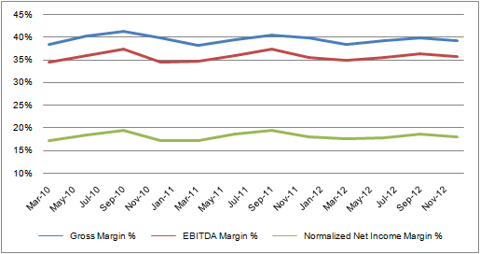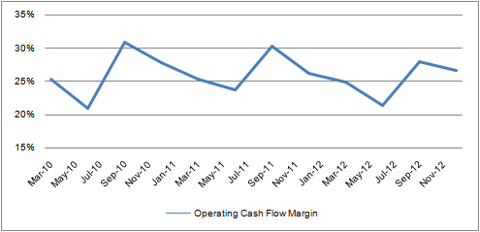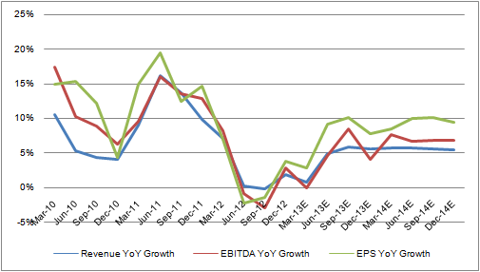 3. Further, McDonald's PEG ratio has risen markedly over the past 6 months (see chart below).

Given that the company has experienced not significant advancement over the 6 months as suggested by the above charts, the PEG run-up was primarily driven by the rise of the overall market. The PEG ratio of S&P 500 Index is currently at 1.7x (14.6x forward average EPS and 8.2% 5-year EPS growth estimate), and McDonald's PEG is 10% above that, which appears modestly expensive.
4. The market's consensus revenue, EBITDA, and EPS estimates for 2013 and 2014 have experienced multiple downward revisions over the past 6 months, and analysts' average long-term earnings growth estimate has also been lowered slightly from 9.6% to 9.2% since 6 months ago. Despite those deteriorated future estimates, the share price rose by 11% in the 6-month period, again indicating the shares have become more expensive (see charts below).




5. McDonald's generates approximately 68% of the total revenue from oversea markets. The recent appreciation of the US dollar is a big negative for this global firm and will likely have a notable impact on the company's Q1 2013 earnings. According to the chart shown below, the US Dollar Index had a sharp rise between February and March 2013 (see chart below). However, I do not see this negativity being reflected in the current valuation.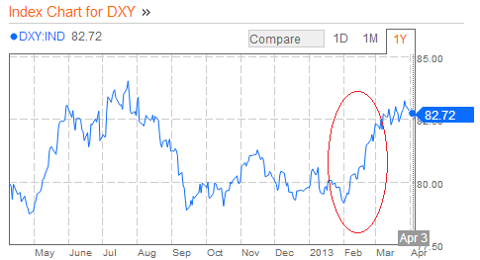 Bottom line, the recent rise in McDonald's share price has caused a more expensive valuation as the company fundamentals have hardly changed. As such, investors should wait for a pullback before pulling the buy trigger. Alternatively, one could also take a small short position as a speculative play, especially if you are a believer of a market correction.
All charts are created by the author except for the consensus estimate tables, which are sourced from S&P Capital IQ, and all financial data used in the article and the charts is sourced from S&P Capital IQ.
Disclosure: I have no positions in any stocks mentioned, and no plans to initiate any positions within the next 72 hours. I wrote this article myself, and it expresses my own opinions. I am not receiving compensation for it (other than from Seeking Alpha). I have no business relationship with any company whose stock is mentioned in this article.