Chocolate lovers have an eye on cocoa prices. The debate rages on… will Baby Ruth bars get offered up at a discount? Or will M&Ms soon be considered a luxury item?
Okay, okay… I tease. But futures traders should have their eye on this oft-overlooked softs market.
Cocoa's been trending lower for the last seven months, with prices down by 20%. At their lows, cocoa was within just 1.7% of the $2,000 mark. Yet since bottoming out about a month ago, prices have bounced 1.7% higher, and as I'm writing, May futures are trading above both the 9- and 20-day MAs (red and light blue lines).
I see a trading opportunity in cocoa's possible move back to the 50% Fibonacci level, about 8% overhead in May futures. I doubt this move would make a difference at the checkout line of your local supermarket, but we can squeeze a trade out of it.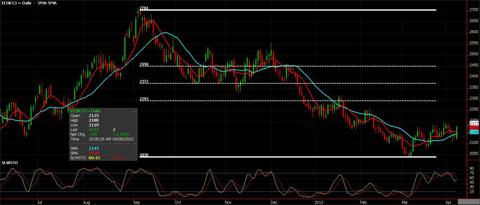 Cocoa has been establishing a base for the last six weeks, consolidating within a tight, $150 trading range. Only early bulls are in now, but a settlement above $2200 in May should get buyers much more active. I suggest speculators nibble into bullish trade on anticipation of a coming breakout. Show some self-control -- leave some of the chocolate bar for later -- you'll have a chance to add to bullish trade once we see confirmation over $2200. This, of course, is my opinion, as I do not claim to have a crystal ball.
The chart above is of the May contract, but I prefer to establish new positions in July contracts, which have just over two months of time left. At-the-money call options on cocoa are going for about $825 plus fees, as of this post. At just better than a 50% delta, this option strategy could pick up a yield of about 50% if July futures trade back to the 38.2% Fib level at $2,300.
Traders in the futures market are advised to put in stops under the recent lows. Trail that stop under the 20-day MA as cocoa advances in the coming weeks. The contract size of cocoa is 10 metric tons -- a $1 move in the futures market represents a $10 gain/loss. Size your position accordingly.
Risk Disclaimer: The opinions contained herein are for general information only and not tailored to any specific investor's needs or investment goals. Any opinions expressed in this article are as of the date indicated. Trading futures, options, and Forex involves substantial risk of loss and is not suitable for all investors. Past performance is not necessarily indicative of future results.
Disclosure: I have no positions in any stocks mentioned, and no plans to initiate any positions within the next 72 hours. I wrote this article myself, and it expresses my own opinions. I am not receiving compensation for it. I have no business relationship with any company whose stock is mentioned in this article.