Last November, I wrote an article "A November to Remember" where I told readers to buy AudioCodes (NASDAQ:AUDC) at $2.35 per share pre earnings for a double to $5 per share by February, 2013. I hope you participated as shares touched $4.75. Today, I believe with even more conviction that AudioCodes has not lost its luster, by no means. I believe buying AudioCodes on this retracement will bring you to $6 by June/July when it becomes more transparent that AudioCodes has a plethora of VoIP know how and an over the top (OTT) mobility play that could make the shares a multiple of the $6 price tag it can hit by July.
Here's why I believe this pullback is to be remembered:
Earnings:
AudioCodes announced yesterday that it will release its earnings numbers pre market on April 29th. It is important to note that when AudioCodes went through a bad earnings period it always pre-announced. Its early earnings date release bodes well for the company and for investors wanting to get long pre earnings. I look for the company to report revenue of approximately $32.5 - $32.8 million, with profits of $0.02 per share and to be cash flow positive for the 2nd quarter in a row. Historically, the first quarter is a seasonally slow quarter as telecoms and enterprises spend more heavily on the back end of the year. I fully expect the company to have a stronger Q2 than Q1 and an outlook that would suggest its pipeline is in the best shape in over a year.
Unified Communications (UC):
I believe that as Chief Investment Officers (CIOs) and Information Technology (IT) managers have embraced the cloud for their Unified Communications (UC) then AudioCodes will continue to flourish with its established relationships with Microsoft (NASDAQ:MSFT), Avaya, Genesys, Alcatel-Lucent (ALU), BroadSoft (NASDAQ:BSFT) and others.
Avaya's CEO, Kevin Kennedy in a recent article said that he's willing to share customers with Cisco (NASDAQ:CSCO) and Microsoft. I believe that he is acknowledging that his company cannot expect to defeat such deep pocketed competitors and has in fact seen a dramatic increase in the number of companies moving to Microsoft Lync. Avaya has now made a strategic decision to offer complements to Lync if need be. This is good news for AudioCodes as it does business with 2 out of the top 3 system integrators.
AudioCodes has solidified its relationship with Microsoft. Its One Voice for Lync strategy has been embraced by Microsoft and coupled with Microsoft's arch rival Oracle (NASDAQ:ORCL) acquiring Acme Packet, I believe that AudioCodes has seen more project bids, especially since Acme Packet was acquired. This should give AudioCodes greater confidence for the 2nd half of the year as the sales cycle probably runs 3 to 6 months on a typical Lync deployment, which could last 12 months as it's done in stages.
Historically, Avaya has been a big purchaser of AudioCodes' gateways and I believe it would only make sense that Avaya will eventually become an E-SBC purchaser as enterprises are all moving to Session Internet Protocol (SIP) networks. This would be another strong positive for the shares.
Services and consulting are becoming a meaningful piece of AudioCodes' business. It could find itself signing deals to offload some services from larger players in the industry thereby creating upside momentum in the second half of the year. The consulting arm would be a new line of business for the company as the need for unified communications on premise or off (cloud) has been embraced by CIOs and IT managers across the globe.
In November 2012, AT&T announced that it wanted to shut down its circuit switch network. While this may signal an end of copper networks, it does not mean that VoIP has been fully deployed. In fact, the move to unified communications (UC) and VoIP calls is only in its infancy. The FCC calculated that in 2001 there were 192 million circuit-switched phone lines and that in 2011 there were still 112 million lines. There will be growth in VoIP for many years to come as the existing circuit networks continue to be replaced by broadband and VoIP networks.
WebRTC:
In 2009, a Google (NASDAQ:GOOG) project to create a browser that allows web browsers to communicate with one another was created. It eventually evolved into WebRTC, an open source working group project, supported by major browser developers Mozilla and Opera. I believe that WebRTC will revolutionize the communications industry as it allows real time communication between browsers. This means that if you are connected to the internet whether on your mobile phone, desktop, or laptop you will be able to call, video chat, or send data to anyone else browser to browser. I believe that it will be very disruptive to mobile service providers. However, I believe that it will drive the sales of E-SBCs, Gateways, and IP phones as it becomes the preferred method of communication. I believe that AudioCodes is fully aware of WebRTC and has been focusing its R&D efforts on it along with its overall mobile strategy.
Mobile Strategy:
I believe that we are about to hear something big from AudioCodes on its mobile strategy. I had previously stated I thought we would get an announcement from AudioCodes on its mobile strategy at the Mobile World Congress in February, but the company was strategically quiet. After further discovery, I found out that AudioCodes and a private software company MailVision were making appointments with prospects together at this past Mobile World Congress. I believe that the collaboration will be between these two companies. MailVision, a software house, provides mobility solutions to service providers and has 15 years of R&D behind them. AudioCodes has 17 years of VoIP experience and a 26% stake in MailVision. I believe that together they are going to take VMAS (VoIP Mobile Access Solutions for Service Providers) an OTT platform to the next level. I believe that they have built out this platform and have developed an over the top solution like Skype, Google Talk, or Viber that can be customized for each enterprise so enterprises can participate in this OTT craze. I see it as a killer OTT solution that has AudioCodes' personal IP installed and MailVision's extensive software expertise. It could surprise investors and MSOs and MNOs such as Liberty Media (LMCA), Comcast Corp. (NASDAQ:CMCSA), Verizon (NYSE:VZ), and AT&T (NYSE:T) and industry peers. This will make AudioCodes trade to $6 plus per share very quickly on any revelation of this type of product.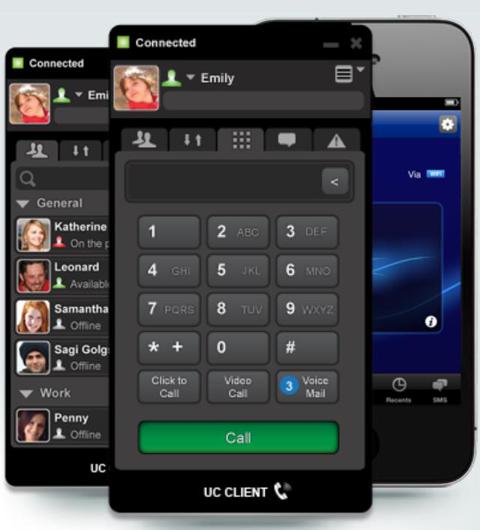 Mobile Plus:
I believe that AudioCodes' strategy would be to sell the technology and equipment to the telecom service providers that are desperately seeking an answer to the OTT business model and believe the enterprise market is ripe for the proper secure solution. This type of service could be rolled out on a per subscriber basis on a monthly basis creating a high margin, annuitized business to both the service providers and AudioCodes. AudioCodes could receive an upfront fee (E-SBCs, consulting and setup costs) and then charge $0.25 - $1.00 per subscriber per month. AudioCodes is already fully invested in this technology with minimal future R&D expenditures needed on a percentage of future sales, hence a windfall to the bottom line. I additionally believe that there are many high barriers to entry when it comes to the software behind this platform. I believe with a total of 250 million - 350 million enterprise smartphones in the market place it leaves a good size market in front of AudioCodes to make big profits.
With their own OTT solution, enterprises would be more likely to make its UC services available to employees on their mobile devices. A soft client platform would be downloaded onto an employee's mobile phone and a Client Management System would be installed in the enterprise office. The result is that when the employee is on the road, he is still connected to the company server. The employee can make secure, high definition, voice quality calls over Wi-Fi, or cellular calls that go through its E-SBC servers, they have presence, IM, access to contacts, and all the calling features they would have in the office, and all through the enterprises OTT network.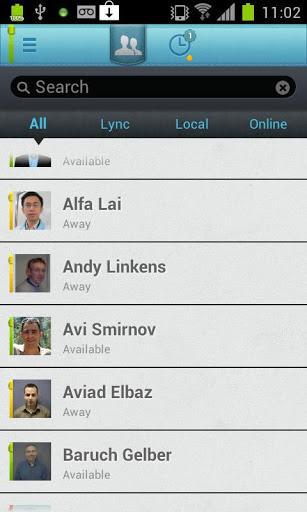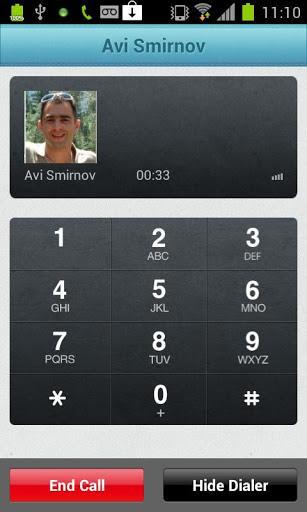 Mobile Plus would work on a variety of mobile devices and on different operating systems including iOS, Android, BlackBerry and Symbian. Next year I see AudioCodes conservatively generating annual revenues of $15 - $20 million on this mobile platform and command a software related gross margin of 75%.

The OTT craze continued this morning as newswires have Google rumored to be buying WhatsApp for $1 billion or 10 times revenues. This follows Microsoft's purchase of Skype two years ago for $8.5 billion. As you can imagine mobile operators are in a very tough position and to date they have had no response to consumers' move and enterprises' desire to move to OTT. I believe AudioCodes' engineering minds have been at work on this for better than a year and if I'm right, the mobile operators will be beating down AudioCodes' door for access to its arsenal in order to respond to OTT. AudioCodes would be worth $10 overnight based on WhatsApp 10 times revenue valuation. I see AudioCodes at super attractive levels here with the news that another OTT company could be acquired by a visionary Internet company.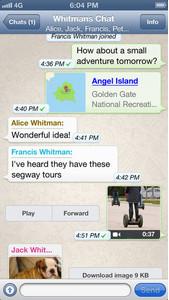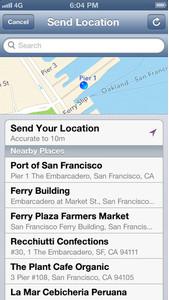 VALUATION:
Last quarter, AudioCodes demonstrated that it has a profitable business model, has controlled expenses and has the ability to generate cash at what will be its slowest revenue levels (historically Q1 is seasonally slow vs. Q4). The company will start favorable revenue and profit comparisons on a year over year comparison in Q1, which is attractive to analysts and investors that look to initiate coverage or a position. Here's a look at 2012 quarterly results for 2012 and my estimates for 2013/2014:
2012
2013 (est.)
2014 (est.)
Revenue
Net Income
Revenue
Net Income
Revenue
Net Income
Q1
32.3
(.02)
32.6
0.02
36.0
0.08
Q2
31.0
(.04)
33.0
0.03
37.0
0.10
Q3
31.4
(.05)
34.5
0.05
39.2
0.13
Q4
32.8
0.03
36.0
0.08
42.5
0.17
I also believe the net cash position will increase from $35 million (Q4 2012) to $42 million at the close of 2013.
Net Cash Position (Estimation)
Q1
$37 mil
$0.97 per share
Q2
$39 mil
$1.01 per share
Q3
$40 mil
$1.03 per share
Q4
$42 mil
$1.08 per share
We could see gross margin expansion with an increase in service revenues, an increase in software related products and a lower percentage of legacy sales. I believe that in the 2nd half of the year we could see gross margin expansion bring 200 -300 basis points of operating leverage.
| | |
| --- | --- |
| Shares Outstanding: | 38 million shares |
| Debt: | $23 million ($8mm due over 2013) |
| Cash: | $58 million |
| Insider Ownership: | 25% - 27% |
| Ten Percent Holder: | 10% |
| Float: | 25 million shares |
| Short Position: | 54k |
| Float (my est.): | 21 million shares |
| Market Cap: | $125 million |
| Price to Rev 2013 (est.): | 0.95 (historically 2 -3) |
| Price to Rev 2014 (est.): | 0.80 (historically 1.75 - 2) |
I believe investors need to look out to 2014 when valuing AudioCodes as cash is equal to 1/3 of the value of the company and it trades below one times revenues, all while putting the growth story in place. I see late 2013 and 2014 being a strong time for unified communications as enterprises are more educated on SIP and VoIP mobility. All these factors bode very positive for AUDC starting this June when MSFT launches its Lync/Skype offering, we see Google's WebRTC get increased media attention and AudioCodes delivers a potential killer mobility play with Mobile Plus. I believe that 50% of the company's shares are in good hands, the industry is about to hit a UC growth spurt and AudioCodes could surprise us with unique IP offerings.
ACQUISITION:
Now the question is who is going to need AudioCodes more:
· Google for its expertise to help push WebRTC out on a massive scale.
· Microsoft to have a one stop shop approach to compete with Cisco Systems.
· Dell (NASDAQ:DELL) or Hewlett-Packard (NYSE:HPQ) to re-enforce its enterprise product portfolios.
· Avaya to shore up its mobile strategy and beef up its know-how and product offering.
· Liberty Media, Comcast, Cox, Time Warner etc., will one of the MSOs want to own a complete OTT player with extensive voice know how?
CHART: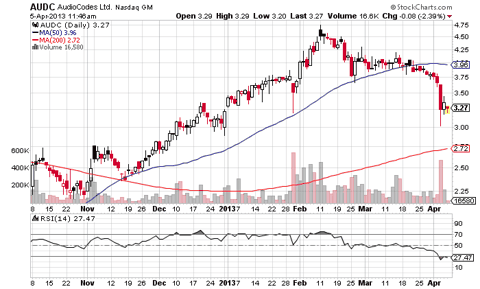 Looking at the daily chart, we can see that the stock made a short-term bottom at $3.02. As the price approached $3.00, buyers came in and pushed it back up. With the stock being more oversold than it has been since the beginning of its recent run, this is a terrific opportunity to step in and pick up AudioCodes at a bargain price. With a number of major catalysts on the horizon, I see AudioCodes trading back up to recent highs at $4.75 before breaking out to new highs and $6.00.
CONCLUSION:
Buying AudioCodes today is analogous to owning Acme Packet 9 months prior to Oracle's surprise bid when the shares retraced from $30 to $13 per share only to be acquired at $29 per share. I'm sure there's a few happy investors that remember that pullback and who didn't waver at the thought of adding shares. I know there's a lot more who wished they pulled the trigger. That said, I believe when we look back 3-6 months from today we'll remember this was a buy to be remembered.
Disclosure: I am long AUDC. I wrote this article myself, and it expresses my own opinions. I am not receiving compensation for it. I have no business relationship with any company whose stock is mentioned in this article.