Pengrowth Energy Corp. (NYSE:PGH) is engaged in the development, production and acquisition of, and exploration for oil and natural gas reserves in Canada. Penn West Petroleum Ltd. (NYSE:PWE) is another Canadian exploration and production company with main interests in petroleum and natural gas properties. Both stocks had been outperforming the market in mid-March and had been pulling back since then, as seen from the chart below. Both stocks will be reviewed fundamentally and technically in this article.

Source: Google Finance
Briefing
Pengrowth Energy seeks to provide mixed income and growth through its production of oil and gas in Alberta. While Morningstar believes the firm holds mediocre assets and is skeptical about Pengrowth's growth, the company had been upgraded by FirstEnergy Capital to outperform in early March. Analysts currently have a mean target price of $6.33 for PGH, suggesting 30.25% upside potential based on the closing price of $4.86 on April 5, 2013.
Penn West Energy is based in western Canadian sedimentary basin, and the company seeks to increase oil in the production mix, thus taking advantage of the more-desirable oil-pricing environment. In late February, BofA/Merrill Lynch initiated coverage on Penn West Energy with an underperform rating and price target of $9.00. Analysts currently have a target price of $13.85 for PWE, suggesting 36.07% upside potential based on the closing price of $10.12 on April 5, 2013.
Fundamental Comparison
The key stats will be compared between two companies as well as the industry average, as seen from the table below.
| | | | |
| --- | --- | --- | --- |
| | Pengrowth Energy | Penn West Petroleum | Industry Average |
| Cap Size | $2.49B | $4.88B | N/A |
| Closing Price April 5, 2013 | $4.86 | $10.12 | N/A |
| Book Value | $8.34 | $18.87 | N/A |
| Revenue Growth (3 year average) | 8.3 | 6.9 | -2.8 |
| Operating Margin, %, ttm | 1.7% | 7.3% | 24.9% |
| Net margin, %, ttm | 0.8% | 5.4% | 13.1% |
| ROE, ttm | 0.3 | 1.9 | 0.7 |
| Debt/Equity | 0.4 | 0.3 | 0.5 |
| P/E | 163.9 | 27.7 | 14.9 (S&P Average) |
| P/E 5 Year Average | 52.2 | 8.7 | N/A |
Source: Morningstar
Both stocks have higher revenue growth with lower debt/equity as compared to the industry averages. However, both stocks are trading below their book values. Both stocks have lower margins as compared to the industry average. Nonetheless, PWE has higher ROE than PGH and the industry average. The current P/E ratios for both stocks are higher than their five-year averages. A comparison for quarterly revenue, ROE, and cash flow/dividend on both stocks will be reviewed below.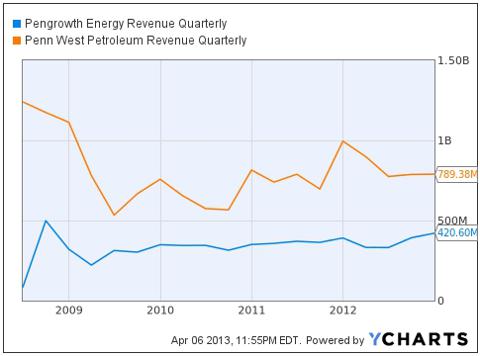 Source: YCharts.com
PGH's revenue had been increasing steadily since early 2009 and reached $420.60M by the end of 2012. PWE's revenue had been fluctuating with a wider range but had also been increasing and reached $789.38M by the end of 2012.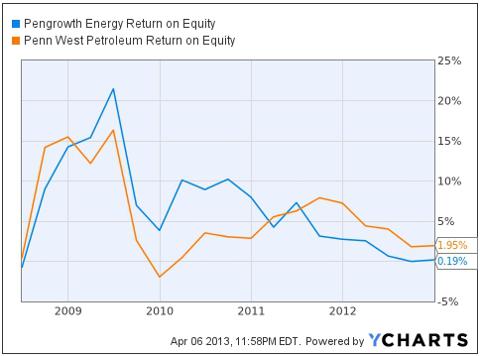 Source: YCharts.com
The ROE for both stocks had peaked in mid-2009 and bottomed in early 2010. PGH's ROE started to decline again by mid-2011 and had only stabilized by the end of 2012, reaching 0.19%. PWE started to decline by late 2011 and reached 1.95% by the end of 2012.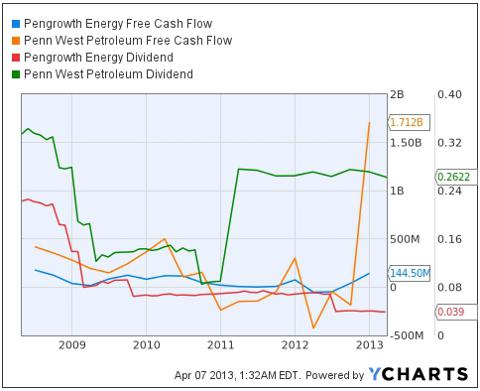 Source: YCharts.com
PGH had reduced its dividend by mid-2012 while its cash flow improved since then. PWE changed its monthly distribution of $0.09 to $0.27 quarterly. PWE started to see cash flow increase by late 2012. A reputable Seeking Alpha contributor, Albert Alfonson, felt that PWE's dividend is in danger and has yet to lower its dividend.
Lastly, the price performance for both stocks will be compared to Brent and WTI crude oil sport price, as well as the Henry Hub natural gas spot price, as seen below.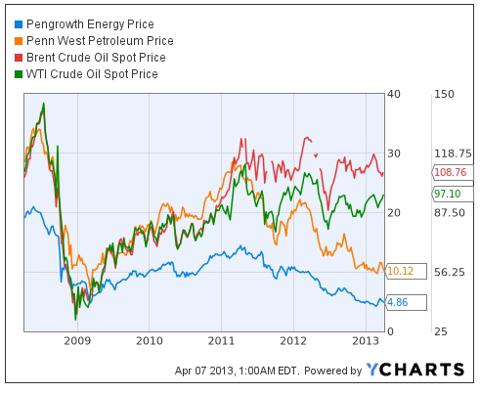 Source: YCharts.com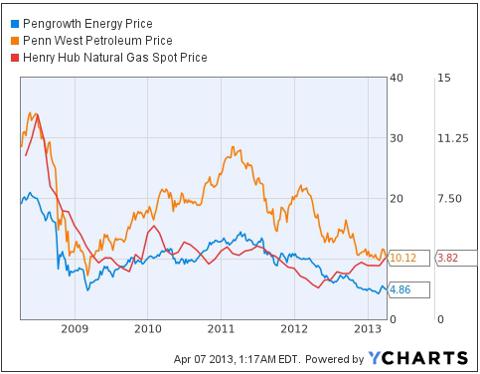 Source: YCharts.com
While PWE had been in-sync with both oil prices, PWE started to lag and did not recover in early 2013 while oil prices picked up. PGH continued to lag as compared to PWE and oil prices. On the other hand, the natural gas price started to climb in early 2012, but both stocks continued to lag and decline.
Technically, both stocks are on the long-term downtrend. However, PGH is near its 50-day MA support while PWE is bouncing up and approaching its 50-day MA resistance.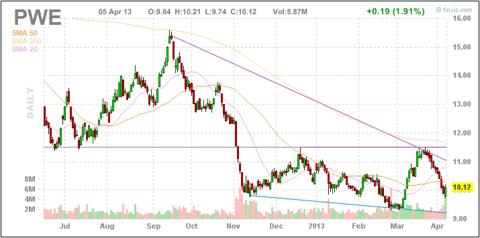 Source: Finviz.com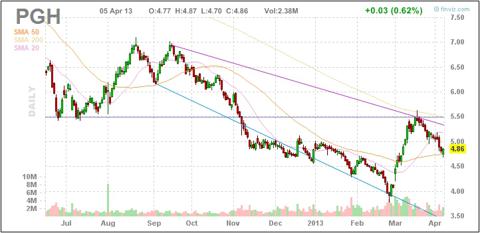 Source: Finviz.com
Bottom Line
While oil prices have been stabilizing and the natural gas price has improved since 2012, PGH and PWE continued to lag and trade below their book values. While both stocks remain on the long-term downtrend, both stocks may be due for short-term bounce if they can hold above/break through their 50-day MA. However, investors should continue to pay attention to their margins and free cash flow before establishing the long-term position.
Note: Investors and traders are recommended to do their own due diligence and research before making any trading/investing decisions.
Disclosure: I have no positions in any stocks mentioned, and no plans to initiate any positions within the next 72 hours. I wrote this article myself, and it expresses my own opinions. I am not receiving compensation for it (other than from Seeking Alpha). I have no business relationship with any company whose stock is mentioned in this article.