One of the best deals around concerning master limited partnerships is to hold general partner and incentive distribution rights on an MLP company that steadily increases its distributions. Williams Companies, Inc. (NYSE:WMB) has evolved itself into primarily a GP holding company and the result will be rapidly growing dividends.
Note: MLP companies such as Williams Partners LP have units and pay distributions. The words stock, shares and dividends may be used here with the understanding that the rules of MLP units apply including the tax consequences of investing in MLP units.
Company Overview
Williams Companies owns and generates revenue from three different business units:
The largest part of the Companies is the general partnership, IDRs and 68% ownership of the LP units of Williams Partners LP (NYSE:WPZ). Williams Partners is in the natural gas midstream business from gathering to natural gas liquids processing to a major player in interstate gas pipelines. With a $20 billion market cap, Williams Partners is in the top 5 of large MLP companies. I recently covered WPZ: Williams Partners Builds On Dividend Yield In Spite Of Cash Flow Shortfall.
In December 2012, Williams Companies acquired 50% of the GP and IDR interests plus 24% of the LP units of Access Midstream Partners, LP (NYSE:ACMP). Access Midstream was formerly Chesapeake Midstream Partners and the company still provides gathering, processing, treating and compression services to Chesapeake Energy (CHK) and as well as other producers under long-term, fee-based contracts.
Williams NGL & Petchem Services operates primarily in Canada and is the only company providing off gas processing in the oil sands production area of Canada.
As part of its business goal to focus on the natural gas midstream business, Williams Companies spun off its exploration & production business as WPZ Energy, Inc. (NYSE:WPX) at the end of 2011.
Growth Potential
The shift in focus by Williams Companies to become a natural gas midstream infrastructure powerhouse has been accompanied by a change in dividend policy to rapidly ramp up the distribution rate. The $1.20 per share paid in 2012 was a 55% increase over 2011 and about triple the dividends paid in 2009.
Distribution guidance for Williams Partners includes increases of 9% this year and next. Access Midstream has increased its dividend significantly every quarter since going public in 2010. With its LP holdings earning those growing distributions and IDRs putting a supercharger on that growth, Williams Companies has provided guidance of increasing the dividend by 20% per year for 2013 and 2014. Next year - 2014 - the dividend is forecast to be $1.75 per share.
Conclusions
2012 ended up as a tough year for Williams as the company's non-fee based revenues took a hit on lower NGL prices which made up about a quarter of total revenues. The share price is still below the 2008 peak. However, the company's focus on natural gas midstream and willingness to aggressively grow through organic capital spending and acquisitions should make the 20% dividend increases easy targets. If the dividend growth at this rate the share price should appreciate by a similar percentage, putting a two-year, 50% total return well within the realm of possibilities. The company as future growth plans that should serve investors well out beyond 2014.
WMB currently yields 3.7%, which is attractive considering the dividend growth prospects. As a corporation, the dividends are of the regular sort, so this stock should be attractive to investors who want to invest in the MLP space without the hassle of actually owning MLP units and dealing with K-1 statements.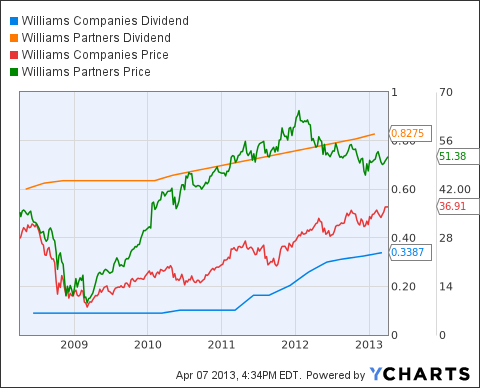 WMB Dividend data by YCharts
Disclosure: I have no positions in any stocks mentioned, and no plans to initiate any positions within the next 72 hours. I wrote this article myself, and it expresses my own opinions. I am not receiving compensation for it (other than from Seeking Alpha). I have no business relationship with any company whose stock is mentioned in this article.