In an earlier article, we discussed one of the most important metrics to analyze the silver industry -- the actual cost of mining an ounce of silver -- which can help an investor figure out whether it is time to buy SLV and/or the silver miners. We are in the process of doing the same analysis for FY 2012 gold production costs and once it has been completed we will post the 2012 consolidated true production cost calculations for gold, so investors who are interested follow me and you will receive that report.
In this analysis we will calculate the real costs of production of Gold Fields Limited (NYSE:GFI), a major gold producer with some copper byproduct that own operating mines in Australia, Ghana, Peru, and South Africa. It also has a large growth pipeline with four projects that are at the resource development or feasibility stage. One thing that investors should note is that in addition to operations that are quite spread out, GFI has a large amount of political risk associated with its Ghana and South African mines (and its Mali development properties). Investors in GFI should follow developments in these countries to make sure that the political situation does not get worst, but this is outside the scope of this article.
Calculating the True Mining Cost of Gold -- Our Methodology
In a previous article about Goldcorp's (NYSE:GG) cost of production, I gave a thorough picture of the current way mining companies report their cost of production and why it is inaccurate and significantly underestimates costs. Then we presented a more accurate methodology for investors to use to calculate the true costs of mining gold or silver. Please refer to that article for the details explaining this methodology, and I would encourage all precious metals investors to understand this important concept. It is important for investors interested in miners or those who focus on gold and silver as a commodity investment, because the true costs of production will show where a possible floor exists for a commodity (the production cost), which is important to gold (GLD investors) and is also an obvious way to differentiate miners.
Real Costs of Production for GFI -- Q4 2012 and FY 2012
Now let's use this methodology to take a look at GFI's results and come up with their average cost figures. When applying our methodology for the most recent quarter and FY 2012, we standardized the equivalent ounce conversion to use the average LBMA price for Q4 FY 2012. This results in a copper-to-gold ratio of 480:1. We like to be precise, but realistically minor changes in these ratios have little impact on the total average price -- investors can use whatever ratios they feel most appropriately represent the by-product conversion.
Click to enlarge image.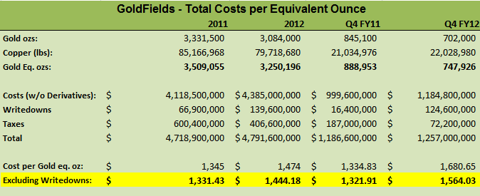 Click to enlarge
Observations for GFI Investors
The first thing that investors should take note of is that the costs to produce an ounce of gold (after excluding write-downs on projects and investments) for GFI were very high at $1444.18 per ounce for 2012 and $1564.03 for Q4 FY 2012. This puts them on the high end of their industry, with competitors having lower cash costs as GG had a cost of $1082, Barrick Gold (NYSE:ABX) $1277, Yamana Gold (NYSE:AUY) $1247, IAG at $1377, and Agnico-Eagle (NYSE:AEM) $1343) for FY 2012 -- with GFI's fourth-quarter true cost number being much higher than the fourth quarters of their competitors.
High costs are something that management has recognized and they have mentioned a few ways in which they intend to lower these costs. The first thing that they intend to do is spin off their South African operations into a separate company that will be listed as Sibanye Gold (NYSE:SBGL). The goal is to isolate costly South African operations and allow SBGL to focus on these operations, while GFI can focus on the other operating mines located in different countries. The spinoff took place in February 2013, but there are no financial statements available for the new GFI so the numbers used for this analysis still incorporate all the old GFI numbers, which includes Sibanye production and costs.
As a result of this spin-off, we expect GFI costs to drop since the SBGL operations in South Africa were some of their most expensive operations and management listed their costs of production in South Africa in the $1700 range. This should help GFI profitability in terms of their net profit margin, but the downside to the spinoff is that GFI will lose around 200,000 ounces of production a year or 25% of current production.
This works well for GFI if gold prices stay below $1,700 per ounce, but if the gold price rises significantly above this level then investors will be left without the additional profits. But we think that working away from the South African operations will be good for GFI shareholders in the long run because it will allow management to focus on the other operations which will hopefully create value for investors simply by the additional focus and time spent on them. Additionally, we believe that South Africa is currently a country with a very high political risk due to a deteriorating political situation and there does not seem to be any sign of significant resolution to these issues.
Management has also changed their philosophy from focusing on increasing gold ounce production to generating cash returns. This means that they no longer will set their goals to simply aim at increasing production, but will produce only the most profitable ounces. We believe this is a good decision and we applaud management because in the long-run it will increase profit margins, while leaving high-cost ounces for future production when gold prices warrant their extraction. For too long has the gold industry been focused on hitting output targets when marginal costs of production did not warrant it, which ended up draining gold reserves and essentially let to the mortgaging of future production at a price that was not worth it. We believe that GFI management is taking the right steps for the future and we hope other gold mining companies follow their lead.
Even with these changes and the exclusion of the South African gold production, we believe that GFI will only be able to lower its costs to the $1,300-$1,400 range, which will put it at the cost of the average gold mining company. But the company does currently pay a 2% dividend, which should be a positive thing for investors.
Conclusion
GFI's fourth-quarter and annual production true cost figures are exceptionally high for the industry, but due to the spinoff of their high-cost South African operations and the new focus of management on profitability not production, we do believe that they will be headed in the right direction to lower their costs and come more in line with the rest of the industry. But investors should pay close attention to the Q1 FY 2013 report to see what the newly structured company's costs and balance sheet will look like and if management's new focus will improve profitability.
For investors interested in gold as a commodity (GLD investors take note), GFI's report is another example of the increasing costs of production that we are seeing in the gold mining industry. Even with the spinoff lowering their production costs, the ultimate result will be a cut in gold production, which is bullish for gold as a commodity. The cuts in gold production due to rising production costs may be something we will see more in the gold mining industry as many miners require higher gold prices to keep a respectable profit margin -- which they are not getting at $1,600 per ounce. This is something that is bullish for owners of GLD and gold because it will result in less gold output, which is ordinarily bullish for any asset.
Though we understand the argument that gold differs from other commodities in that it is more similar to a currency (and thus may not be as driven by production costs as other metals), investors should still note that if gold falls below the industry's costs of production and total production is reduced, it may be a very good time to buy for even the most conservative of investors. It is true that the above ground supply of gold is very large and mine production only makes up a small portion of existing supply, but if mine production drops significantly then not only will market supply be lowered, but investors will also know this and start increasing their positions.
As some miners start cutting back their production and changing their goals to producing profitable ounces rather than more ounces, we believe the case for gold becomes even more bullish regardless of central bank actions. Aggressive investors should be accumulating on the drops, while conservative investors should be eyeing the $1,200 to $1,300 range as a very strong floor for the gold price -- though we do not think that gold will drop to those levels. We believe the case for gold is bullish even without central bank intervention.
Disclosure: I am long SGOL, PHYS, SIVR, PSLV, GG. I wrote this article myself, and it expresses my own opinions. I am not receiving compensation for it (other than from Seeking Alpha). I have no business relationship with any company whose stock is mentioned in this article.