Just over a year ago I purchased and wrote about a small biotech vaccine maker, Novavax (NASDAQ:NVAX) that was selling at $1.30 a share at the time. I thought the company had good promise and was worth a flyer for aggressive investors. The stock is now north of $2.40 and based on recent positives looks like a good bet to head much higher.
Recent positives for NVAX:
Wedbush analyst Gregory Wade issued a positive report last week on Novavax rating the shares as an "Outperform" with a $4 price target.
The company recently announced top-line data from the Phase II dose-ranging clinical trial of its respiratory syncytial virus that met successful end points.
Vaccine makers are coming into positive focus on the latest bird flu in China. The industry could continue to see a positive impact if the situation gets worse.
Novavax is a clinical-stage biopharmaceutical company that focuses on developing recombinant vaccines for infectious diseases using its virus-like particles (NYSE:VLP) and recombinant nanoparticle vaccine technology.
6 additional reasons NVAX still could have more upside from $2.40 a share:
Insiders have not sold a share since June 2011. In numerous and frequent purchases since then, myriad insiders have purchased more than $1.5mm in new shares.
M&A activity is on track for its highest pace in years. Given Novavax's interesting niche/products and small market capitalization (just over $300mm after subtracting cash); it could make a logical acquisition for a larger biotech or pharma player trying to get into the vaccine space.
The six analysts that cover the stock have a median price target of $4 a share on NVAX with a mean price target of just over $4.40.
Analysts expect the company's revenues to ramp up more than 50% in FY2014 on the introduction of new vaccines. Sales growth is expected to be north of 15% this fiscal year.
The company has over $40mm in net cash on its balance sheet, which is over two years of funding at its current burn rate.
After consolidating earlier in the year, the stock has been on the move since crossing over its 200 day moving average and is ready to break through its highs of two years ago (See Chart). The stock reached $6 a share in 2009.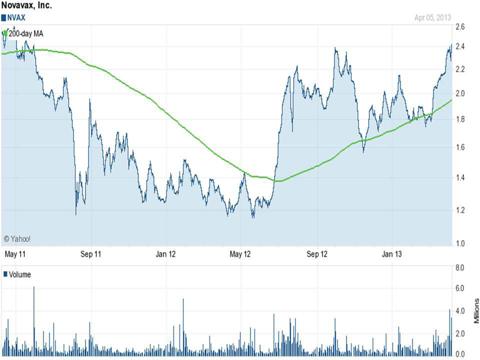 Disclosure: I am long NVAX. I wrote this article myself, and it expresses my own opinions. I am not receiving compensation for it (other than from Seeking Alpha). I have no business relationship with any company whose stock is mentioned in this article.