Given the onslaught of bubble prognosticators tracking the bitcoin market, I thought it only healthy to bring some context to the growth in bitcoin prices and why they may still be very undervalued.
Why Bitcoin Prices have Risen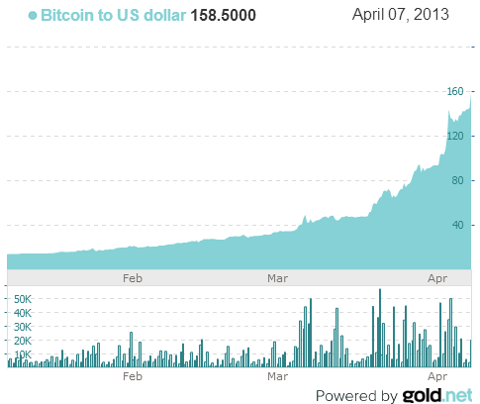 Media attention alone is not accountable for the massive rise in bitcoin prices as its been driven to all time highs. The bitcoin marketplace is starting to develop, breaking an important layer of ice, with merchants like Wordpress, Esty and reddit jumping on ship. Brick and mortar retailers are also starting to accept bitcion, notably in the Bay in area, but also internationally. Even precious metals can be bought for bitcoin now.
Long story short, the list of places now accepting bitcoin is growing exponentially, at least as fast as prices. The service industry around bitcoin is taking a leap as well and this will help support bitcion liquidity into goods and services.
In addition the ongoing rise in services will help distribute some of the concentration risk in current bitcoin markets, and mitigate many other current threats to continued bitcoin prosperity.
Why Bitcoin Prices are Undervalued
Once the bitcoin market crossed a billion dollar capitalization, sentiment of bubbles spiked in the public discourse despite no one citing any comparable metric to build a case off of. One such measure that can be used to determine a comparable market value is the digital gold currency market (DGC). DGC providers offer digital cash backed by real gold in vaults, and charge storage and market entry and exit fees and/or spreads. Their original intention was to service online transactions in the digital world but this dream has all but withered after minimal acceptance from merchants.
For one, many DGC providers turned out to be scams, including the publicized e-bullion, where holders were wiped out after the business erupted following a Hollywood style murder case. Moreover, anti money laundering concerns from governments weighed in, with e-gold being raided and large threats issued to other service providers.
Despite the negative backdrop painted above, DGC holdings are far grander than the $1.7 billion dollar bitcion market at present. GoldMoney alone, likely the largest DGC service, has $2 billion worth of digital currency holdings and no longer deals with retailers at all. Due to minimal dislcosure it is hard to get figures on the rest of the players but suffice to say the market is somewhat larger than GoldMoney commands alone. If you count gold pool accounts to the total market number and other storage services offered by the many gold dealers and brokers out there the numbers are much higher. Include ETFs like the massive paper holdings of SPDR gold trust (NYSEARCA:GLD), and the numbers jumps much closer to $100 billion. Pool accounts, ETFs and storage services never had a real intention of becoming a currency like DGC, however, so the relevance is limited in that respect and the numbers are large enough without them.
Bitcoin overall are cheaper and easier to transact, much cheaper to store, and are less susceptible to governments shutting down their infrastructure than DGC. Given the fundamentals out performance by the bitcoin industry versus DGC provider's impact, bitcoin prices no longer seem so overvalued. Rather, the crypto currency's network seems significantly undervalued given the prospective market space of global commerce.
For bitcoin to merely match the market value of GoldMoney's holdings at the current gold price, the price per unit would need to rise at least 20% from its all time highs. Would you rather own on the influence and potential of GoldMoney or the entire bitcoin network?
Disclosure: I have no positions in any stocks mentioned, and no plans to initiate any positions within the next 72 hours. I wrote this article myself, and it expresses my own opinions. I am not receiving compensation for it (other than from Seeking Alpha). I have no business relationship with any company whose stock is mentioned in this article.
Additional disclosure: I am long bitcion and precious metals