Endeavour Silver Corp. (NYSE:EXK) is a Canadian-based silver mining company engaged in the evaluation, acquisition, exploration, development and exploitation of silver and gold mining properties in the countries of Mexico and Chile. Since its inception in 2004, the company has posted eight consecutive years of growing silver production, reserves and resources. It has three producing mines in Mexico, five exploration projects in Mexico and one exploration project in Chile. For those investors interested in a company that has provided a nice and growing revenue stream, and an almost pure play in the silver commodity market (the company also mines for gold, but that part of the operations is much smaller), this company may be worthy of consideration.
The fundamentals of the silver market indicates that the stock price of this company may be due for a pop to the upside. Here are the reasons why:
Impressive revenue growth
The company is behaving like a momentum stock showing excellent revenue growth over the last few years, growing from $50.7M in FY2009 to $208.0M in FY2012, an increase of just over four times during this four-year period. Net Income also showed marked improvement rising from -$1.9M in FY2009 to $42.1M in FY 2012. The company is conservatively financed with little debt in its balance sheet.
Over the last year the company has improved on its profitability ratios across the board over its five-year average. (Gross Margin (TTM) of 40.45 versus five-year average of 37.33, operating margin of 25.77 versus five-year average of 19.99, net profit margin of 20.24 versus five-year average of 4.0). The company also has ambitious expansion plans moving forward, hoping to expand production from 7m-7.2m silver equivalent oz. in 2013 to approximately 12m- 12.5 m silver equivalent oz. by 2016 as two additional projects come on stream (San Sebastion and Gyc)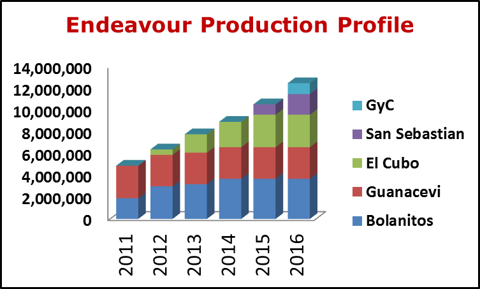 Supply and Demand Looking Flat to Mildly Positive
The demand for silver in the coming year is expected to increase primarily for two reasons. Firstly, economic uncertainty and continued quantitative easing and massive liquidity expansion amongst central banks across the world will accelerate currency devaluations and result in investors seeking safety in the traditional safe haven investments, the most notable being hard assets and gold. This in turn will benefit silver. In the face of rising gold prices, retail investors will be increasingly drawn to the affordability of silver relative to gold.
Industrial demand is the second reason. Industrial demand comprises over half of the total demand for the metal. Total aggregate demand in both the U.S. and Europe is expected to be weak. However, total aggregate demand on a worldwide basis is expected to be better, with a consensus growth rate coming in at 3.2%.
Another GFMS report from Thomson Reuters was more positive, suggesting an increase in industrial demand of 6.7% in 2013 and 6% in 2014.
It is expected that the earnings momentum experienced by the company will continue into the foreseeable future. In addition, with a favourable forecast for the price of the metal in 2013, the stock price at $5.95 ( April 7/2013) seems undervalued.
Forecasted prices for the metal in 2013 are quite disparate, ranging from a low of $28.70 to a high of $40 oz.
Based on an average price of $36.73 per oz. (an average of nine different forecasts) and an average cost of production of $24.91 we have a profit margin of $11.83 per oz.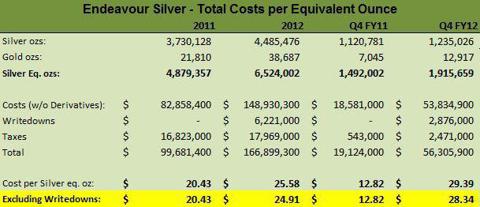 Share Calculation
Estimated 2013 silver equivalent production 7.3- 7.8 million oz. (at a silver:gold ratio of 50:1).
Using an average of 7.5 million oz. we have an operating margin of:
(7.5 M) x 11.83 = $88.725 Million
Share Float : 98.02 million (Yahoo)
operating margin per share: 88.725/98.02 = .905 per share
Utilizing current P/E ratio of 13.85 (Reuters) we have a stock price of:
(.905) x (13.85) = $12.53 based on 2013 estimates.
At $5.95 the stock looks undervalued based on future projections, and therefore is a buy.
Disclosure: I have no positions in any stocks mentioned, and no plans to initiate any positions within the next 72 hours. I wrote this article myself, and it expresses my own opinions. I am not receiving compensation for it (other than from Seeking Alpha). I have no business relationship with any company whose stock is mentioned in this article.