By Sumit Roy
Though they've been falling in dollar terms, gold prices denominated in Japanese yen have surged over the past year to last stand near the highest levels in 33 years. At ¥155,000, prices in yen are still below their record ¥205,000 set in 1980, but up an impressive 7% year to date and 16% over the past 12 months.
Gold Denominated in Yen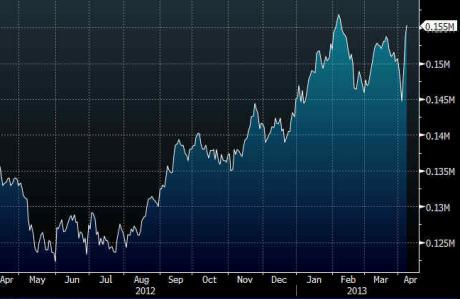 Investment guru Dennis Gartman has gone on the record stating his immense interest in gold in yen (see "Gartman Strongly Bullish On Gold, But Not In Dollars"). But is the performance of gold denominated in yen even meaningful in terms of the outlook for the yellow metal? We would argue that it's not. The rise in yen-denominated gold is largely attributable to the fact that the yen currency has been weakening significantly in response to Bank of Japan's unprecedented monetary easing (see "Gold & Silver Sink, But It Could've Been Worse").
Indeed, since the start of the year, the yen has lost 14% of its value against the U.S. dollar. Practically every commodity has risen in yen terms. Gold is not an exception. That said, gold in almost every other major currency has been declining amid a retrenchment in investor appetite for the metal. In conclusion, don't read too much into the rise of yen-denominated gold. It's a reflection of a weakening Japanese currency and nothing more.