Verizon's (NYSE:VZ) focus on providing a better service and network to its customers has lead to increased market share and consistent profits for its longtime shareholders. Due in part to this and the market's recent rise, shares of Verizon are up 15% YTD and trade at their 52-week high of $49.56. A lot of investors and analysts are starting to expect a market correction and I believe it's time to keep a close eye on Verizon because any fall from its current price would put it into buying territory. Below is a fundamental look at Verizon as well as a look at the expected 1st quarter earnings.
Fundamentals
(Compiled from Morningstar Data)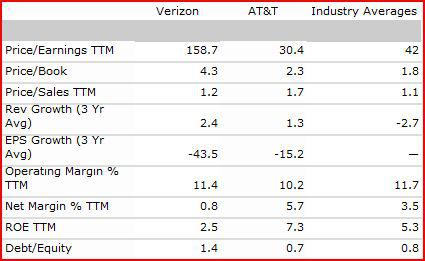 As you can see above Verizon is currently being valued higher, based on earnings and book value, than AT&T (NYSE:T) and the industry averages but lower in relation to sales. Operating margins and revenue growth are slightly higher but I would conclude, based on these figures, that the market has Verizon fully valued. And, it appears most analysts would agree since shares currently trade near their mean target price of $48.92 and median target price of $50.00.
Positives:
Leader of industry with 94 million and counting retail customers.
Very attractive 4.2% dividend yield.
Free Cashflow of over $10 billion in each of the last three years
Continued talk about the purchase of Vodafone (NASDAQ:VOD). If Verizon can pull off the acquisition, investors would benefit from increased revenues as well as a potentially higher dividend. Vodafone currently has a 45% stake in the company and so received 45% of the $13.5 billion paid in dividends last year.
Negatives:
The fixed-line network looks to be headed toward a decline as customers either switch carriers or change to wireless.
In addition to lower demand, the fixed-line side of the business is facing increased competition from cable companies, which has and will continue to put negative pressure on margins.
Upcoming Earnings Release
25 Analysts have an average 1st quarter earnings estimate of $0.65 per share on estimated revenues of $29.54 billion. Per Yahoo! Finance, Verizon has beat estimates in only one of the last four quarters.

Click to enlarge
Bottom Line
As a friend of mine likes to say, "people will cut almost every bill and service they pay for before they cutback on their phone bill." Verizon has everything it takes to translate its superior network into an increased wireless market share. At this time, I would favor AT&T as an investment based on fundamentals, buybacks, and its current valuation. However, I am eager to add Verizon to my portfolio because I believe it will continue to grow and only become more profitable in the future. Watch for any pullbacks, I would personally start buying at around $42 per share.
Disclosure: I have no positions in any stocks mentioned, and no plans to initiate any positions within the next 72 hours. I wrote this article myself, and it expresses my own opinions. I am not receiving compensation for it (other than from Seeking Alpha). I have no business relationship with any company whose stock is mentioned in this article.