With a focus on tapping the rapidly expanding mobile user base, Expedia (NASDAQ:EXPE) has made a number of significant updates to its mobile application in the recent past. The latest feature, launched last month, provides users with up-to-date information at every stage of their travel using a set of visual cues.
Leveraging location-based technology and timezone updates, Expedia's new mobile itinerary feature provides users live access to latest travel data such as airport terminal maps, flight status, confirmation codes, gate information, hotel maps, addresses etc. at a time that a user is most likely to need the information. The updated mobile application will be launched on Android and iOS for phones and tablets in 30 countries and 16 languages.
Offering bookings on over 200 airlines and 140,000 hotel properties, the Expedia application has so far been downloaded more than 11 million times in 228 territories on various operating systems - iOS, Android and Windows 8 (tablet version).

Expedia has been witnessing an increasing proportion of its traffic moving to the mobile platform with 10% of its customer engaging in mobile at present. The company aims to continue investing in building its mobile platform to accelerate its mobile penetration. Though the mobile space poses a number of challenges in terms of design and developments, we believe that it is worth the investment and would help fuel Expedia's business in the years ahead.

The Mobile Platform Offers Huge Long-Term Growth Opportunities
With the rapid adoption of smartphones and tablets, mobile devices are increasingly becoming the preferred and more convenient option for accessing the web. Unlike the online revolution of the 90s, the mobile revolution is growing equally fast in both developed and emerging countries. According to IDC, mobile travel spend is expected to cross the $2 billion mark by 2014, registering y-o-y growth of above 40%.
As per a study last year commissioned by Expedia and conducted by comScore, around 48% of the users use a tablet or smartphone to fully plan their trips while 44% use a mobile device to search for information regarding a future trip. Of the 44% who use mobile devices to plan their travel, 44% preferred using an application to do so. Since mobile penetration is estimated to increase in the future, we expect to see a higher proportion of online travel searches and bookings done using mobile devices.
By expanding its mobile user base, Expedia can also leverage growth in mobile ad spending in the US. eMarketer estimates the overall spending on mobile advertising in the US to have increased to $4 billion in 2012, representing 180% growth over 2011. It forecast mobile advertising in the US to rise to $7.19 billion in 2013 and reach $21 billion by 2016.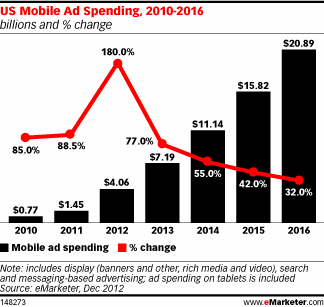 Huge Investment And Lower Conversion Rates For The Mobile Platform
While the mobile platform offers immense growth potential, it poses a number of challenges in terms of design and development, which require significant investments. Additionally, the conversion rate (percentage of people browsing its website who actually make a booking) for mobile is much lower compared to PCs, which lowers the monetization benefits from the platform.
However, when it comes to last-minute bookings, the mobile platform seems to be a preferred choice among users. As per a recent report by Google, mobile searches for last minute hotel bookings increased by 411% between June 2011 and June 2012, whereas that for the desktop searches declined by 79%.
Expedia believes that mobile phones are more popular for last minute bookings while tablet users tend to behave similar to PC users. As per its study report, 61% of travelers using mobile devices have made a purchase on a tablet in the last six months while 51% have made a purchase on a smartphone, implying that travelers are more likely to purchase travel on tablets versus smartphones.
Nevertheless, we consider growth in both tablets and smartphones to be of strategic importance to Expedia and believe that the mobile space is worth the investment as it could help expand the company's user base in the future.
Our current price estimate of $68.30 for Expedia is at premium of over 10% to the current market price.
Disclosure: No positions.