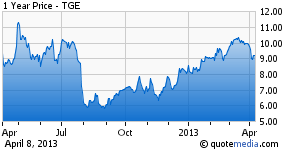 TGC Industries (NASDAQ:TGE) is small-cap company comprised of three enterprises -- Tidelands Geophysical, Eagle Canada Inc., and Exploration Surveys. It provides geophysical services for the oil and gas industry in the United States and Canada by conducting three-dimensional surveys and seismic data acquisition for oil and natural gas exploration and development companies. It was founded in 1967 and is headquartered in Plano, Texas.
At the writing of this article TGE was trading at $9.34 with a 52 week high of $11.85 and low of $5.26. I believe TGE can be a $15 stock when the market recognizes its true value and here is why.
Oil & Gas Production Growth
The nation is in the midst of an oil & natural gas drilling boom that is expected to last for years and advanced recovery methods (fracking) are helping production soar. As a matter of industry protocol, three-dimensional seismic surveys like those performed by TGC typically precede fracking activity associated with oil and natural gas drilling. The oil boom was evidenced in TGC's operations when it recently announced record 2012 annual revenues of $196 million, up 30% from 2011; and record EPS of $0.75, up 42% from 2011. TGC entered 2012 with $81 million in backlogged work that is under contract, and anticipates that all 15 of its survey crews in the U.S. and Canada will operate at capacity into the fall. The company stated that contract bidding activity remained "brisk."
Earnings Growth, Cash Flow & Debt
TGE's 5 year annualized EPS growth rate is nearly 15% and projected to be 25% in 2013; 33% in 2014. TGE has a price to cash flow (P/CF) ratio of 4.6 vs. the industry average of 12.5. Generally, a P/CF ratio below 10 indicates that the company is undervalued. The price to earnings growth (NYSE:PEG) ratio is the P/E ratio divided by the expected 1 year growth rate. The higher the ratio, the more expensive the stock; the lower, the more undervalued the stock. TGE's PEG ratio is 0.36 vs. the 1.22 industry average. The company's debt/equity ratio is just 20% vs. the industry average of 44% with nearly all of that debt coming from the purchase of the most modern, state of the art equipment and technology in the industry; which if you are going to incur debt, is a very good reason to do so.
Multiple Expansion
As of Monday, April 8th, TGE was trading at 9.9x projected 2013 earnings of $0.94 per share, and just 7.4x 2014 projected earnings of $1.25. 12.0 is a reasonable multiple for this stock given its 5 year average P/E ratio of 15.0, the industry average of 12.2x projected 2013 earnings and 14.1x projected earnings for the overall market. There is room for multiple expansion.
Other Factors & Conclusion
TGE paid a $0.15 dividend at the end of 2012 and given its strong cash flow, should be able to repeat that this year. Analyst sentiment and technical indicators for TGE are "highly bullish." TGE has a high 1.9 beta and can be volatile, so a negative surprise could hurt your investment quickly. Given what I know about this company, I don't see much downside risk with strong technical support around $8.20.
All indications are that TGE is undervalued and $15 per share is a reachable target for this stock with the potential for a 60% gain by year end. The company reports on April 29th and I am accumulating ahead of the report. That being said, as with any stock, there is the risk of capital loss, so conduct your own research and speak with your investment advisor about TGE.
Disclosure: I am long TGE. I wrote this article myself, and it expresses my own opinions. I am not receiving compensation for it (other than from Seeking Alpha). I have no business relationship with any company whose stock is mentioned in this article.