General Electric's (NYSE:GE) financial segment, GE Capital Corp., or GECC, has been a major cause of concern to investors since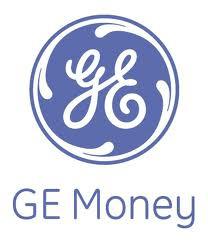 the crisis, and rightfully so. This segment was mostly to blame for GE's fall from grace, and investors are still left pondering the question, is GE a bank or an industrial company, or both? The answer could be put quite simply that the company is about 30% GECC and 70% GE Industrial, based on revenues and profits over the past several years. However, GECC still has over $400 B in ending net investments, a daunting number despite an 18% reduction since 2009, so perhaps the 30% is a bit of an understatement. Putting comparable metrics aside, perhaps the confusion of what exactly GECC entails is what causes investor fear? Thus as a shareholder in GE and GECC bonds, (tickers GEB and GEH), I had no choice but to take the deep dive into 2012's 10-k to examine exactly what the mysterious GECC boogie man has his $400 B invested in today.
GECC primarily operates globally, and in four business segments: Commercial Lending and Leasing or (CLL), Consumer, Real Estate, Energy Financial Services (EFS), and GE Capital Aviation Services or (GECAS). Broken down by segment, it appears GECC has the majority of assets devoted to CLL and Consumer: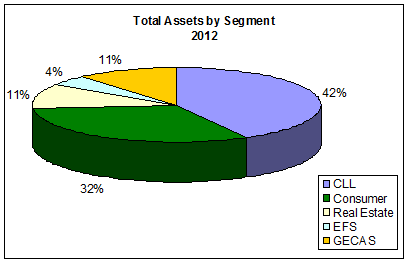 Management has significantly reduced exposure to Real Estate while increasing EFS and GECAS slightly in the past year. CLL and Consumer assets were kept steady from 2011 to 2012:

I found it interesting the Consumer segment was 32% of assets while generating nearly 40% of profits in 2012, making this area possibly the most important for GECC. Roughly half of this segment has exposure to European mortgages, a rather scary statistic. GE states 85% of adjustable rate loans are located in the U.K. and France, while stating the "majority" of total loans are in these two regions. I feel GE's move to reduce the Real Estate portion of the portfolio, which was downsized by 24% in 2012, is a prudent move, as there is already much exposure to European real estate in the Consumer portion via mortgages. The other half of Consumer is devoted to U.S. consumers, most of which is lines of credit, such as non-auto loans or credit cards. In fact just recently I received a notice regarding my Lowe's Inc (NYSE:LOW) credit card in the mail, and realized it's funded by GE: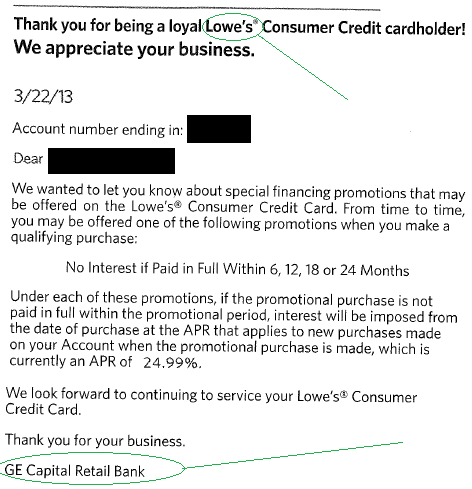 The largest segment by capital allocation, was CLL. In a nut shell, GE makes loans to mid-level companies for industrial equipment, such as vehicles, machinery, and for other assets used in a variety of industries including: construction, manufacturing, transportation, media, communications, healthcare, etc. Basically, GE invests in many types of businesses worldwide, so perhaps this portion is a useful cross-selling starting point for some of GE's industrial businesses.
Impaired loans are defined as "larger balance or restructured loans for which is probable that the lender will be unable to collect all amounts..." This is important to understand, as this breakdown summarizes which areas are troubled:

Located on page 56, it appears the Real Estate portion is the most troublesome segment when accounting for size of assets in the segment. Using this figure, we get a percentage of 4.7% for Real Estate and 2.2% for Consumer, while others are negligible. Judging from these figures, we now understand and trust management's action to reduce the Real Estate Portion of the portfolio, considering it is the most problematic, proportionately relative to total assets in the segment. Overall, I was impressed by the significant reduction in impaired loans over the past year, which improved by $3.45 B, or 34% YOY.
Most importantly of all, GECC has been deleveraging significantly since the crisis: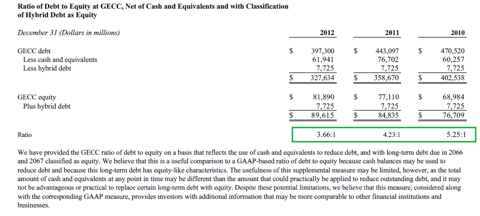 Currently, GECC's GAAP-based ratio of debt to equity stands at 3.66 to 1, which is manageable, considering the existing initiative to pull in the reigns on GECC, which should continue improving this number going forward. Put in perspective, Bank of America's (NYSE:BAC) ratio is reportedly around 3, while Bear Sterns was over 30 just before it went under. I respect management's execution on this matter, as proven by the 30% reduction in this ratio since 2010.
Summary
GECC is definitely a giant in terms of global footprint and exposure to many facets of economic structure, which include such niches as commercial properties, residential mortgages, department store credit cards, and infrastructure loans. I feel GE is actively and efficiently managing this diverse portfolio, as proven by the reductions in the Real Estate segment and enhancements in better-performing segments, such as GECAS and EFCS. Despite fears of interest rates increasing, I am way more confident in GECC now than I was two-three years ago, when I starting buying up GE shares in my IRA. At the end of 2012, I added to my position and also purchased GECC "mini" bonds, which are directly linked to GECC's portfolio. I am also very confident in GE's dividend, especially as GE becomes fleeced with cash not only from GE Industrial, but from the sale of additional GECC assets. For more information on GECC's bonds, read here.
Disclosure: I am long GE. I wrote this article myself, and it expresses my own opinions. I am not receiving compensation for it (other than from Seeking Alpha). I have no business relationship with any company whose stock is mentioned in this article.
Additional disclosure: I am long GEB, GEH.