'Real' Unemployment Rate Rises to 10%
Friday's payrolls gain of 88,000 jobs is one of the lowest we've seen since Fall 2010. The drop in the official unemployment rate from 7.7% to 7.6%, while on the surface appears to be good news, was entirely driven by a further decline in the participation rate to a 35-year low of 63.3%. The portion of the population that is employed actually dropped again, from 58.6% to 58.5%, continuing the trend of leaving the burden of producing the income to fuel the spending of the American consumer to an even smaller fraction of the U.S.
Last month, I wrote an article comparing the official unemployment rate with the employment-population ratio and pointing out that the majority of the improvement we've seen in the employment picture is due to the significant decline in the participation rate. As stated then,
As the unemployed go longer and longer without work, some of them just stop looking. When that happens, they are not counted as unemployed, as they are no longer part of the labor force. So the unemployment rate goes down, even though the proportion of the population that is not working did not.
Eventually, I showed a new index, which shows where the unemployment rate would be if not for those people dropping out of the labor force. Official unemployment peaked at 10% in October of 2009. At the time, the participation rate was 65.0%. But if participation were held constant at that October '09 level (no excess people dropping out of the labor force), this 'Real' unemployment rate in March 2013 would actually be 10.0%, virtually unchanged over the past 3 ½ years.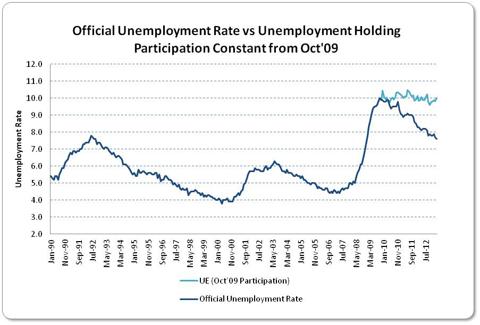 A closer look at the data shows just how much the declines in the participation rate have artificially "improved" the official unemployment rate, while 'real' unemployment remains virtually unchanged from the lows.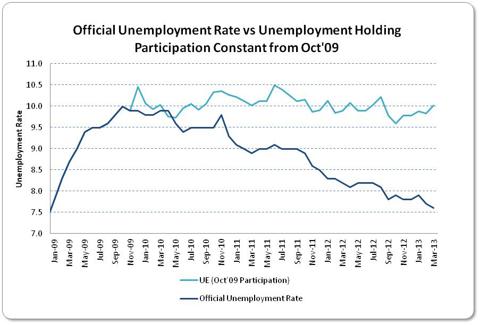 The fact that after more than three years, the real unemployment rate in the U.S. is still flailing around its worst levels, combined with an absolute slowdown in hiring to near multiyear lows may be a sign that consumption (and GDP) could slow considerably in 2013.
Source for Data: Bureau of Labor Statistics
Disclosure: I have no positions in any stocks mentioned, and no plans to initiate any positions within the next 72 hours. I wrote this article myself, and it expresses my own opinions. I am not receiving compensation for it (other than from Seeking Alpha). I have no business relationship with any company whose stock is mentioned in this article.