While Oracle (NASDAQ:ORCL) and SAP (NYSE:SAP) rule the Enterprise Resource Planning world, the niche segment of supply chain management is controlled by a few small yet dominant players such as Manhattan Associates (NASDAQ:MANH). Supply chain management is essentially coordinating the flow of products from suppliers to customers. It can be broadly categorized into planning and execution. Simply speaking, supply chain planning, or so-called merchandise planning, helps forecast the best selling products. On the other hand, supply chain execution helps fulfill the orders via procurement, transporting and warehousing. Here I'll explore Manhattan Associates, one of the best software vendors in supply chain execution, driving the growth of retailers and consumer brand manufacturers behind the scenes.
Manhattan Associates is the leading player with fast growth.
Manhattan Associates services more than 1,200 customers globally. Targeting major retailers and consumer brand manufacturers, its notable customers include Adidas, Chanel, Coach (NYSE:COH), Heineken, Nike (NYSE:NKE) and PepsiCo (NYSE:PEP).
The bulk of the revenue, about 75%, is generated from professional services, leveraging on the software licensing of about 16% of revenue. Most of its licensing revenue is derived from execution solutions with 65% from warehousing management.
Manhattan Associates differentiates itself under the so-called platform strategy by integrating its solutions into a single platform, called Supply Chain Process Platform, to provide a more holistic view of supply chain management. While being regarded one of the best in supply chain execution, it is trying to penetrate into supply chain planning via its integrated package of both planning and execution, called SCOPE: Supply Chain Optimization…Planning Through Execution.
Diagram: The Planning through Execution processes in SCOPE.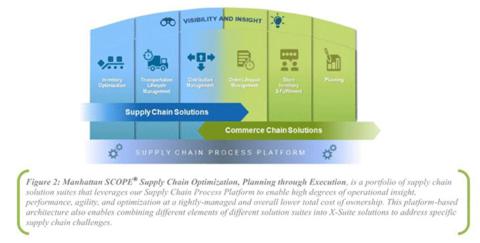 Manhattan Associates has been growing its revenue at a CAGR of 15% since 2009. Due to the scalability nature of software business and operating leverage, the earnings grew at an even faster CAGR of 45%. Even better, Manhattan Associates displays a superior level of profitability. With a 20% operating margin, it runs at 20% return on assets, 30% return on equity and 80% return on invested capital.
Table: High operating leverage drives increasing operating margin.
| | | | |
| --- | --- | --- | --- |
| Year | 2012 | 2011 | 2010 |
| Fixed cost as % revenue | 35.7% | 39.9% | 42.5% |
| Operating margin | 21.3% | 17.9% | 14.2% |
The competitive landscape is evolving
Currently, supply chain execution is dominated by two players, i.e. Manhattan Associates and RedPrairie. RedPrairie is a private company currently owned by a private equity firm, New Mountain Capital. The short history is that ten years ago, Manhattan Associates was the best player in supply chain execution. While Manhattan Associates is growing via organic R&D investment on a common architecture, RedPrairie has accelerated its growth in terms of technology and revenue via a series of acquisitions. By now, RedPrairie has caught up with Manhattan Associates and both are considered the best two software vendors for supply chain execution.
As aforementioned, there are two parts to supply chain management, i.e. planning and execution. These two components are largely offered in separate solutions because each of planning and execution is dominated by different players. The recent merger of RedPrairie with JDA Software is set to change the competitive landscape. JDA is the leading software vendor for supply chain planning. If RedPrairie and JDA integrate successfully, then it will be able to offer a powerful integrated supply chain solution, combining the best of each of planning and execution.
In the long term, the successful integration of RedPrairie and JDA will definitely threaten the competitiveness of Manhattan Associates. However, business software is, by nature, a sticky product hence the existing customers will not easily switch out of Manhattan Associates. Any impact of the integration of RedPrairie and JDA will more obvious on winning new customers but the integration will take time, especially given RedPrairie has been built via acquisitions. In addition, the privatization of JDA will be a heavy financial burden on the merged entity and the integration process could divert the focus of the management.
Meanwhile, the growth visibility of Manhattan Associates is still good for the next few years. So far, the company has not seen any impact from the merger of RedPrairie with JDA.
A confluence of e-commerce and replacement cycle
The increasing penetration of e-commerce has inevitably prompted the retailers to evolve from a single brick-and-mortar channel business into an omni-channel business. Through its Distributed Order Management solution, Manhattan Associates helps the retailers to construct a single view of the customers across all of the sales channels and to leverage on the inventory across their network. For example, the retailers will be enabled to use store inventory to fulfill on-line orders. The impact is to alleviate the peak demand at every node of fulfillment, especially during the busy seasons. In addition, Manhattan Associates is seeing more large deals driven by the replacement cycle of old systems. Most of the existing systems were installed 10 years ago at the initial advent of e-commerce. In short, the confluence of e-commerce and replacement cycle will provide a good tailwind for Manhattan Associates.
Stronger revenue growth from overseas
Apart from the US, Manhattan Associates generates about 18% of both its revenue and earnings from overseas, i.e. EMEA and APAC. While the contribution is small, the revenue of the overseas segment has been growing at 15-20% per annum, much faster than the 10% revenue growth of the US. More encouragingly, the overseas segment is running at the similar margin as the US.
Strong balance sheet and high free cash flow allows aggressive share repurchase
Manhattan Associates exhibits a combination of strong balance sheet and high free cash flow. The balance sheet is very strong with a net cash of $103 million versus $1,400 million market capitalization. The free cash flow has been generated consistently about 15% of revenue, which is an extremely high ratio. As a result, while it does not pay cash dividend, Manhattan Associates has spent $314 million on share repurchase, reducing a whopping 20% of total shares over the past three years. The total shares refer to the sum of outstanding shares and share options. Effectively, it has returned to shareholders at an average of 255% payout ratio. In January 2013, the Board of Directors approved $50.0 million shares repurchase authority; based on estimated earnings for 2013, this share repurchase will amount to the equivalent dividend yield of 3.3% at current share price.
Table: Net profit and share repurchase.
| | | | |
| --- | --- | --- | --- |
| Year | 2012 | 2011 | 2010 |
| Net profit ($ million) | 52 | 45 | 28 |
| Share repurchase ($ million) | 103 | 133 | 78 |
Reasonable valuation
At $70 share price, Manhattan Associates is trading at 22x PE for 2013, expecting 25% earning growth. The valuation is reasonable given the historical PE has ranging between 18x to 28x for the past three years. The additional upside could be coming from being an acquisition target. The strong position in the niche segment of supply chain execution could easily be a bolt-on acquisition to the large business software companies.
Conclusion
Manhattan Associates is the leading player in the niche segment of supply chain execution with an extensive global reach. Leveraging on the confluence of e-commerce and replacement cycle, it is poised to continue its solid growth path. Given the overbought conditions of the general market, I am waiting for a more meaningful market pullback to make an entry position into Manhattan Associates.
Disclaimer: Third Mile is not a registered investment advisor or broker/dealer. All information contained herein is for general information purposes only and does not constitute any investment advice. Third Mile does not guarantee the accuracy or completeness of the information contained herein. Readers are solely responsible for their own investment decisions.
Disclosure: I have no positions in any stocks mentioned, but may initiate a long position in MANH over the next 72 hours. I wrote this article myself, and it expresses my own opinions. I am not receiving compensation for it (other than from Seeking Alpha). I have no business relationship with any company whose stock is mentioned in this article.