VIX - Market Sentiment:
Monday's S&P was weakening going into the open as markets continue to digest the move from Friday. Most interesting today was the sheer lack of volume in the options market, only trading 10.7M contracts on the day. This week we have the all important Fed meeting minutes to be released on Wednesday at 2:00. Additionally the metals today again failed to hold gains as both Gold ETF (NYSEARCA:GLD) and Silver ETF (NYSEARCA:SLV) continued to weaken as per the normal trend. A check on the NYMO shows the markets continue to move back to a neutral state as the market grinds higher.
Last Friday the sonar (here) reported significant call selling and put buying in Volatility ETF (NYSEARCA:VXX). Sure enough VXX and 2x ETF (NYSEARCA:UVXY) continued to get destroyed as the front month April futures continue to get beat down against back month. The spot VIX today went down 5.2% as the overall markets rose .6%. Today just as last Friday VXX continued to see overall put inflows suggesting the market could continue higher. VIX contracts were less than 50% average daily volume but VXX again continues to see activity specifically in the put buying side. One large buyer of the May 20 and 22 strike calls did come in today but overall puts were net bought today again to the tune of 1M.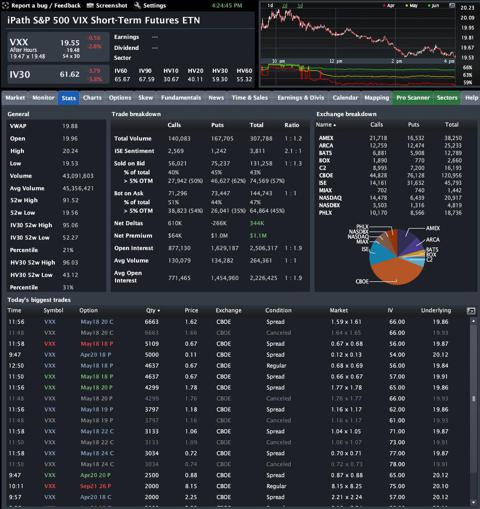 Statistics and Screenshot Provided By LiveVol
VIX futures are listed below.
Yesterday
· April VIX futures 14.30
· May VIX futures 15.50
· June VIX Futures 16.50
Today
· April VIX futures 13.70
· May VIX futures 15.05
· June VIX Futures 16.99
Options Paper:
Last Wednesday (here) the sonar reported significant call buying in Endo Pharma (NASDAQ:ENDP). Today the medical space in general saw overall net put buying heavy in the space and Questcor Pharma (QCOR) was at the top of the bear target list. QCOR began dropping in the first 30 min of trading and never looked back. Specifically the short dated puts were bought in bulk, trading almost 160% average daily volume. QCOR volatility spiked on the day some 13% as the puts continued to be bought with only a few call buyers sprinkled in. Keep your eye on this stock as someone believes this name is due for a pullback in the short term. Puts outnumbered calls almost 2 to 1 on the day.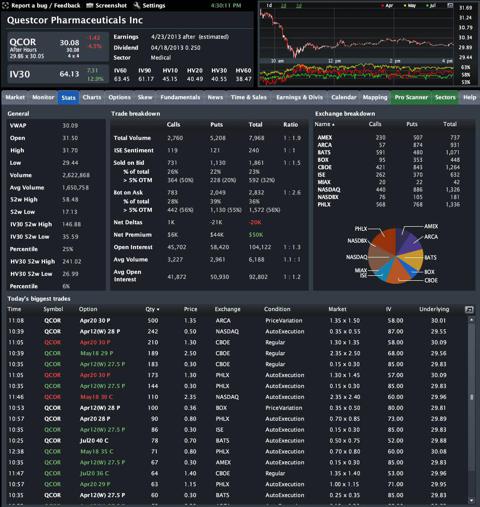 Statistics and Screenshot Provided By LiveVol
Carl Icahn is a name who has been all over CNBC of late and today his company Icahn Enterprises (NYSE:IEP) soared with calls lighting up the tape. Although not a very big play the volume alone was more than 20x average daily volume in an extremely thinly traded name driving volatility to new 52 week highs. Specifically April 60 and September 65 strike calls were trading throughout the day with 43% bought on the ask. Even more bullish for the name - puts were sold 42% of the time on the bid as calls outnumbered puts 3 to 1 on the day. IEP soared some 10.4% on the day on heavy volume in this name.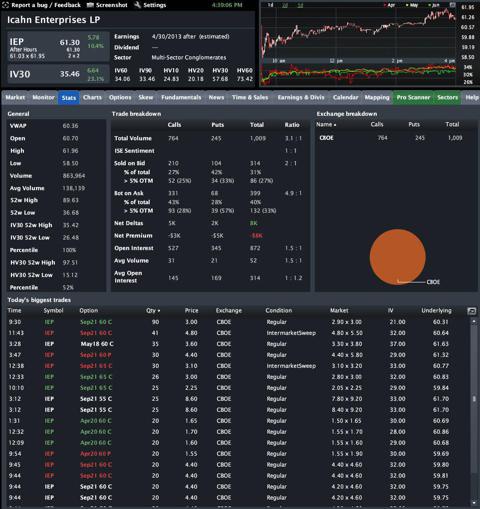 Statistics and Screenshot Provided By LiveVol
Popular ETFs and equity names with bullish / bearish paper:
Bullish Option Flows - ISE and % OTM calls bought on offer
VeriSign (NASDAQ:VRSN) 74% - 2.4K OTM calls bought on offer
Energy Transfer Partners (NYSE:ETP) 68% - 2.0K OTM calls bought
Suncor Energy (NYSE:SU) 68% - 6.8K OTM calls bought
Bearish Option Flows - ISE and % OTM puts bought on offer
Neurocrine Biosciences (NASDAQ:NBIX) 98% - 2K OTM puts bought Aug 15 calls sold to buy Aug 9 puts
Metals ETF (NYSEARCA:XME) 67% - 8.5K OTM puts bought
As always happy trading and stay hedged.
Remember equity insurance always looks expensive until you need it!
Disclosure: I am long AGNC, BA, BAX, CBB, CIM, CONE, DNDN, DRYS, HEK, IOC, LNG, NQ, TLM, and I am short ASH, EMR, LULU, SPY
Trades Today: Bought SDS calls (Short SPY)
Disclaimer: The opinions in this document are for informational and educational purposes only and should not be construed as a recommendation to buy or sell the stocks mentioned or to solicit transactions or clients. Past performance of the companies discussed may not continue and the companies may not achieve the earnings growth as predicted. The information in this document is believed to be accurate, but under no circumstances should a person act upon the information contained within. I do not recommend that anyone act upon any investment information without first consulting an investment professional as to the suitability of such investments for his or her specific situation.
Disclosure: I have no positions in any stocks mentioned, and no plans to initiate any positions within the next 72 hours. I wrote this article myself, and it expresses my own opinions. I am not receiving compensation for it (other than from Seeking Alpha). I have no business relationship with any company whose stock is mentioned in this article.