By: Todd McDonald - Analyst
Overview
Bed Bath & Beyond (NASDAQ:BBBY) is slated to report 4Q 2012 earnings after the close of trading on Wednesday, April 10, with a conference call to follow at 5:00 p.m. EST. The results are typically available at 4:15 p.m. EST. Although there are continuing concerns over brick-and-mortar retail businesses, stocks such as Best Buy (NYSE:BBY), Target (NYSE:TGT) and Macy's (NYSE:M) have been outperforming the broader market indices, as well as Amazon (NASDAQ:AMZN) in 2013.

Outliers And Strategy
Earnings Per Share: In the 3Q2012 earnings release, the company forecasted 4Q2012 Earnings Per Share of $1.60 to $1.67, below the current Street consensus of $1.68, with a range of $1.65 to $1.80. (Source: Yahoo Finance) EPS have been reported above consensus estimates seven out of the past eight quarters.
Revenues: Revenues are seen rising 24.2% from 4Q2011 to $3.39 BLN with a range of $3.30 BLN to $3.45 BLN. Revenues have exceeded estimates in four of the last eight quarters.
Earnings Per Share Guidance (1Q2013): Analysts estimates for 1Q2013 are $0.95, with a range of $0.89 to $1.00.
Comparable Store Sales: According to a March 13 post on Benzinga.com, Morgan Stanley expects a 1.7% increase in comparable store sales, while the street consensus is 2.7%.
Implied Volatility: Over the past eight quarters, the average, absolute one day move after earnings has been 8.05%. Using options premiums, traders are expecting a move of approximately 6.4% after earnings are disseminated.
Recent News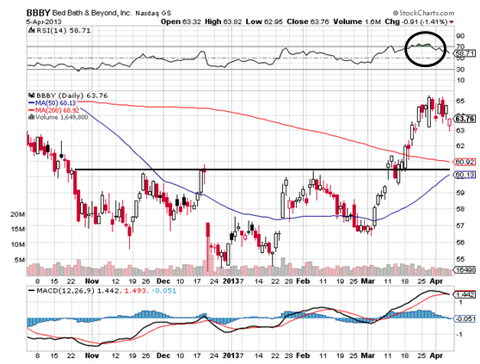 Technical Review
Bed Bath & Beyond shares are currently consolidating and working off an overbought reading on RSI. Further, the 50-day SMA looks poised to form a bullish "golden-cross" over the 200-day SMA. For an earnings surprise to the upside, look for initial resistance at the recent highs near $65, followed by $68, which is the low from the gap down on September 19, 2012. Should earnings disappoint, look for support at old resistance near $60, which also corresponds with both moving averages (Chart courtesy of StockCharts.com).
Summary
Bed Bath & Beyond has seen a solid run-up in share prices YTD, thanks in part to an improving housing market and a more confident consumer. However, the company still faces concerns over showrooming and margin compression due to competition from online retailers. A combination of earnings per share, revenues, comparable store sales, and next quarter earnings per share guidance should be used to provide a reliable trading signal, one way or the other. Any missteps could have severe implications to the stock's price action.
DISCLAIMER: By using this report, you acknowledge that Selerity, Inc. is in no way liable for losses or gains arising out of commentary, analysis, and or data in this report. Your investment decisions and recommendations are made entirely at your discretion. Selerity does not own securities in companies that they write about, is not an investment adviser, and the content contained herein is not an endorsement to buy or sell any securities. No content published as part of this report constitutes a recommendation that any particular investment, security, portfolio of securities, transaction or investment strategy is suitable for any specific person.
Disclosure: I have no positions in any stocks mentioned, and no plans to initiate any positions within the next 72 hours. I wrote this article myself, and it expresses my own opinions. I am not receiving compensation for it (other than from Seeking Alpha). I have no business relationship with any company whose stock is mentioned in this article.