A month after SandRidge Energy (NYSE:SD) reached a settlement with the activist shareholder TPG-Axon Capital and added the fund's four nominees to its Board, the company issued a press release with a brief update on management changes and strategic review that are currently underway. The press release contains indications that the new Board is focusing on some of the most critical issues related to SandRidge's operations and finances and significant strategic initiatives will be announced in the near future once the review is complete. The following is perhaps the most substantial sentences from the company's press release (please read the release in its entirety at the end of this note).
The Strategy and Planning Committee, consisting of Messrs. Westbrook, Moneypenny, Serota and Brewer, has met several times to review potential adjustments to the Company's planned capital and operating expenditures, including reductions in rig count and general and administrative expenses.

The committee expects its initial review to be concluded, and to make recommendations to the full Board, soon. The Strategy and Planning Committee is also evaluating a variety of options for addressing the Company's future capital needs and lessening any funding shortfall, including potential asset monetizations.
I would interpret these indications as a sign that very substantial cuts to the existing capital budget may be made and a sale of the Gulf of Mexico (the only significant monetizable asset in the company's portfolio outside of the "core" Miss Lime) may follow.
As I have written on several occasions before, this course of action is probably inevitable given the company's very high leverage, weak cash flow, and the nature of the Mississippian Lime program which is still very much exploratory.
Under the initial 2013 budget and funding plan presented by SandRidge during its Investor/Analyst Day on March 5, the company intended to spend a total of $2.3 billion during the year, of which ~$550 million would be funded with drilling carries from its two Miss Lime joint ventures, with Repsol (OTCQX:REPYF) and Atinum. The exceptionally aggressive net $1.75 billion spending level - which would exceed projected ~$400 million Adjusted Cash Flow From Operations by a 4.4x multiple - looked worrisome. Under the plan, SandRidge would have burned through the larger part of its $1.4 billion cash balance and drilling carries and exited the year with ~$378 million in cash and ~$100 million of remaining carries.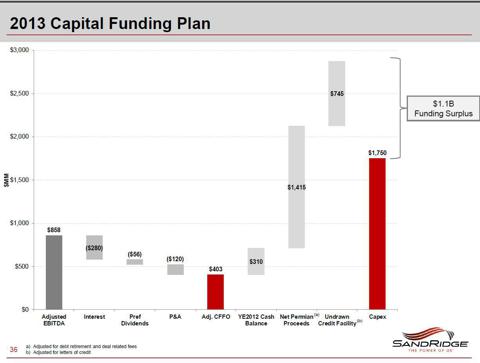 Click to enlarge
(Source: SandRidge Energy March 5, 2013 Analyst Day Presentation)
Following the pay-down of the $1.1 billion of notes, SandRidge would still have $3.2 billion of bonds outstanding.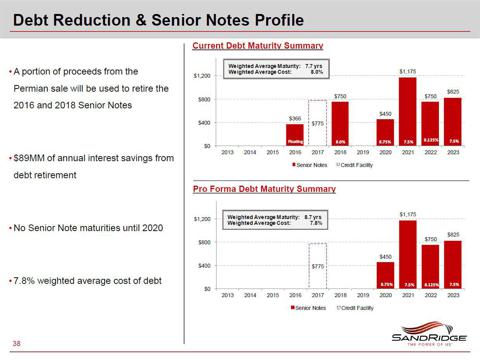 Click to enlarge
(Source: SandRidge Energy March 5, 2013 Analyst Day Presentation)
While on Net Debt/Adjusted EBITDA basis SandRidge's credit ratios appeared substantially improved after the $2.6 billion Permian divestiture, a closer look at the company's pro forma financials one year forward indicates that funding and credit quality issues were on track to re-surface with all their might in a not-so-distant future given the pace of spending SandRidge has targeted.
In my previous note (March 15) which followed the announcement of an agreement between SandRidge and TPG-Axon, I commented with regard to what appears to be a possible (and in fact, very likely) course of action by the new Board. That comment still holds today.
What to expect?

There are several components related to SandRidge's strategic course going forward that the new Board will likely be considering in the next few months. The pace of capital spending in the Miss Lime is, in my opinion, the largest variable and may come under immediate review.

The most radical course change could be summarized as follows:

A drastic reduction in capital spending (by up to $1 billion relative to the current $2.3 billion plan, which includes $0.55 billion of carries), with the remaining capex focused on perfecting well productivity within the most prospective areas already identified and priority given to spending within the Repsol JV and Atinum JV to take advantage of the remaining drilling carries. This approach would essentially sacrifice the exploration program and put the majority of the extension area acreage at risk of being a write-off. It is also important to understand that capital spending has certain lead time and cannot be ramped up or down instantaneously - a course change often translates in material costs.
Sale of the Gulf of Mexico assets. The obvious risk is that the divestiture may not recover the amount that SandRidge paid last year in full.
Substantial (to the order of $2 billion) debt paydown. Clearly, the flexibility to re-accelerate investment would be lost (it is easy to repay debt but difficult to raise new funds). However, the paydown would eliminate the risk that the cash will be spent quickly and without true operating improvement.


All the steps combined can be carried out within six months after a strategic review has been completed and decisions been made - i.e., by the end of this year. The much simplified company would obviously have a somewhat smaller footprint, but would carry a manageable debt level and, most importantly, be more focused on value maximization through geo-science and drilling learning curve rather than continuous flipping of recently leased acreage. In my opinion, it would also have a much greater chance of delivering a success in the Miss Lime and be more "digestible" for a potential acquirer. Several hundred thousand net acres in the core of the play, if properly exploited, can be more than sufficient to drive SandRidge's stock price to a much higher level.

The activist shareholders most likely have their own vision of the strategic course. It may, in part or its entirety, be soon adopted by the Board and made public.
SandRidge has an enviable position and focus in the Mississippian Lime which, despite all the negative publicity of the past several months, has significant promise to prove itself as a major oil and liquids producer on the continent. However, the recent SD stock price action indicates that, to some degree as a result of the extensive scrutiny of SandRidge's valuation, the market may have come to realize that operationally and geologically the Miss Lime is a complex and often challenging asset. Miss Lime operators yet have to conquer many steps on the technical learning curve before economic results can be demonstrated and harvested. This realization creates wide valuation uncertainties (which I have discussed in detail in my four previous notes on SandRidge) that are likely the culprit of the recent stock price decline.
The activist shareholders have taken significant stakes in SandRidge and have significant degree of strategic control. It would be logical to expect that a new course of action will be defined in a short order. The bigger issue remains, would the new Board and management team have any better tool than the previous management to demonstrate the excellent economics of the play that many analysts on the sell side have highlighted in the course of the past year. In that regard, another few paragraphs from my March 7 note seem valid:
…in pursuing control of the company, activist shareholders are in fact making an operating bet. It may very well be a good, or even excellent bet, given the enormous amount of oil in place and the stacked pay potential the play offers. However, from a return on investment perspective, there seems to be a lot less certainly in the outcome of this undertaking than might appear from the many letters to SandRidge's Board and shareholders sent by the activists. As I wrote before and as comes vividly obvious from SandRidge's very informative Analyst Day presentation, the geology of the Miss Lime play is far more complex and diverse than is often perceived, and learning curve challenges are quite formidable despite the relatively low drill and complete cost per well.

Even if control of the Board changed, the new management would still face tough dilemmas: to slow capital spending at the price of stretching out the learning curve, giving up exploration on potentially attractive acreage, and losing growth momentum that the stock market craves, or to continue moving ahead at a break-neck pace, stretching the balance sheet and risking suboptimal execution to pursue exploration on the vast acreage position or limit the scope to development within the infrastructure.

Most Importantly ...

It appears the stock price is currently supported by the proxy contest process and, occasionally, by bids from activist shareholders increasing their holdings. However, the big question remains, what is going to happen to the stock price the day after proxy votes are in, whatever the verdict? And what is going to happen a month thereafter?
On March 13, on the day of the announced agreement between TPG-Axon and Sandridge, SandRidge stock closed at $5.71 per share, down 3% on the day. Today, almost a month later, the stock closed at $5.11, up 3% in reaction to the update from the company.
April 8, 2013 Press Release by SandRidge Energy
SandRidge Energy Promotes David Lawler to COO Position and Provides Update on Initiatives

OKLAHOMA CITY, April 8, 2013 /PRNewswire/ -- SandRidge Energy, Inc. (NYSE: ) today announced that David C. Lawler has been appointed Chief Operating Officer of the Company.

(Logo: http://photos.prnewswire.com/prnh/20120416/DA88110LOGO)

James D. Bennett, the Company's President and Chief Financial Officer, commented, "Dave has been an invaluable member of the executive team over the last two years. His leadership and rigorous focus on returns have been critical to our success in the Mississippian play. His teams have secured multiple competitive advantages in the region and positioned us as the lowest cost developer and most efficient operator there. We look forward to his continued leadership and contribution as our Chief Operating Officer."

Since the announcement on March 13 of the Company's settlement with TPG-Axon, the Board and its committees have been actively engaged in a strategic review of the Company, its operations and its governance practices. Those actions include:

Stephen C. Beasley, Edward W. Moneypenny, Alan J. Weber and Dan A. Westbrook were appointed to the Board on March 14, 2013. Simultaneously, the Board appointed Mr. Beasley as chair of the Compensation Committee, Mr. Moneypenny to the Audit Committee and the newly formed Strategy and Planning Committee, Mr. Weber as chair of the Nominating and Governance Committee, and Mr. Westbrook to the Nominating and Governance Committee and as chair of the Strategy and Planning Committee.
The Strategy and Planning Committee, consisting of Messrs. Westbrook, Moneypenny, Serota and Brewer, has met several times to review potential adjustments to the Company's planned capital and operating expenditures, including reductions in rig count and general and administrative expenses. Certain actions to reduce expenditures have already been taken, including the sale of Company planes and significantly reducing advertising and sponsorship expenditures. The committee expects its initial review to be concluded, and to make recommendations to the full Board, soon. The Strategy and Planning Committee is also evaluating a variety of options for addressing the Company's future capital needs and lessening any funding shortfall, including potential asset monetizations.
The Audit Committee has engaged Mayer Brown LLP, an internationally recognized, independent law firm to review the shareholder allegations relating to transactions in oil and gas properties in the Mississippian play by Tom L. Ward, the Company's Chief Executive Officer, and entities affiliated with members of his family. The Audit Committee is targeting completion of that review by June 15, 2013.
The Compensation Committee is currently assessing all aspects of SandRidge's compensation program with the Company's management and its new independent compensation consultant, Frederick W. Cook & Co., Inc. Among other things being considered by the Compensation Committee is a transition toward an objective performance based compensation plan. The Compensation Committee expects this review to be completed in the coming months.


The Board of Directors is committed to pursuing these efforts in a thorough and diligent manner.

About SandRidge:

SandRidge Energy, Inc. is an oil and natural gas company headquartered in Oklahoma City, Oklahoma with its principal focus on exploration and production. SandRidge and its subsidiaries also own and operate gas gathering and processing facilities and conduct marketing operations. In addition, Lariat Services, Inc., a wholly-owned subsidiary of SandRidge, owns and operates a drilling rig and related oil field services business. SandRidge focuses its exploration and production activities in the Mid-Continent, Gulf of Mexico, West Texas and Gulf Coast regions. SandRidge's internet address is www.sandridgeenergy.com.

FORWARD-LOOKING STATEMENTS

This communication may contain "forward-looking statements" within the meaning of the Private Securities Litigation Reform Act of 1995. Such forward-looking statements involve risks and uncertainties that may individually or mutually impact the matters herein described for a variety of reasons that are outside the control of the Company. Actual results could differ materially from those discussed above. Important factors that could affect performance and cause results to differ materially from management's expectations are described in the sections entitled "Risk Factors" and "Management's Discussion and Analysis of Financial Condition and Results of Operations" in the Annual Report on Form 10-K for the year ended December 31, 2012, which was filed with the Securities and Exchange Commission (the "SEC") on March 1, 2013, as may be updated from time to time in the Company's SEC filings, which are available through the web site maintained by the SEC at www.sec.gov. The Company's forward-looking statements in this communication are based on management's current views and assumptions regarding future events and speak only as of their dates. The Company undertakes no obligation to publicly update or revise any forward looking statements, whether as a result of new information, future events or otherwise, except as required by the federal securities laws.

Contact:

Kevin R. White
Senior Vice President
SandRidge Energy, Inc.
123 Robert S. Kerr Avenue
Oklahoma City, OK 73102
+1 (405) 429-5515

SOURCE SandRidge Energy, Inc.
Disclaimer: This article is not an investment recommendation. Any analysis presented herein is illustrative in nature, limited in scope, based on an incomplete set of information, and has limitations to its accuracy. This article is not meant to be relied upon for investment decisions. Please consult a qualified investment advisor. The information upon which this material is based was obtained from sources believed to be reliable, but has not been independently verified. Therefore, the author cannot guarantee its accuracy. Any opinions or estimates constitute the author's best judgment as of the date of publication, and are subject to change without notice.
Disclosure: I have no positions in any stocks mentioned, and no plans to initiate any positions within the next 72 hours. I wrote this article myself, and it expresses my own opinions. I am not receiving compensation for it (other than from Seeking Alpha). I have no business relationship with any company whose stock is mentioned in this article.