Normally, when a company dumps a bad CEO, shares soar. Not J.C. Penney (NYSE:JCP). Despite firing Ron Johnson, J.C. Penney tumbled 6% in after hours trading. Letting Johnson go should have been cause for celebration. During his reign, J.C. Penney had become simply a corridor to get to the rest of the mall. 2012 sales plummeted a whopping 25%. Traffic plunged 13%. You'd think getting rid of failed leadership would bring hope to suffering J.C. Penney shareholders - wouldn't you?
Initially, there was a spark of hope as shares rose 6%. That lasted all of 5 minutes as investors realized that the Board had rehired Myron Ullman. No savior there: Under Ullman's watch, J.C. Penney floundered. His tenure as CEO from 2004 to November 2011 was marked by stagnant sales and declining profits, in sharp contrast to its competitors.
Check out J.C. Penney's revenue performance during that 2004 to 2011 stretch: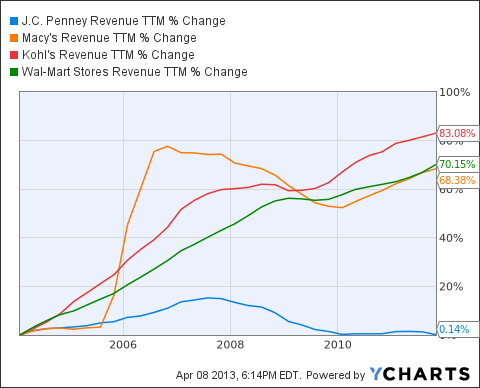 The company's earnings fared even worse under Ullman's watch.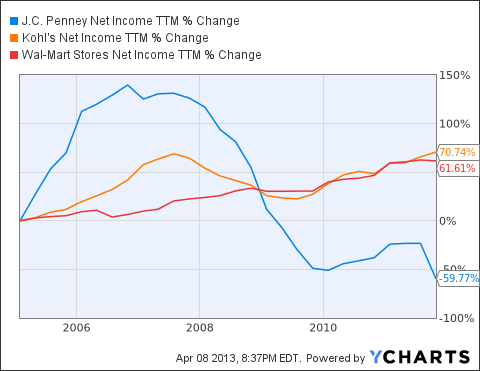 Ullman's past performance at J.C. Penney doesn't inspire confidence. He wasn't able to fix this sick retailer before. What makes the Board believe he can repair J.C. Penney now? Desperate men make desperate decisions. Perhaps they couldn't find anyone else.
Disclosure: I have no positions in any stocks mentioned, and no plans to initiate any positions within the next 72 hours. I wrote this article myself, and it expresses my own opinions. I am not receiving compensation for it (other than from Seeking Alpha). I have no business relationship with any company whose stock is mentioned in this article.
Additional disclosure: The opinions in this document are for informational and educational purposes only and should not be construed as a recommendation to buy or sell the stocks mentioned. Past performance of the companies discussed may not continue and the companies may not achieve the earnings growth as predicted. The information in this document is believed to be accurate, but under no circumstances should a person act upon the information contained within. We do not recommend that anyone act upon any investment information without first consulting an investment advisor as to the suitability of such investments for his specific situation.