That I stumbled across the H7N9 outbreak a full week before the Western media clued to it was sheer dumb luck, on my part. I wasn't looking for H7N9, NcoV, or any other novel pandemic potential virus. Instead, I was searching for old flu-related articles in order to illustrate a pet thesis of mine. While impact of any given strain can't be predicted, the impact of the flu season - with an acceptable margin of error - is predictable.
Now, when an analyst makes a statement like that about what appears to be a hideously complex random system, a few supporting paragraphs with a table or two here and few hyperlinks there won't cut it. You've got to throw the kitchen sink at it.
I've spent the past three months analyzing dozens of earnings reports, backtesting 30+ years of raw stock returns, and poring over hundreds of different theses by MBAs, mathematicians, virologists, historians, governmental studies, investment bank research, you name it. Individual pathogens were the last thing on my mind. I was searching for repeating long term patterns over a variety of strains and reliable leading indicators that the investment banks, self-appointed market gurus and other assorted quants missed.
It was while I was sifting through old newspaper headlines to supplement my findings that I first came across H7N9. Even then, H7N9 would have been little more than a footnote, at best. But as the days ticked by and the number of infected cases crept inexorably higher, this single strain took on more importance. Here was a real-life validation of the historical and theoretical principles historical I'd already uncovered. The H7N9 outbreak was therefore central to my broader thesis. I was determined to learn everything there was to know about it.
Unfortunately, the mainstream media was about as helpful in this regard as throwing a drowning man both ends of the rope. Not only were the reports using two day old data, but at least 75% of them were simply parroting WHO/CDC/Xinhua press announcements, i.e. politicized government proclamations edited for mass consumption.
When it comes to the government health PR, there appears to be this tacit understanding that (to quote W.C. Fields): "If you can't dazzle 'em with brilliance, baffle 'em with bullshit." I decided to rip the blinders off.
Here's ten things about the H7N9 outbreak that the English speaking media missed.
1. H7N9 is the bird flu.
The old H7N9 strain was a bird flu. This H7N9 strain no longer resembles a bird disease, due to viral reassortment. It's a mammalian disease with avian origins that's using pigs as a mixing bowl.
2. We don't know the source of H7N9.
If you know anything about the tiered distribution chain of Chinese "wet markets", then you know the source doesn't really matter at this point. Chinese farmers sell their poultry to aggregators, who distribute it to wholesale markets, slaughterhouses, exporters and other assorted middle men.
For all practical purposes, the sources are the Huhuai market in Shanghai, Nanjing and Hangzhou, and potentially every other wet market on the Chinese coast. Wet-markets increase human to pathogen proximity and contain high viral burdens or strains of higher transmission efficiency, facilitating transmission of avian viruses to humans.
These wet markets really have to be seen to be believed. The following amateur marketing video, subtitled in English, was originally made to advertise the "Whole Foods" aspect of this Taiwanese wet market. The video starts with a grocery, so you'll have to be a little patient here, but it's well worth the wait. About half way through, the two amateur cinematographers arrive at the poultry department. Note how close the customers get to the live chickens in the following video.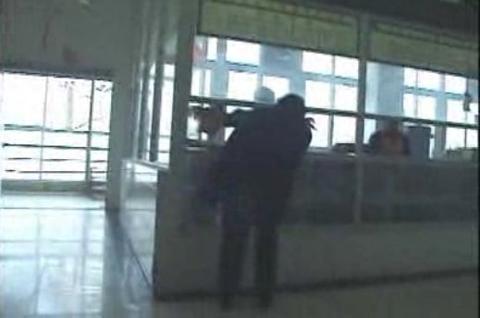 Now, take a look at the butcher's hands. No gloves.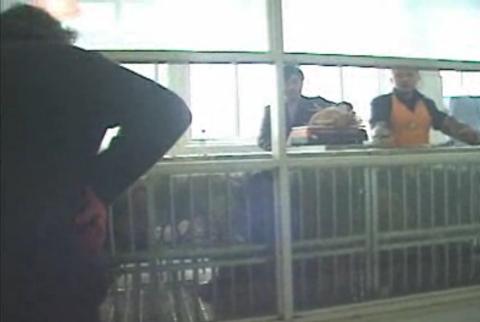 The second butcher in this screenshot appears to be wearing gloves, but he's not. Those are more like towels wrapped around his lower arms with blood stains on them. 5 feet to the right is the poultry slaughtering area, which is mostly walled off with transparent plastic. Mostly.
You really have to see a Chinese wet market to believe it. Chopped meat is laid out on an outdoors table for hours with a fan to keep the flies away. Often, the butchers don't wear gloves and wipe blood on their sleeves. Live chickens are crammed into small cages, or they sometimes even walk around the shop. These wet-markets have become increasingly attractive to Chinese tourists wanting to encounter "the real China."
Now here's the really important bit: Due to China's ongoing logistical problems, it's cheaper to ship goods from Shanghai to New York than from Shanghai to one of China's interior cities or the countryside. That's why you're not hearing about H7N9 cases in the rural countryside yet.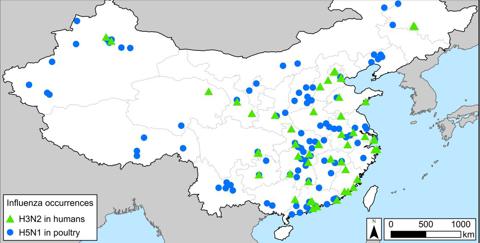 (Source: CDC)
3. H7N9 may have crossed the species barrier into pork, but we can't be certain of the mammal.
Is it possible that the mammal in question isn't pork? Of course it is. Anything's possible. That being said,
a) In Chinese wet markets, birds are kept stacked in cages, sometimes directly above pigs. The chickens' excrement is allowed to fall into pig feeding troughs, and sanitation consists of a wash in cold water. H7N9's second victim, Wu Liangliang, was a pork-butcher. b) Pigs are known in the academic literature as "the mixing bowl" for effective avian-to-human flu transmission.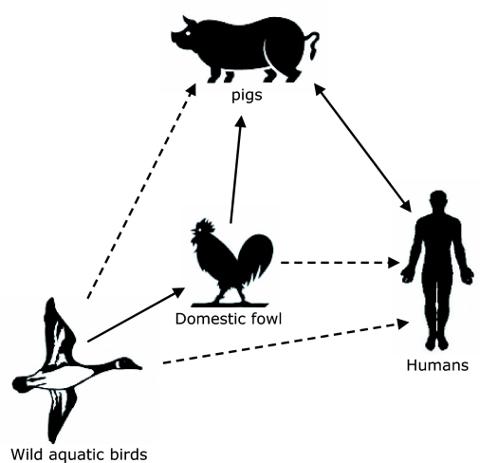 c) Chinese farmers + sick pigs = duck food. That's correct. These hog farmers ground up their sick, dead pigs and fed them to their ducks, many of which are no doubt already sold to the wholesale aggregators. Allow me to pose a question: If these farmers will feed dead pigs to their ducks in order to "waste not", what happens when the ducks get sick?
The recent mutations in H7N9 make pigs more susceptible to the virus, and black market pork is rampant in Shanghai. Just to get an idea of the scale of birds and chickens we're talking about here: There's estimated to be 700 million chickens in Hong Kong, and as for pork? See for yourself.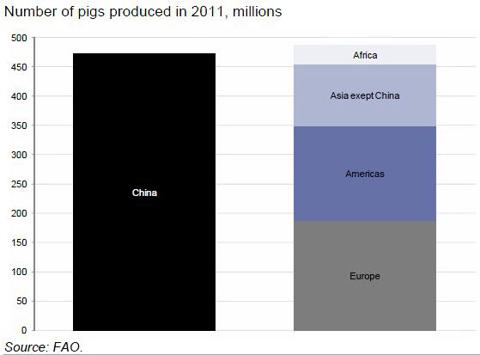 Over the past 3 years, 77,000 dead pigs worth over 8.65 million Yuan have been sold in Shanghai and fed to families and restaurants all over the city.
4. Unlike SARS, Chinese officials have been remarkably transparent concerning H7N9.
Here are just three of the 120+ messages that Beijing has censored from Weibo so far. Here are three I picked at random:
【天津芥园道人民医院发现感染H7N9】天津蓟县有一例男性64岁农民,帮人家运送鸡鸭,姓张,感染H7N9,死于人民医院,密切接触着55人。大家注意了。互相通告一下。 勤洗手,要通风,少去公共场合! 朋友们都打电话回家关心和嘱咐亲人们吧!这段时间还是多吃素菜好!

Google Translation: [People's Hospital of Tianjin mustard Park Road found infected with H7N9] Tianjin Jixian one case of male 64-year-old farmer, to help people transporting chickens and ducks, Zhang, infected with H7N9 died in the People's Hospital, in close contact with the 55. Attention. Mutual notice. Wash your hands, ventilation, fewer trips to public places! Friends called home to care for and asked relatives this time or eat vegetables is good!

生化危机在逼近。这次造成人类死亡的H7N9禽流感病毒是超整合病毒,病毒中的超级混血儿。此病毒有8个基因,其表达的八个蛋白中的两个表面蛋白HA和NA,分别来源于来源于H11N9和H7亚株。六个内部蛋白基因来源自H9N2亚株

Google Translation: Resident Evil in approximation. This cause human deaths from the H7N9 avian flu virus is the super half-breed integrated virus, virus. This virus 8 gene, and its expression in the eight proteins in the two surface proteins HA and NA, respectively, derived from the derived the H11N9 and H7 sub-lines.

隐者飞飞:[衰][吃惊]//@公民列宁: //@任伟NICKY: 海门120转送附院,已确诊为H7N9,下午为来得及转进重症监护病房,已在车上死亡@南通濠滨论坛 @濠滨论坛 @南通广播电视台城市日历 @NTTV生活娱乐

Google Translation: Hermit Feifei: [bad] [surprised] / / @ Civic Lenin: / / @ Ren Wei NICKY: 120 forwarding Affiliated Hospital of Haimen, has been diagnosed with H7N9, the afternoon had time to turn into the intensive care ward, has died in the car!Nantong Hao Bin Forum @ Ho Bin Forum @ Nantong Radio and Television the urban Calendar @ NTTV life entertainment
5. There have only been 21 confirmed infections.
Actually, it's 24. Yes: Our media sources are at least 24 hours behind the official reported trend. But the real worry isn't the severe cases you're hearing about, it's the mild or asymptomatic cases you're not hearing about. This is known as "the Denominator Problem", and it happened when swine flu first broke out in Mexico. Hospital care is expensive, so most people with the flu just stay home, drink liquids, and try to ride it out. The "confirmed cases" are the tip of the iceberg. Why is that a concern? Because all else being equal, the longer H7N9 reproduces itself in humans, the better the virus will get at person to person transmission.
So far, China has not provided a denominator, which means that sick people whose immune systems are more efficient at controlling the virus will secrete fewer microbes into the blood, resulting in a false-negative. The WHO's monitoring has also been largely confined to subjective interviews, not actual blood tests. Unless the interviewed party is obviously sick when interviewed, they are reported healthy.
Courtesy of the WHO [emphasis mine]
The Chinese government is actively investigating this event and has heightened disease surveillance. Retrospective testing of recently reported cases with severe respiratory infection may uncover additional cases that were previously unrecognized.
6. H7N9 hasn't left the Chinese Mainland
Or it just flew to Taiwan.
From the China Post:
CDC Deputy Director-General Chou Chih-hau (周志浩) said on Thursday that six people reported fever symptoms after arriving in Taiwan from China recently. Two of them were infected with the H1N1 influenza, two people had bacterial infections, while diagnoses for two people was yet be confirmed.

Chou said the two people awaiting results - a Taiwanese and a Chinese - had been to Shanghai and Jiangsu province respectively. Both areas are considered H7N9- infected areas.
H7N9 has a 7 day incubation period. 3,000 Taiwanese visit China every single day. 7,000 Chinese visit Taiwan a day. According to the current policy, if less than 4,000 group visitors arrive in a day, the surplus quota can be combined with allocations for the following days, the bureau said. They added that this policy has led to packed sightseeing destinations during the peak seasons.
On April 2nd, Hong Kong newspaper Wen Wei Po reported that Shanghai authorities failed to report five previous severe cases of pneumonia caused by unidentified pathogens. The cases tested negative for SARS, but it remained unclear if the cases have been tested for bird flu virus or not.
On condition of anonymity, a respiratory specialist working in a Shanghai hospital spoke to Wen Wei Pao, saying that the hospital has seen a dramatic increase in severe cases of pneumonia caused by unidentified pathogens, with five cases in a two-week period in March. Usually they only treat an average of two to three cases in a one-year period.
7. They're working on a vaccine.
Yes, and it will take years to distribute in quantities sufficient to establish herd immunity. No such facilities currently exist because it doesn't make short term economic sense to build them due to the high front costs. Most people don't realize that the existence of a vaccine doesn't mean just anyone's going to get it.
In fact, H7N9 is likely to mutate again or burn itself out before enough vaccine and hypodermic needles are manufactured to make any difference. Even if China were to throw itself completely into the mass production of a vaccine, right now, it wouldn't be available to the general populace until 2015 at the earliest.
8. This outbreak will not seriously affect the Chinese economy.
If you believe that, I've got these amazing pair of bridges in Brooklyn priced below scrap to sell you. Seriously, that would be a Jesus multiplying-loaves-and-fish style miracle, given what happened to the Hang Seng Index during SARS. The chart below illustrates a very simple dynamic: The higher the number of confirmed cases, the further the Asian markets drop.
Hang Seng Index 2003 Oubreak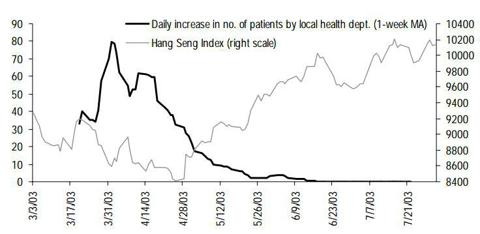 (CIEC, Citigroup Invesment Research)
Singapore Market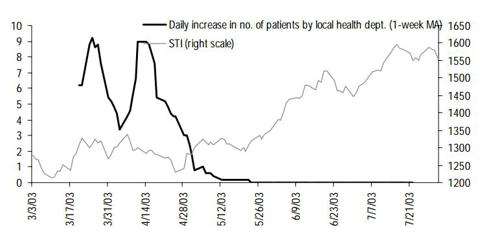 (Source: CEIC, Citigroup Investment Research)
Taiwan Market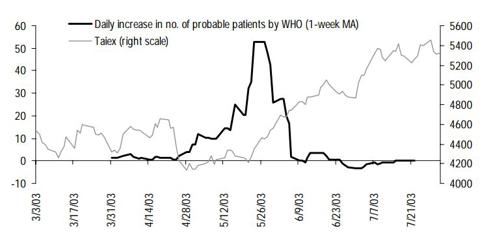 (CEIC, Citigroup Investment Research)
McDonald's (NYSE:MCD) is slashing its 20 piece box from 36 to 20 RMB "非尝不可. Given the 4% higher comp rate that McDonald's is already being punished with as it tries to adjust to Asian palates, how badly do you think McDonald's Asian sales are going to suffer if they can't sell chicken?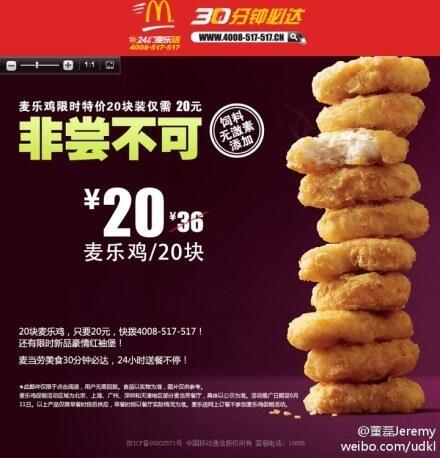 (Source: Weibo.com)
In fact, the effects on poultry related stocks has been convincingly, if not conclusively, demonstrated:

(Source: Essays on impacts of avian influenza on Financial Markets, Huang 2006 [PDF])
9. China "is confident" of controlling the virus
No flu virus has ever been controlled, contained or even slowed down by more than a few months by any human effort short of social distancing and hygiene, as the 1889 Russian flu pandemic made abundantly clear when it circled the globe in just four months despite the lack of airplanes or hyperventilating cable news stations. The reality is that how close the cities are interconnected with one another is just as likely to invite H7N9 super-spreaders as airports, and no one in China is handing out thermometers at toll booths.
Flu outbreaks always come in at least two (but more often three) distinct waves: The "lead wave", which is the relatively benign one, and the severe second wave. This implies that the current outbreak is a) the second wave, in which case a much, much larger portion of the Chinese populace are currently infected/asymptomatic carriers of H7N9, or b) The H7N9 outbreak will get worse in the near future. Anecdotal evidence suggesting larger than usual numbers of pneumonia patients lining up in hospital waiting rooms across China support either conclusion.
10. The dead pigs into the Huangpu River had nothing to do with it.
Maybe, maybe not. I have no way of knowing for sure. What I do know for sure is that the CPC, WHO and CDC have no way of knowing whether they're related or not, either. You can't leave a decomposed mammal out of a river for a week, fish them out and go digging for flu viruses.
The following appeared in Sing Tao Daily on April 2nd, but was universally overlooked by the English speaking press as it was only available in Chinese.
H7N9禽流感病毒傳人後,專家估計病毒可能
透過豬隻出現基因洗牌,有內地傳媒繼續
在浙江省嘉興市追蹤黃浦江死豬事件,據當地餐飲業人士透露,
死豬多以每斤一元人民幣的價錢賣給黑心商販,
然後用小麵包車運往上海,
流向百姓餐桌。

《中國企業家》雜誌昨日報道,
嘉興市死豬買賣之風盛行。據該市養豬大鎮新豐鎮的餐飲業老闆「爆料」,
農戶會以一斤一元的價錢處理死豬。
之後不法商販用小麵包車將死豬運往上海。
如果路上遇到檢驗檢疫的人,商販會棄車逃跑,
但「一般不會有事情」,
「你們上海人不知道吃過多少死豬。」

Google Translation: Human transmission of the H7N9 avian flu virus, experts estimate that the virus may Mainland media continue through the pig gene shuffling, Jiaxing City, Zhejiang Province, track the Huangpu River the dead pigs events, food and beverage industry, according to local sources, The dead pig traders make more use of the of catty Yi yuan price sell black heart, Then use a small van to Shanghai.

"China Entrepreneur" magazine reported yesterday. Jiaxing dead pig traded in vogue. According to the city pig town new Fengzhen restaurant industry boss "broke the news", Farmers will pound price deal with a dead pig.
That is, until investors realize how many of those patients don't have adequate insurance, and that the vaccine won't be available to the general public in time. The stocks poised to benefit from H7N9 are much more prosaic: oil, rice, and frozen food companies that do a significant portion of their business in China and have zero exposure to pork, chicken or duck production are going to smash earnings over the next quarter, as Chinese consumers flee wet markets.
Unfortunately, the Chinese frozen food market is an oligopoly, which means there aren't U.S. listed stocks that stand to benefit at this point, apart from General Mills (NYSE:GIS) subsidiary Wan Chai Ferry. On the other hand, there are plenty of short opportunities, including YUM brands (NYSE:YUM), and Wynn Resorts (NASDAQ:WYNN), despite the amusingly Panglossian report that RBC Capital released on Wynn Resorts Monday.
Disclosure: I have no positions in any stocks mentioned, but may initiate a short position in WYNN over the next 72 hours. I wrote this article myself, and it expresses my own opinions. I am not receiving compensation for it (other than from Seeking Alpha). I have no business relationship with any company whose stock is mentioned in this article.